SEBARAN KLOROFIL DI WILAYAH PERAIRAN PROVINSI KALIMANTAN BARAT BERDASARKAN CITRA SATELIT MODIS TERRA DAN VIIRS SNPP
Keywords:
Modis Terra, Viirs Snpp, Kalimantan Barat, Klorofil, Sebaran
Abstract
Klorofil merupakan salah satu parameter yang merupakan faktor penting untuk memahami tentang kondisi lingkungan pesisir. Salah satu metode yang digunakan untuk mengamati klorofil adalah menggunakan penginderaan jauh yaitu dengan menggunakan data hasil pengukuran citra satelit. Citra satelit yang digunakan dalam penelitian ini yaitu Modis Terra dan Viirs Snpp. Dari hasil pengamatan yang tersebut konsentrasi klorofil menggunakan Modis Terra berkisar pada 0,45 – 20 mg/m3 dan 0,45 – 20 mg/m3 pada Viirs Snpp. Namun, kedua citra satelit ini menunjukan pola sebaran yang sama pada tiap daerah di wilayah Provinsi Kalimantan Barat. 
References
Acosta, A.C., Chong, N.C., Acosta, A., Koch, M.P., Vargas, A., Mora, J.M., Saldias., Guerra, V.E., Fuente, I.G & Turizo, S.B. (2020). Spatio temporal variability of chlorophyll-a and environtmental variables in the Panama Bight. Remote Sensing, 12, 1 – 26.
BIG. (2015). Pemetaan karakteristik laut dangkal utara Jawa Timur. Cibinong: Badan Informasi Geospasial
BPS. (2012). Kalimantan barat dalam angka. Pontianak: Badan Pusat Statistik Provinsi.
Burke, L., Kura, Y., Kassem, K., Revenga., K., Spalding, M and McAlister, D. (2001). Pilot analysis of global ecosystems: Coastal Ecosystems. Washington DC : World Research Institute.
Intansari, G., Jumarang, M.I & Apriansyah. (2018). Variabilitas klorofil dan suhu permukaan laut di perairan Selat Karimata. Prisma, 6 (1), 76 – 79.
NASA. (2009). MODIS (Moderate Resolution Imaging Spectrofotometer). California: National Aeronatics and Space Administration.
Pelly, D.A., Marfai, M.A., Pangaribowo, E.H & Fadholi, A. (2020). Chloropyll-a variability during positive IOD – the east season period in 2019 in Padang Sea, Indonesia. 6th International Conference on Sciece and Technology. E3S Web of Conference. Vol 200 no 10.1051, 1 – 8.
Raytheon. (2011). The Instrument: VIIRS ' Polar Orbiting Mission'. Available : http://npp.gsfc.nasa.gov/viirs.html.
Shaari, F & Mustapha, M.A. (2017). Factors influencing in the distribution chlorophyll-a along coastal waters of east Peninsular Malaysia. Sains Malaysiana, 46 (8), 1191 – 1200.
Suhana, M.P. 2(2018). Karakteristik sebaran menegak dan melintang suhu dan salinitas perairan selat Jawa. Dinamika Maritim, 6 (2). 9 – 11.
WWF. (2005). Borneo: Treasure island at risk. Frankfurt : World Wildlife Fund.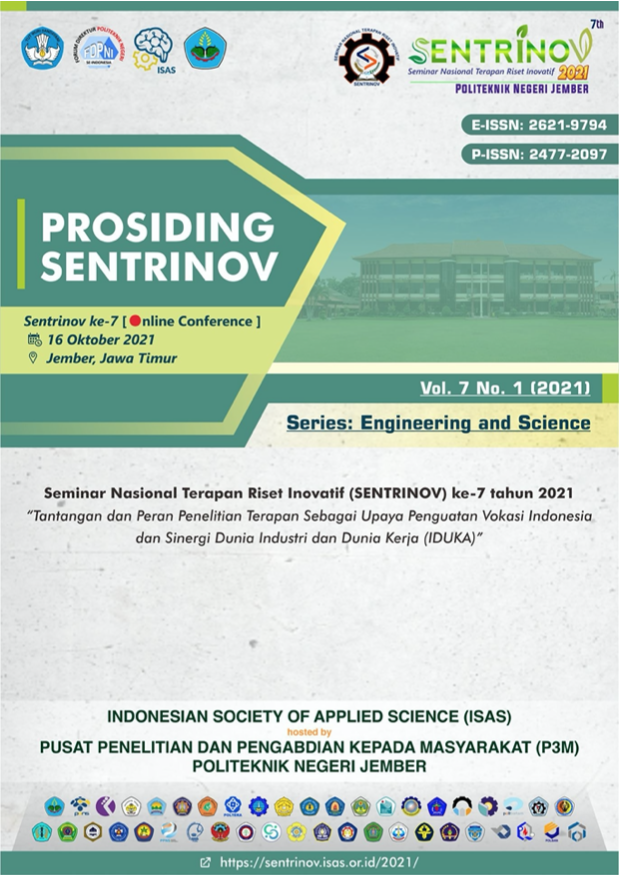 Downloads
How to Cite
Nurul Fatimah Yunita, Muhammad Usman, & Dewi Merdekawati. (2021). SEBARAN KLOROFIL DI WILAYAH PERAIRAN PROVINSI KALIMANTAN BARAT BERDASARKAN CITRA SATELIT MODIS TERRA DAN VIIRS SNPP. Prosiding Seminar Nasional Terapan Riset Inovatif (SENTRINOV), 7(1), 482-487. Retrieved from https://proceeding.isas.or.id/index.php/sentrinov/article/view/1002