KAJI ENERGI LUARAN DAN EFISIENSI SISTEM PHOTOVOLTAIC THERMAL (PV/T) DENGAN KOLEKTOR PEMANAS UDARA
Keywords:
PV/T, photovoltaic, energi, panas, efisiensi
Abstract
Photovoltaic-Thermal (PV/T) adalah sebuah sistem panel surya dengan kolektor pemanas yang digunakan untuk menghasilkan eneri luaran listrik dan panas. Pada penelitian ini, sebuah eksperimen PV/T dengan kolektor panas udara dilakukan untuk mengetahui performa energi serta efisiensi listrik dan panas. Hasil penelitian menunjukkan bahwa panel surya dengan kolektor panas memiliki efisiensi listrik sebesar 18.9%, efisiensi panas sebesar 16.5%, dan primary total energi efisiensi sebesar 66.4%.
References
Dahmene, M.A., Malek. A, Zitoun, T. Design and analysis of a BIPV/T system with two applications controlled by an air handling unit. Energy Convers Manage, 175(2018), pp. 49-66
https://money.kompas.com/read/2021/04/20/184840226/pemerintah-siapkan-5-prioritas-program-energi-terbarukan-hingga-2024 (diakses tanggal 31 Agustus 2021)
Michael, J.J., Iniyan, S., Goic, R.. Flat plate solar photovoltaic–thermal (PV/T) systems:
A reference guide. Renew Sust Energ Rev, 51(2015), pp. 62-8
Slimani, M.E.A., Amirat, M. Kurucz., Bahria I, S. Hamidat A., Chaouch, W.B. A detailed thermal-electrical model of three photovoltaic/thermal (PV/T) hybrid air collectors and photovoltaic (PV) module: Comparative study under Algiers climatic conditions. Energy Convers Manage, 133(2017), pp.458-476.
Slimani, M.E.A., Amirat, M., Bahria, I., Kurucz., Aouli., M., Sellami, R., Study and modeling of energy performance of a hybrid photovoltaic/thermal solar collector: Configuration suitable for an indirect solar dryer. Energy Convers Manage, 125(2016), pp. 209-221.
Lee, Y.W., Kuo, C.F.J., Weng, W.H., Huang, C.Y., Peng, C.Y. Dynamic modeling and entity validation of a photovoltaic system. Appl Energy, 200(2017), pp. 370-382.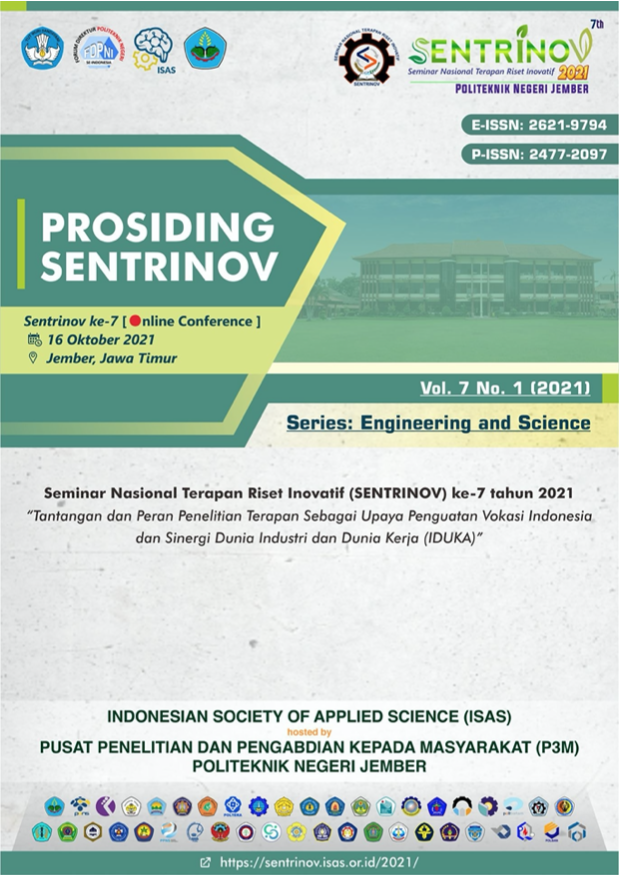 Downloads
How to Cite
Mega Lazuardi Umar, Prabuditya Bhisma Wisnu Wardhana, & Rizqi Ilmal Yaqin. (2021). KAJI ENERGI LUARAN DAN EFISIENSI SISTEM PHOTOVOLTAIC THERMAL (PV/T) DENGAN KOLEKTOR PEMANAS UDARA. Prosiding Seminar Nasional Terapan Riset Inovatif (SENTRINOV), 7(1), 520-525. Retrieved from https://proceeding.isas.or.id/index.php/sentrinov/article/view/1007