IMPLEMENTASI ARSITEKTUR BERORIENTASI SERVICE PADA PENGEMBANGAN MOBILE LEARNING
Keywords:
mobile learning, service, LMS
Abstract
Fleksibilitas dalam proses pembelajaran menjadi salah satu kunci utama dalam meningkatkan mutu pendidikan. Fleksibilitas yang dimaksud meliputi kemudahan mengakses materi – materi pembelajaran tanpa dibatasi oleh tempat dan waktu. Mobile learning menjadi salah satu kunci menjamin fleksibilitas kegiatan pembelajaran. Fungsionalitas mobile learning yang  dibatasi oleh dimensi – dimensi teknis perangkat mobile seperti memory, kapasitas penyimpanan  yang kecil,  dan keberagaman platform yang ada dapat diminimalisasi dengan mengimplementasikan arsitektur yang berorientasi servis. Dalam konteks ini mobile learning diintegrasikan dengan perangkat Learning Management System yang menyediakan servis atau layanan layanan untuk kegiatan pembelajaran.  Penelitian ini diawali dengan studi  literatur tentang konsep dan arsitektur berorientasi servis serta layanan learning management sistem. Tahap analisis yang dilakukan meliputi analisis terhadap solusi yang feasible untuk diterapkan pada mobile learning, analisis penggunaan Learning Management Sistem disisi back end serta analisis terhadap kebutuhan dan keterbatasan perangkat mobile sebagai klien pada mobile learning system. Tahap analisis ini menghasilkan  rancangan  arsitektur berorientasi service untuk diimplementasikan dalam satu sitem yang terintegrasi.
References
Alamri, H.S. & Mustafa, B.A. (University M.P., Software Engineering Challenges in Multi Platform Mobile Application Development. Available at: http://www.academia.edu/9406502/Softw are_Engineering_Challenges_in_Multi_P latform_Mobile_Application_Developme nt, 2019.
Erl, T., 2017. Service-Oriented Architecture: Concepts, Technology, and Design, Upper Saddle River, NJ: Prentice Hall PTR.
Erl, T., Pautasso, C. & Balasubramanian, R., 2019. SOA with REST: Principles,
Patterns & Constraints for Building Enterprise Solutions with REST, Prentice Hall PTR
Papazoglou, M., Traverso, P., Dustdar, S., Leymann, F., Krämer, B. "Service-Oriented
Computing Research Roadmap", International Journal of Cooperative Information Systems (IJCIS), 2018
Rodin, L., 2018. E-learning to m-learning: an investigation into the potential for content conversion. Mobile Learning Anytime Everywhere from MLEARN, p.171.
Sellami, M., Jmaiel, M. "A Secured Service-Oriented Architecture for E-government in Tunisia", ReDCAD research unit National School of Engineers of Sfax, 2019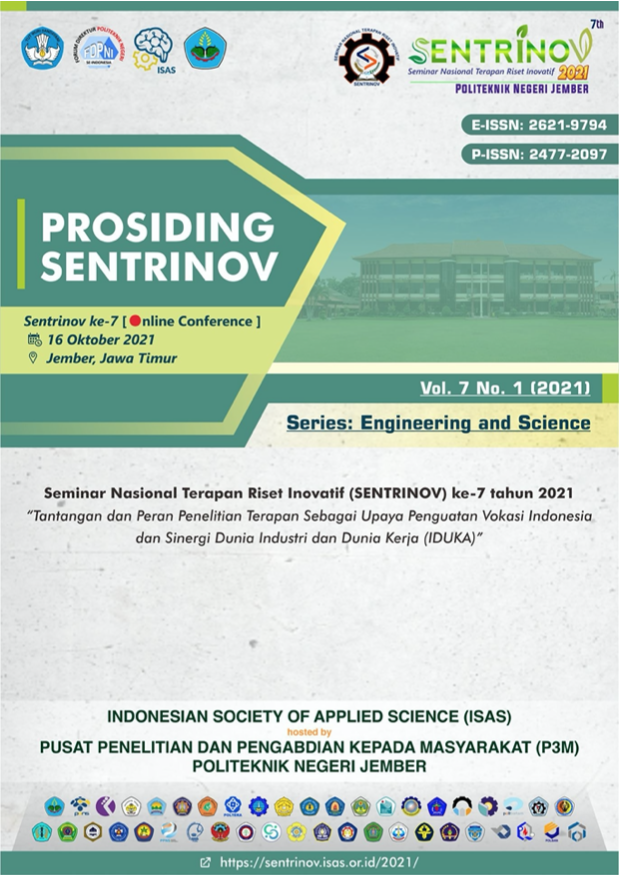 Downloads
How to Cite
Feyhrel Makahekung, Dandi Mangule, & Maksy Sendiang. (2021). IMPLEMENTASI ARSITEKTUR BERORIENTASI SERVICE PADA PENGEMBANGAN MOBILE LEARNING. Prosiding Seminar Nasional Terapan Riset Inovatif (SENTRINOV), 7(1), 590-597. Retrieved from https://proceeding.isas.or.id/index.php/sentrinov/article/view/1015