GAME MEKANIK VIRTUAL REALITY TANAMAN OBAT KELUARGA
Keywords:
Virtual Reality, TOGA Plants, Interaktif, Game Simulasi 3D
Abstract
Indonesia memiliki kekayaan alam yang melimpah, tidak terkecuali Tanaman Obat Keluarga (TOGA). yang merupakan tanaman hasil budidaya rumahan yang berkhasiat sebagai obat. Dalam pemanfaatan TOGA hanya beberapa orang saja yang memahaminya. VirtualReality (VR) merupakan teknologi untuk menciptakan simulasi imersif yang memungkinkan pengguna dapat berinteraksi sekaligus merasa berada di dalam lingkungan dunia maya. VR menggunakan teknologi grafik 3D, teknologi multisensor dan teknologi dengan tampilan resolusi tinggi untuk menghasilkan virtual 3D simulatif. Pemanfaatan teknologi ini berguna pada bidang game dan pembelajaran. Salah satu bidang tersebut seperti pembelajaran mengenai Tanaman Obat Keluarga (TOGA). Hasil akhir dari aplikasi ini dapat mengenalkan tanaman obat keluarga dan pemanfaatnya terutama pada tanaman yang berguna untuk meningkatkan imunitas tubuh kepada anak-anak. dan menjadi pembelajaran yang menarik mengenai tanaman obat keluarga (TOGA).
References
Okimustava. (2017). Pemanfaatan Tanaman Obat Keluarga Sebagai Pengganti Obat Kimia di Pendukuhan V Kujon Lor, Kranggan, Galur, Kulon Progi, Yogyakarta. Jurnal Pemberdayaan, 79-83.
Zamrodi Salim, E. M. (2017). Info komoditi Tanaman Obat. Jakarta: Badan Pengkajian dan Pengembangan Perdagangan Kementerian Perdagangan Republik Indonesia.
Putri, N. A. (2018). Design and Implementation Augmented Reality for TOGA Plants. Surabaya: Politeknik Elektronika Negeri Surabaya.
Azani, I. (2019, Desember 12). Virtual Reality. Dipetik April 26, 2020, dari Binus University School of Computer Science: https://socs.binus.ac.id/2019/12/02/virtual-reality-3/
Yu, X. (2015). Research and Practice on Application of Virtual Reality Technology in Virtual Estate Exhibition. Procedia Engineering, 1245-1250.
Dio,Novi Safriadi, Anggi S.S. (2019). Rancang Bangun Aplikasi Virtual Tour Lokasi Rekreasi dan Hiburan Keluarga di Pontianak. Program Studi Informatika Fakultas Teknik Universitas Tanjungpura. 2620-8989.
Stephen Schlogi; Markus E.R (2017) Google Cardboard in Social Science Researcher -Exploring low-cost virtual reality and its potential. MCI Management Center Innsbruck.118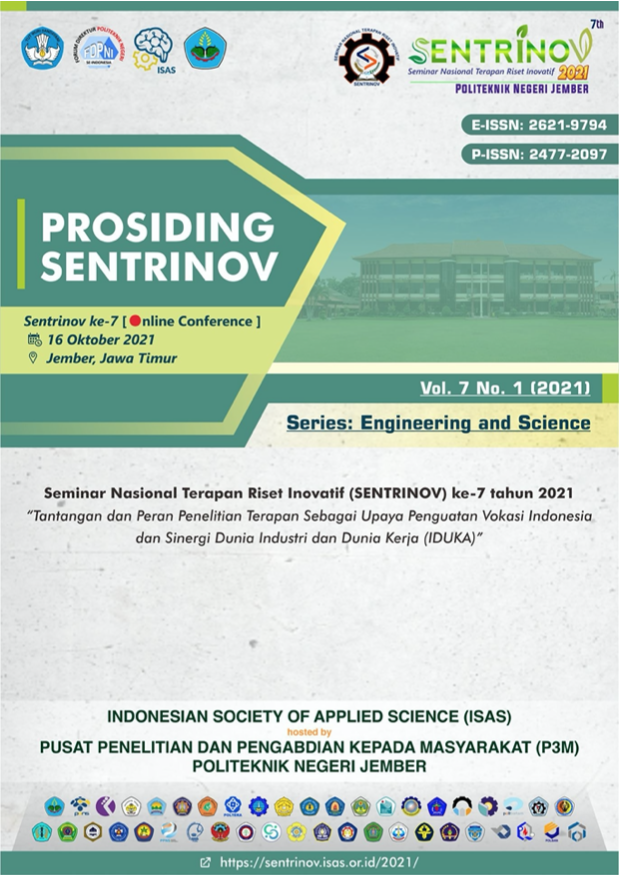 Downloads
How to Cite
Fardani Annisa, Fifi Maghfirotun, Artiarini Kusuma, Moh. Fuad Al Haris, & Achmad Fuad Hafid. (2021). GAME MEKANIK VIRTUAL REALITY TANAMAN OBAT KELUARGA. Prosiding Seminar Nasional Terapan Riset Inovatif (SENTRINOV), 7(1), 644-651. Retrieved from https://proceeding.isas.or.id/index.php/sentrinov/article/view/1022