OPTIMALISASI DAYA PASANG SURUT MENGGUNAKAN SUMBU VERTIKAL TYPE DARRIUES PADA GENERATOR DC
Keywords:
turbine, blade, darriues, EB, EBT
Abstract
The archipelago province of Bang Kabelitung is a province consisting of the islands of Bangka and Belitung Island, where the province of the Bangkabelitung Islands is surrounded by the ocean and there are also various kinds of marine potential including fish, squid, and shrimp, while the potential for new and renewable energy is wind energy, waves, and tides. sea. Seeing the potential for new renewable energy in the province of Bang Kabelitung is quite feasible, one of which is tidal energy where the tidal conditions of seawater are influenced by the moon and the tides are always continuous. Therefore, the potential to develop renewable energy is very suitable besides wind, waves using a vertical axis turbine and using a Darrieus blade type with a number of 3,5 and 7 blades with a tidal current speed of sea water in Bangkabelitung waters on average 3-5 m/s, where the generator averages 102 rpm. by using a 3-watt lamp load, where the resulting voltage is 4.32 volts and a current of 0.69 amperes.
References
Firman Husain, W. W. (2021). PEMANFAATAN ENERGI ARUS LAUT PADA TELUK AWERANGE SEBAGAI SUMBER ENERGI ALTERNATIF YANG BEKERLANJUTAN. INOVASI SAINS DAN TEKNOLOGI KELAUTAN, 107-115.
I Made Agus Mahardiananta, R. S. (2017). Analisa Potensi Energi Pasang Surut Air Laut di Selat Pulau Serangan. E-Journal SPEKTRUM, 15-20.
Karno R. Malau, U. B. (2018). Analisa Turbin Tipe H-Rotor Guna Meningkatkan Output Daya Listrik Pada Perencanaan Pembangunan PLTAL Di Selat Pantar. KAPAL, 24-32.
Limbong, M. (2018). KAJIAN POTENSI SUMBERDAYA PERIKANAN DI PROVINSI KEPULAUAN BANGKA BELITUNG. SATYA MINABAHARI, 47-61.
Muhamad Azhar, D. A. (2018). Implementasi Kebijakan Energi Baru dan Energi Terbarukan Dalam Rangka Ketahanan Energi Nasional. Adminitrative Law & Governance, 398-412.
Prayog, L. M. (2021). METODE KUADRAT TERKECIL UNTUK ANALISIS KONSTANTA HARMONIK PASANG SURUT AIR LAUT DI PULAU GILI RAJA, KABUPATEN SUMENEP, MADURA. PENA Akuatika, 72-79.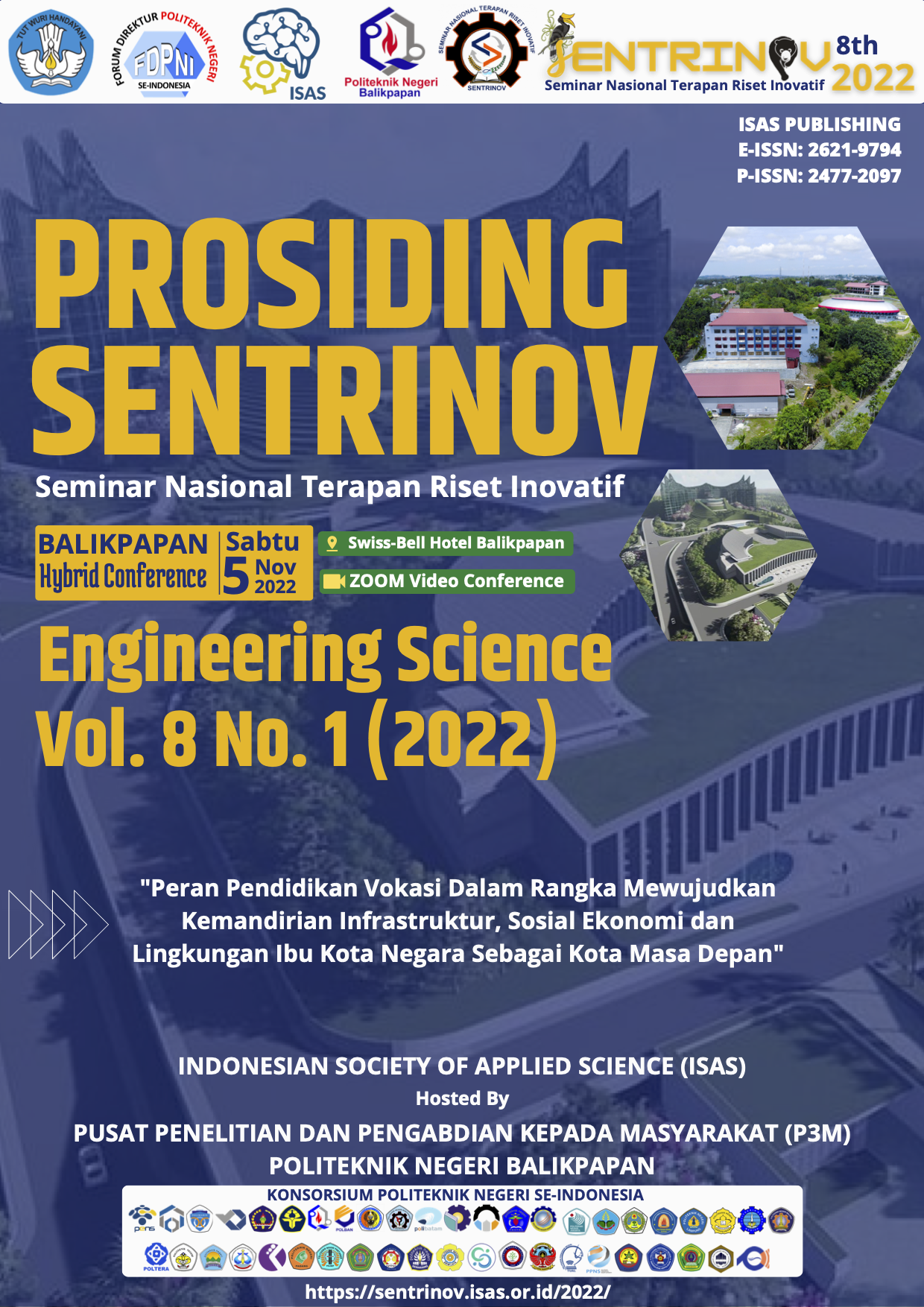 Downloads
How to Cite
Yudhi, Egi Riansyah, & Putri Islamega Taufani. (2023). OPTIMALISASI DAYA PASANG SURUT MENGGUNAKAN SUMBU VERTIKAL TYPE DARRIUES PADA GENERATOR DC. Prosiding Seminar Nasional Terapan Riset Inovatif (SENTRINOV), 8(1), 52 - 59. Retrieved from https://proceeding.isas.or.id/index.php/sentrinov/article/view/1145