PENINGKATAN PERFORMA MESIN DIESEL DENGAN MEMANFAATKAN BAHAN BAKAR CAMPURAN SOLAR DAN AMPAS TAHU
Keywords:
Waste tofu, Diesel Engine, Mixture of fuel, Performance
Abstract
Nowadays, the need for petroleum is increasing, this is an impetus to look for alternative resources to replace the use of petroleum. One way to create alternative energy sources is bio diesel. In addition to these raw materials, bio diesel can also be obtained from waste tofu. Waste tofu are industrial waste processing soybeans into tofu which are mostly only used as an alternative to animal feed. By varying the diesel - bio diesel mixture from waste tofu, the best performance will be obtained and the obstacles that arise so that a useful recommendation will be obtained. Firstly, making bio diesel from waste tofu, then missing the fuel after that data will be collected on the diesel engine to get performance results in the form of power, torque and fuel consumption. Data retrieval was carried out with four loading conditions, namely with a load using a lamp of 500 watts, 1000 watts, 1500 watts and 2000 watts. From the results of the tests that have been carried out. B20 has the highest power and torque values, value B10 has the lowest fuel consumption value.
References
Anggraini, T. M., & Fitriani, N. (2018). Limbah Ampas Tahu Sebagai Bahan Baku Untuk Produksi Biodiesel. Jurnal Integrasi Proses, 7(1), 13-19.
Haryono, E., & Witjonarko, R. D. E. (2017). Analisa Unjuk Kerja Mesin Diesel Kapal Dua Langkah (Two Stroke Marine Diesel Engine) Berbahan Bakar Campuran Minyak Solar (Hsd) Dan Biodiesel Minyak Jelantah Pada Beban Simulator Full Load. INOVTEK POLBENG, 7(2), 179-187.
Semin, S., Iswantoro, A., & Faris, F. (2017). Performance and NOx Investigation on Diesel Engine using Cold EGR Spiral Tube: A Review. International Journal of Marine Engineering Innovation and Research, 1(3).
Kosky, P., Balmer, R., Keat, W., & Wise, G. (2015). Exploring engineering: an introduction to engineering and design. Academic Press.
Scrimgeour, C. (2005). Chemistry of fatty acids. Scottish crop research institute. Dundee, Scotland. Bailey's Industrial Oil and Fat Products, 2.
Wijono, A. (2017). Dampak pengurangan emisi kendaraan pada pemakaian campuran biodiesel 20%. Prosiding Semnastek.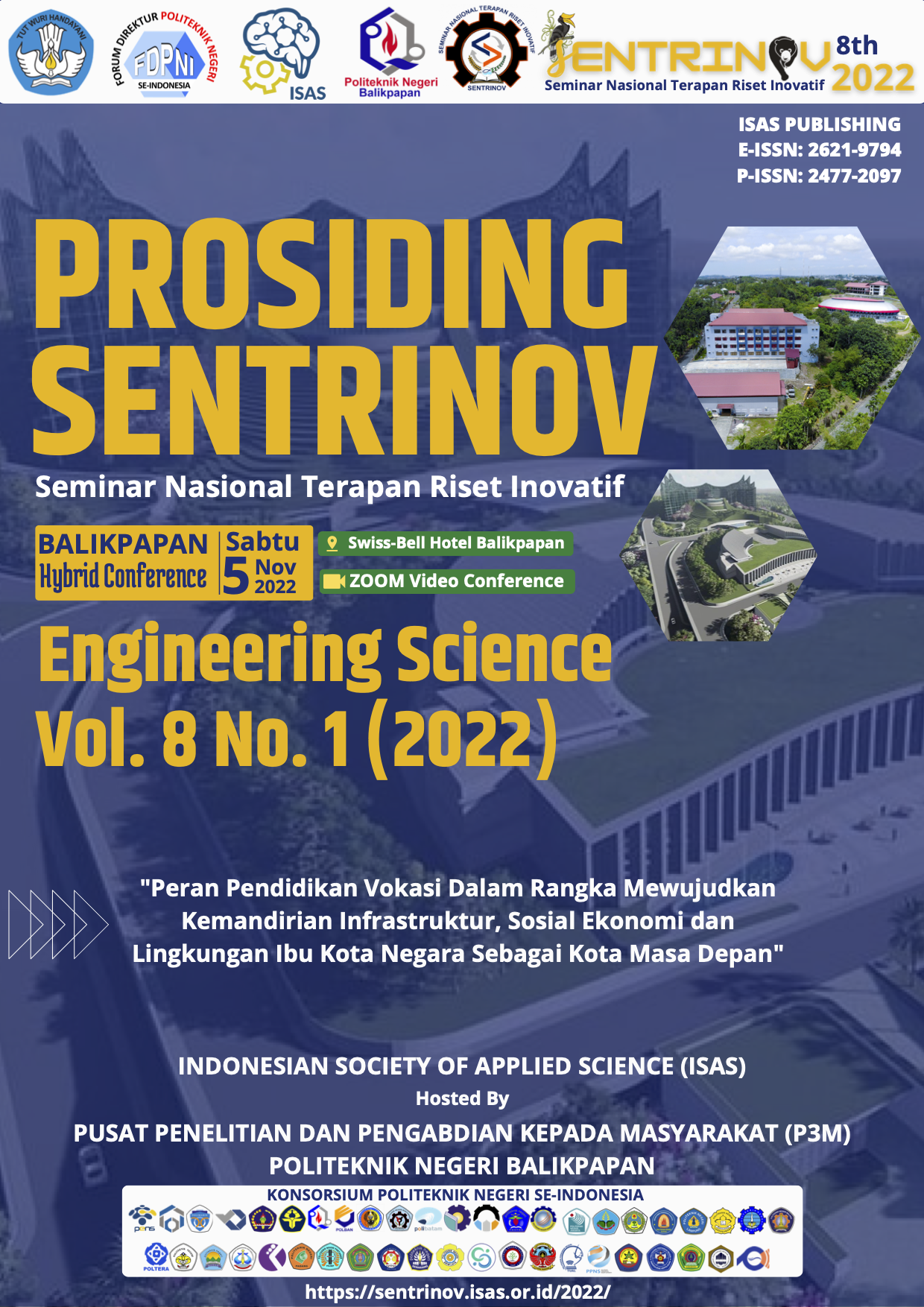 Downloads
How to Cite
Eky Novianarenti, Muhammad Shah, & M Alif Mujibur R. (2023). PENINGKATAN PERFORMA MESIN DIESEL DENGAN MEMANFAATKAN BAHAN BAKAR CAMPURAN SOLAR DAN AMPAS TAHU. Prosiding Seminar Nasional Terapan Riset Inovatif (SENTRINOV), 8(1), 73 - 80. Retrieved from https://proceeding.isas.or.id/index.php/sentrinov/article/view/1147