ANALISIS EKSPERIMENTAL PEMBAKARAN MENGGUNAKAN BAHAN BAKAR BIOETANOL 80% DARI AMPAS SAGU
Keywords:
bioethanol, renewable energy, combustion proces
Abstract
Indonesian society currently still relies on the use of fossil energy for various sectors such as transportation, industry and households. This is not in line with government programs where the use of renewable energy must be optimized. The use of fossil energy is identical to the results of exhaust gas emissions which over time if in large quantities will affect the sustainability of the population in the country. Renewable energy is energy that has the hope of reducing pollution in Indonesia. One of the renewable energies is biofuel in which there is a type of bioethanol. This bioethanol is made from waste products from both agriculture and plantations. Which is done chemically to produce bioethanol products. To produce good quality bioethanol, basic tests that need to be carried out are calorific value, specific gravity, viscosity, gas chromatography and FTIR tests. After the bioethanol material is tested in the laboratory, the next step is the process of testing the combustion of the bioethanol material so that it can be concluded that it can be an alternative source of renewable energy.
References
Arherthon, T, dkk, 2010, The Forensic Analysis of Soil by FTIR with Multivariate Analysis,1-5.
BBPT.(2020).Outlook Energi Indonesia 2020 Retrived November 2020 from http//www.bppt.go.id. diakses 27 September 2022.
Frayekti, M.C, 2013. Makalah Kromatografi Gas. PT. Badak NGL-LNG Academy.
Lily Arlianti, 2018, Bioetanol Sebagai Sumber Green Energy Alternatif yang Potensial Di Indonesia, Jurnal Keilmuan dan Aplikasi Teknik, Edisi 5, No 1, UNISTEK, Banten.
Pardosi, J.L. 2009. Perbandingan Metode Kromatografi Gas dan Berat Jenis pada Penetapan Kadar Etanol. Universitas Sumatera Utara. Medan.
Setiawati D.R., et.al., (2013), Proses Pembuatan Bioetanol Dari Kulit Pisang Kepok, Jurnal Teknik Kimia, Vol. 19 (1), 9-15.
Setiawati, D.R, Sinaga, A.F, Dewi, T.K. 2009. Proses Pembuatan Bioetanol dari Kulit Pisang Kepok. Jurnal Teknik Kimia. Universitas Sriwijaya. Palembang.
Waskito, I.S, 2011. Sistem Pengukuran Viskositas Cairan dengan Metode Osilasi Terendam. Universitas Indonesia. Depok. Jawa Barat.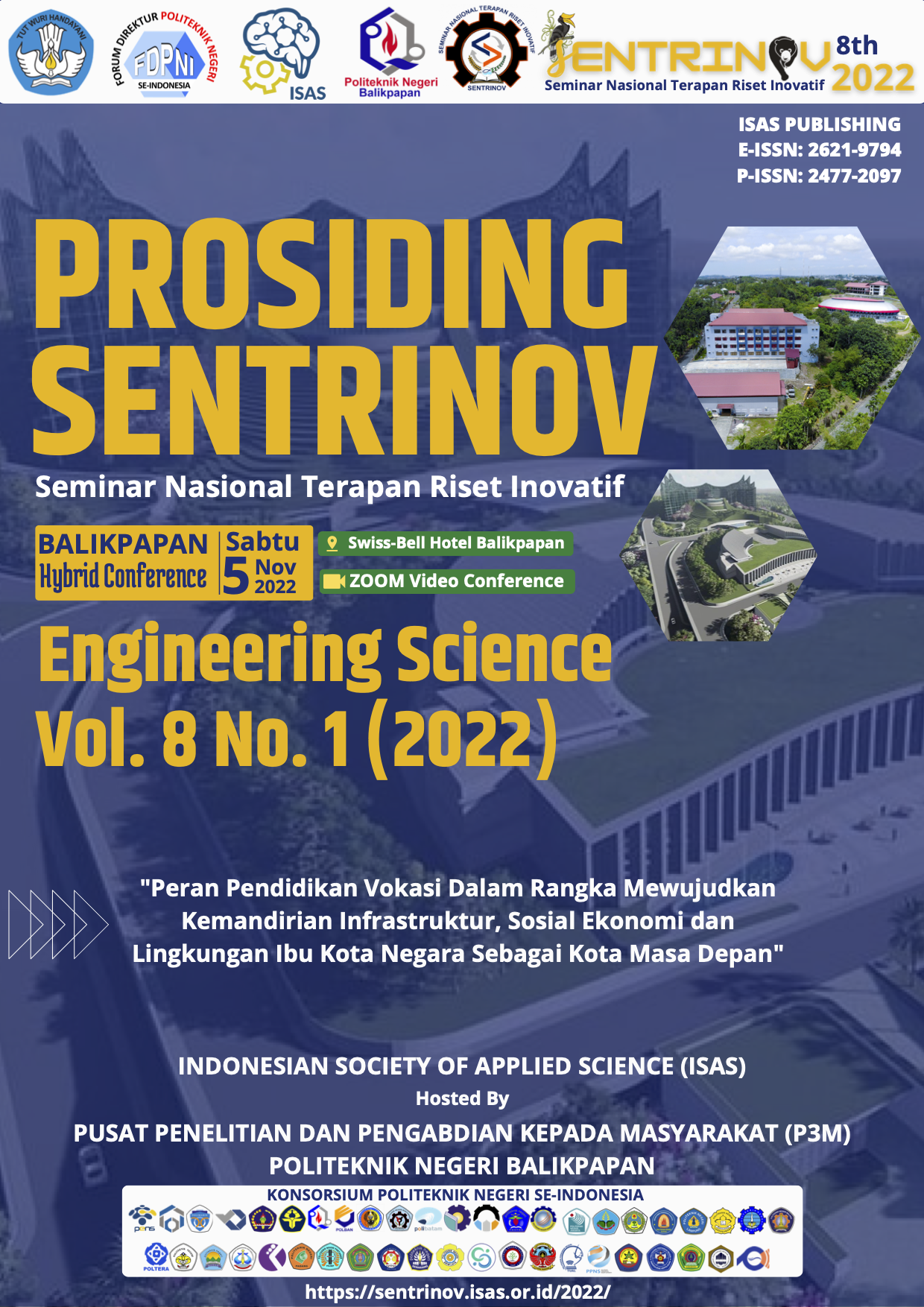 Downloads
How to Cite
Arifia Ekayuliana, Noor Hidayati, Widiyatmoko, & Johni Jonathan Numberi. (2023). ANALISIS EKSPERIMENTAL PEMBAKARAN MENGGUNAKAN BAHAN BAKAR BIOETANOL 80% DARI AMPAS SAGU. Prosiding Seminar Nasional Terapan Riset Inovatif (SENTRINOV), 8(1), 89 - 97. Retrieved from https://proceeding.isas.or.id/index.php/sentrinov/article/view/1148