ALAT PROTEKSI DAN PENDETEKSI GANGGUAN TEGANGAN DENGAN DECISION TREE PADA SHORE CONNECTION
Keywords:
Decission Tree, Shore connection, Voltage, Sag, rms variation
Abstract
Ships as sea transportation have power plants that cause several problems, the primary problem is air and noise pollution, which can be overcome by making a shore connection, the secondary problem is a technical problem from the shore connection itself. This study discusses the utility of electricity high-satisfactory monitoring, over and below-voltage safety, phase failure safety, and safety from grounding failure onshore connection. Power high-satisfactory has monitored the usage of the decision tree technique in order that an electricity screen is received in keeping with IEEE rules, particularly: quick period rms variation—which incorporates sag, swell, and interruption voltage—and lengthy period rms variation—which incorporates sustained-interruption, Undervoltage, and overvoltage. The manipulation technique is accomplished with a relay that triggers UVT and secures the community from interference. The results obtained from this study are, that the relay can secure the Shore connection from earth leakage interference with a current value of 10% ICT which is 40A with an average trip time duration of 0.465s. Securing from OverVoltage with a voltage value of more than 242V, UnderVoltage with a voltage value of 22-198 V, can also protect against single-phase or two-phase failures.
References
Pribadi, Agung. (2020). Hingga Juni 2020, Kapasitas Pembangkit di Indonesia 71 GW. Retrieved from https://www.esdm.go.id/id/media-center/arsip-berita/hingga-juni-2020-kapasitas-pembangkit-di-indonesia-71-gw.
IMO. (2020). Fourth IMO Greenhouse Gas Study. Published in 2021 by the INTERNATIONAL MARITIME ORGANIZATION 4 Albert Embankment, London SE1 7SR.
BPS. (2019). Statistik Transportasi Laut. Jakarta: Badan Pusat Statistik.
Transmission and Distributiom Commite. (2009). Recommended Practice for Monitoring Electric Power Quality IEEE std. 1159-2009 : IEEE.
Putra, A. P. (2016). Perencanaan Shore Power Connection pada Pelabuhan Terminal Teluk Lamong Untuk Mewujudkan Pelabuhan Hijau (Greenport). Tugas Akhir: Institut Teknologi Sepuluh Nopember.
Aryaguna, A. A., Anggriawan, D. O. & Suhariningsih (2021). Identifikasi Jenis Gangguan Pada Jaringan Distribusi Menggunakan Metode Artificial Neural Network. Vol. 3 No.1. p 27-35.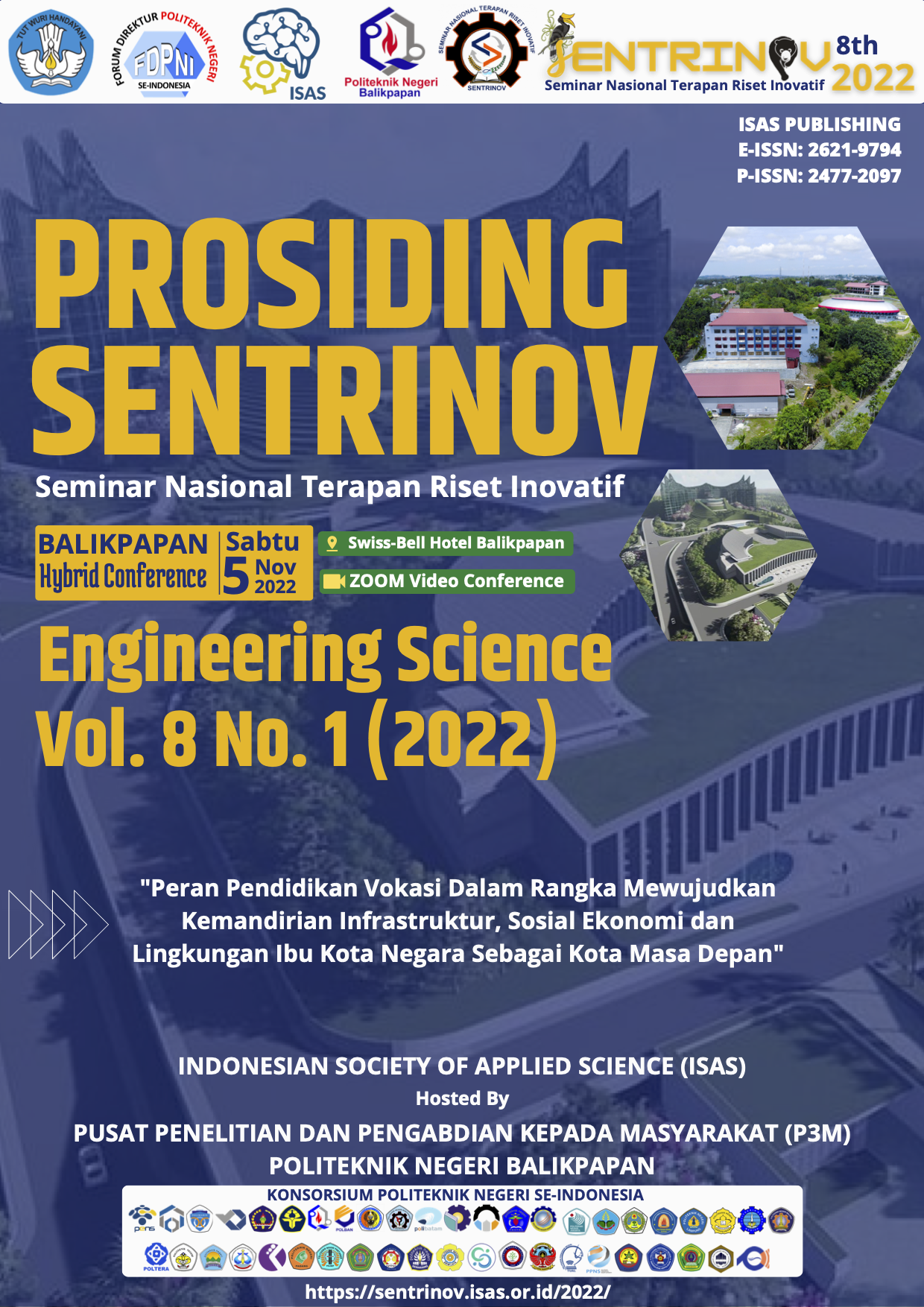 Downloads
How to Cite
Ii Munadhif, Havid Febri Mutaqin, & Annas Singgih Setiyoko. (2023). ALAT PROTEKSI DAN PENDETEKSI GANGGUAN TEGANGAN DENGAN DECISION TREE PADA SHORE CONNECTION. Prosiding Seminar Nasional Terapan Riset Inovatif (SENTRINOV), 8(1), 106 - 113. Retrieved from https://proceeding.isas.or.id/index.php/sentrinov/article/view/1152