PERANCANGAN PEMBANGKIT LISTRIK TENAGA SURYA SEBAGAI SUPPLY DAYA UNTUK POMPA AIR
Keywords:
Water Pump, Solar Panel, Solar Energy, Water Volume
Abstract
In the design of this solar power plant, water is a basic need for every human being, both for drinking, cooking, bathing, washing, farming and so on. To reduce the use of electrical energy from the government, it is necessary to use alternative energy sourced from the sun. In this study, a shimizu PS-128 BIT water pump was used with a power of 125 watts to raise water from a well with a depth of 9 meters. This water pump is planned to operate an average of 2 times per day and the maximum operating time is approximately 1 hour. From the results of research using 200 Wp solar panels, 1000 watt inverters and 12 volt 80 Ah batteries for 7 days, the average total energy produced by 200 Wp solar panels is 257.4 Wh per day. The highest yield on August 2, 2022 received energy of 313.9 Wh and the lowest on August 7, 2022 of 150.8 Wh. The water pump can run for 1 hour to produce a volume of 520 liters of water for 4 days while 2 days produce a volume of 346.6 liters in 40 minutes and one day to produce a volume of 260 liters in 30 minutes.
References
Arifin, Z., Tamamy, A. J., & Islahu, N. (2020). Perancangan Mesin Pompa Air Tenaga Surya untuk Mengurangi Konsumsi Listrik Skala Rumahan. JURNAL NASIONAL TEKNIK ELEKTRO, 9(2), 79 –. https://doi.org/10.25077/jnte.v9n2.758.2020.
Herman Halomoan Sinaga, Diah Permata, Noer Soedjarwanto, & Nining Purwasih Wikrama Pompa Air Tenaga Surya Untuk Irigasi Persawahan Bagi Masyarakat Desa Karang Rejo, Pesawaran, Lampung (2021) Parahita: Jurnal Pengabdian Masyarakat, Volume 5 Nomor 1, Mei 2021: 22-26 https://doi.org/10.30656/jpmwp.v5i1.2633Tamamy, A. J., & Islahu, N. (2020).
Muldi Yuhendri, Aswardi, & Hambali Implementasi Pompa Air Otomatis Tenaga Surya Untuk Rumah Ibadah (2020) Jipemas Vol. 3, No. 2, September 2020, Hal. 166 – 177 eISSN 2621-783X pISSN 2654-282X
http://dx.doi.org/10.33474/jipemas.v3i2.6758
Zian Iqtimal, Ira Devi Sara, & Syahrizal Aplikasi Sistem Tenaga Surya Sebagai Sumber Tenaga Listrik Pompa Air (2018) Kitektro: Jurnal Online Teknik Elektro e-ISSN: 2252-7036 Vol.3 No.1 2018: 1-8
Sapteka AA N G, Narottama AA N M, Sugiarta I Nym, Ta I Kt, Priambodo P & Djaya Putra N S (2018) Water Cooling on 30 Watt-peak Solar Panels, IEEE, 2018 International Conference on Applied Science and Technology (iCAST)
Wempi Noviandani, Hayong Heindro, & Juniadi, (2019). Rancang Bangun Solar Sel Pada Gedung Perkantoran Sebagai Energi Listrik Alternatif (Studi Kasus: Gedung Kantor Dinas Pekerjaan Umum Kabupaten Sintang Provinsi Kalimantan Barat). Jurnal Teknik Elektro Universitas Tanjungpura, 1(1).
Evalina, & Noorly (2021). "Analisa Perbandingan Pembangkit Listrik Tenaga Surya Jenis Polikristal Dengan Monokristal Terhadap Output Inverter Pure Sinus Wave", PhD diss., UMSU, 2021.
Naim, & Muhammad (2020). "Rancangan Sistem Kelistrikan PLTS Off Grid 1000 Watt Di Desa Loeha Kecamatan Towuti." Vertex Elektro 12.1 (2020): 17-25.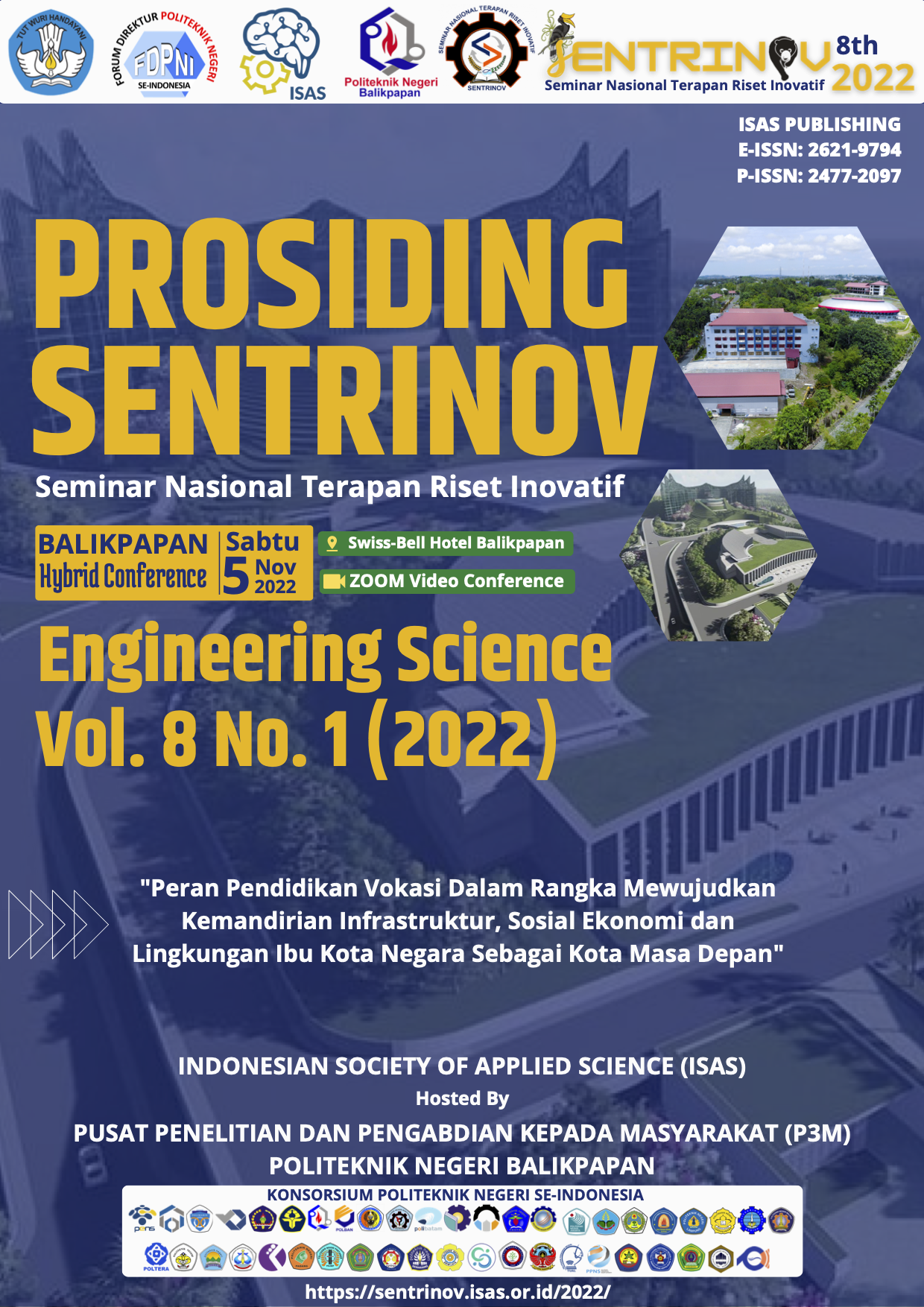 Downloads
How to Cite
I Nyoman Sugiarta, Ketut Bayu Krisna Ramadhan, I Nyoman Sukarma, & I Wayan Sudiartha. (2023). PERANCANGAN PEMBANGKIT LISTRIK TENAGA SURYA SEBAGAI SUPPLY DAYA UNTUK POMPA AIR. Prosiding Seminar Nasional Terapan Riset Inovatif (SENTRINOV), 8(1), 130 -138. Retrieved from https://proceeding.isas.or.id/index.php/sentrinov/article/view/1154