SIMULASI KENDALI PROSES PEMURNIAN NIRA MENTAH MENGGUNAKAN DCS SIMULATOR PANEL STTN-BATAN
Keywords:
Clarification process, DCS Simulator Panel, Simulation and system control
References
A. Achour. 2015. Distributed Control System (DCS) an Application on Yokogawa CENTUM. 10.13140/RG.2.2.34828.72327.
Astrid Savitri. (2019). Revolusi Industri 4.0 Mengubah Tantangan Menjadi Peluang Di Era Disrupsi 4.0, Yogyakarta: Genesis Learning
Alvionita, D., (2018). Simulasi Modifikasi Plant pada Coarse Hydrate Precipitation Menggunakan Panel Simulator DCS Centum VP, Yogyakarta: STTN-BATAN.
Badan Pusat Statistik. 2018. Laporan Survei Sosial Ekonomi Nasional tahun 2017 Indonesia, Jakarta: BPS
Hotono, Yusup. (2015). Laporan PL3234 PG. Madukismo Yogyakarta. Fakultas Teknologi Pertanian. Institute Pertanian Bogor
Irwanto, Yudi. (2020). Automation of mixing tank system in STTNBATAN mini plant using DCS Centum V. Journal of Physics: Conference Series. Series 1436 (2020) 012128
M. Rajalakshmi , V. Saravanan , V. Arunprasad , C. A. T. Romero , O. I. Khalaf & C. Karthik. (2022). Machine Learning for Modeling and Control of Industrial Clarifier Process. Tech Science Press. IASC, 2022, vol.32, no.1. 339-358
Naja, Mas ulun. (2016). Otomasi Sistem Pemurnian Nira Pada Produksi Gula Berbasis PLC (Programable Logic Controller) OMRON CJ2H di PG. Toelangan Sidoarjo. Laporan Kerja Praktik. Program Studi S1 Sistem Komputer. Institut Bisnis dan Informatika STIKOM Surabaya
Rosyadi, Hasna. (2020). Simulasi kendali boiler B-1102 PT. Petrokimia gresik berbasis DCS Centum VP. Prosiding Seminar Nasional NCIET Vol.1 (2020) B150-B161.
R. Nashriyah. (2017). Simulasi Pengoperasian Reaktor Kartini Menggunakan DCS Simulator Panel Centum VP.Yogyakarta. STTN-BATAN.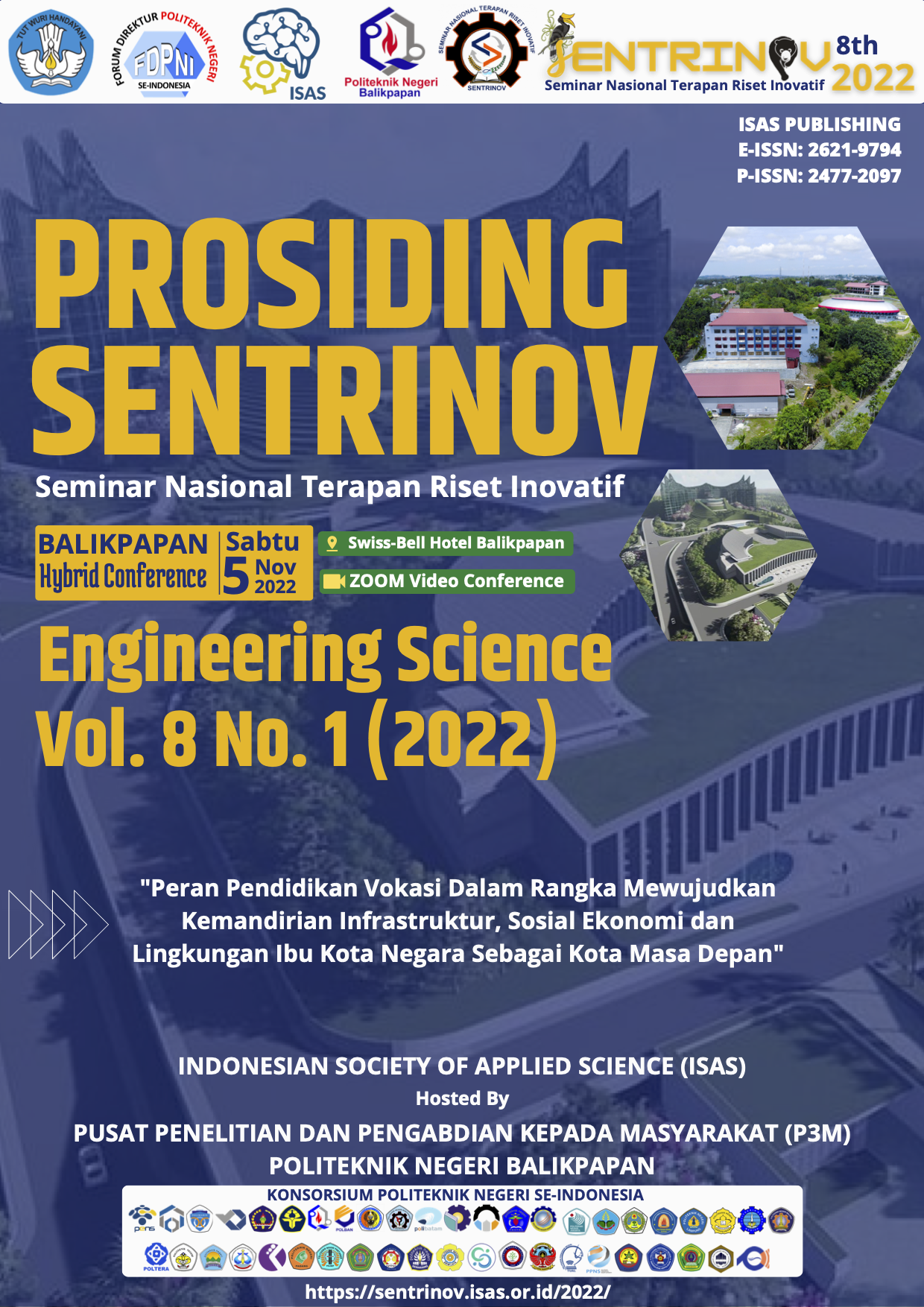 Downloads
How to Cite
Afifah Nurrahmah F, Djiwo Harsono, & Joko Sunardi. (2023). SIMULASI KENDALI PROSES PEMURNIAN NIRA MENTAH MENGGUNAKAN DCS SIMULATOR PANEL STTN-BATAN . Prosiding Seminar Nasional Terapan Riset Inovatif (SENTRINOV), 8(1), 223 - 230. Retrieved from https://proceeding.isas.or.id/index.php/sentrinov/article/view/1172