KUAT TEKAN DAN KUAT LENTUR PAVING BLOCK BERPORI MENGGUNAKAN LIMBAH BOTOL PLASTIK TIPE POLYETHYLENE TEREPHTALATE
Keywords:
Plastik waste, Porous paving block, Polyethylene Terephthalate (PET)
References
AM., R. S., & Atmadi, P. B. (2020). Pemanfaatan Limbah Pet Sebagai Substitusi Agregat Halus Pada Paving block . TEDODOLITA+ Media Komunikasi Ilmiah di Bidang Teknik, Vol. 21, No.1. DOI: 10.53810/jt.v21i1.332.
ASTM C136. Standard Test Method for Sieve Analysis of Fine and Coarse Aggregate.
Fauzan, R. F. Z. (2019). Pengaruh penambahan sampah plastik PET dan LDPE terhadap Kuat Tekan Paving block . 6th ACE Conference, 29 Oktober 2019, Padang, Sumatera Barat. hal. 179–187.
Gusneli Yanti, Zainuri, & Shanti Wahyuni Megasari. (2021). Variasi Penambahan Sikacim Pada Beton Porous. PADURAKSA: Jurnal Teknik Sipil Universitas Warmadewa, 10(1), 112–123. https://doi.org/10.22225/pd.10.1.2617.112-123
Lumintang, V. S., Da, E., Sarajar, C., Sumajouw, H., & Supit, S. W. M. (2019). Kuat Tekan Beton Dengan Kerikil Plastik Untuk Pembuatan Bak Kontrol Limbah Rumah Tangga. Jurnal Teknik Sipil Terapan, Vol.1. No.1, hal.38–46.
Masdiana, M., Sulha, S., Mursidi, B., Machmud, S., Prasetia, M. ., & Lewikinta, A. . (2021). Studi Pengaruh Limbah Plastik Sebagai Subtitusi Agregat Halus Terhadap Kuat Tekan Mortar. Rekayasa Sipil, Vol.15, No.3, hal. 222–227.
Pandei, R. W., Supit, S. W. M., Rangan, J., & Karwur, A. (2019). Studi Eksperimen Pengaruh Pemanfaatan Superplastikizer Terhadap Kuat Tekan Dan Permeabilitas Beton Berpori (Pervious Concrete). Jurnal Poli-Teknologi, Vol.18, No.1, hal.45–52. https://doi.org/10.32722/pt.v18i1.1288
SNI 03-0691-2002. Bata beton (paving block). Badan Standarisasi Nasional (1996).
SNI 03-1968-1990: Metode Pengujian Analisis Saringan Agregat Halus dan Kasar. Badan Standarisasi Nasional (1990).
SNI 1969-2008: Cara Uji Berat Jenis dan Penyerapan Air Agregat Kasar. Badan Standarisasi Nasional (2008).
SNI 2417-2008. Cara Uji Keausan Agregat dengan Mesin Abrasi Los Angeles. Badan Standarisasi Nasional (2008).
Surya, A., Al Anzari, D. A., Juniarti, A., & Setiawan, A. (2021). Pemanfaatan Limbah Plastik Polyethylene Terephthalate Sebagai Pengganti Agregat Halus Dalam Pembuatan Paving block . Jurnal Ilmiah Ecosystem, Vol.21, No.3, hal.526–531. https://doi.org/10.35965/eco.v21i3.1078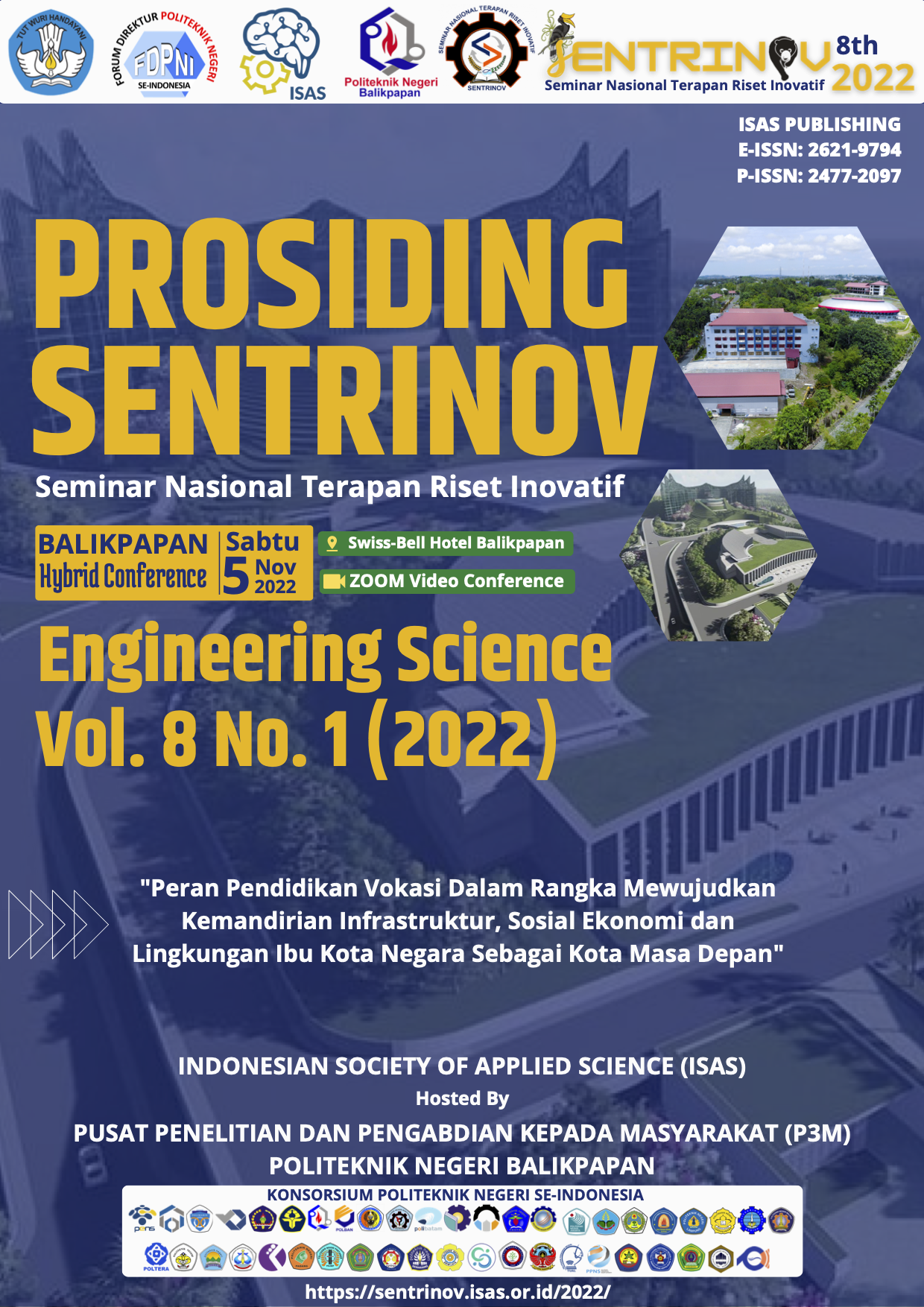 Downloads
How to Cite
Mireikel Marvel Astanto, Steve W.M Supit, Jeanely Rangkang, & Priyono. (2023). KUAT TEKAN DAN KUAT LENTUR PAVING BLOCK BERPORI MENGGUNAKAN LIMBAH BOTOL PLASTIK TIPE POLYETHYLENE TEREPHTALATE. Prosiding Seminar Nasional Terapan Riset Inovatif (SENTRINOV), 8(1), 351 - 358. Retrieved from https://proceeding.isas.or.id/index.php/sentrinov/article/view/1183