DISAIN FASILITAS PENDUKUNG PADA TERMINAL TUMATENDEN TIPE-B DI KABUPATEN MINAHASA UTARA
Keywords:
type B passenger terminal, design, supporting facilities
Abstract
The Tumatenden Terminal, which is located on Jalan Arnold Mononutu Airmadidi, North Minahasa Regency, functions as a Type-B Passenger Terminal and as a node point for changing modes of public passenger transportation for community mobility in North Minahasa Regency. This study aims to produce a Type-B Passenger Terminal Reference Design, namely the Tumatenden Airmadidi Terminal to make it more comfortable, efficient and orderly, and the resulting design concept can function to serve City In-Provincial Transport passenger vehicles, in accordance with the standard operating terminal type-B. The method used in this research is the precedent review method, namely by conducting comparative studies or comparisons of similar facilities that already exist as a comparison material to obtain input that can be applied to the design plan and in order to gain an understanding of the factors supporting the technical requirements of the building. Furthermore, conducting compilation and merging, as well as improvement of the materials that have been obtained from field research and literature studies and precedent review studies conducted.
References
Adji, A. S. (2011). jaringan transportasi: teori dan analisis. Makassar: Graha ilmu.
Frans, J. H. (2017). Evaluasi Dan Pengembangan Kapasitas Terminal Bus Kota Kupang. Jurnal Teknik Sipil Vol. VI, No. 2, September 2017 P:129-141.
Hermanto, S. (2019). Perancangan Terminal Dengan Konsep Historikal Di Gorontalo. Gorontalo: Radial – Jurnal Peradaban Sains, Rekayasa Dan Teknologi Sekolah Tinggi Teknik (STITEK) Bina Taruna Gorontalo VOLUME 5 NO. 2, P:209-220.
Indonesia, K. P. (1995). Keputusan Menteri Perhubungan Nomor 31 Tahun 1995 Tentang Terminal Angkutan Umum.
Indonesia, K. P. (2016). Keputusan Menteri Perhubungan Indonesia No. PM 32 Tahun 2016.
Indonesia, P. P. (1993). PP Nomor 43 Tahun 1993 TentangPrasarana dan Lalu Lintas Jalan Presiden Republik Indonesia.
Ismunandar. (2011). Terminal Angkutan Darat Di Kabupaten Luwu Timur. Makassar: Skripsi, Program Sarjana Teknik Arsitektur Jurusan Teknik Arsitektur Fakultas Sains Dan Teknologi Universitas Islam Negeri Alauddin Makassar.
LLAJ, J. (1995). Norma Standar Pedoman Manual - Kawasan Terminal.
Morlok, E. K. (1998). Pengantar Teknik dan Perencanaan Transportasi. Jakarta: Erlangga.
Pajow, H. A. (2020). Terminal Karombasan Tipe-B Di Manado". Arsitektur Hijau. Manado: Jurnal Arsitektur DASENG, 9(1), 152-159.
Putri, S. N. (2018). Penentuan Lokasi Pembangunan Terminal Angkutan Barang di Sampit. Jurnal Transportasi Multimoda, Volume 16, Nomor 01, Juni 2018. P:1-14.
Studyana, M. A. (2013). Analisa Kapasitas Terminal Bis Berdasarkan Kebutuhan Struktur Ruang. Bandung: Jurnal Bisnis dan Manajemen Aset Vol.1. Teknik Sipil Poliban.
Vicky A. Assa, S. P. (2021). Perencanaan Terminal Penumpang AKDP Pada Terminal Tumatenden Airmadidi Kabupaten Minahasa Utara. Politeknik negeri Jember: Prosiding Seminar Nasional Terapan Riset Inovatif (SENTRINOV) Ke-7, .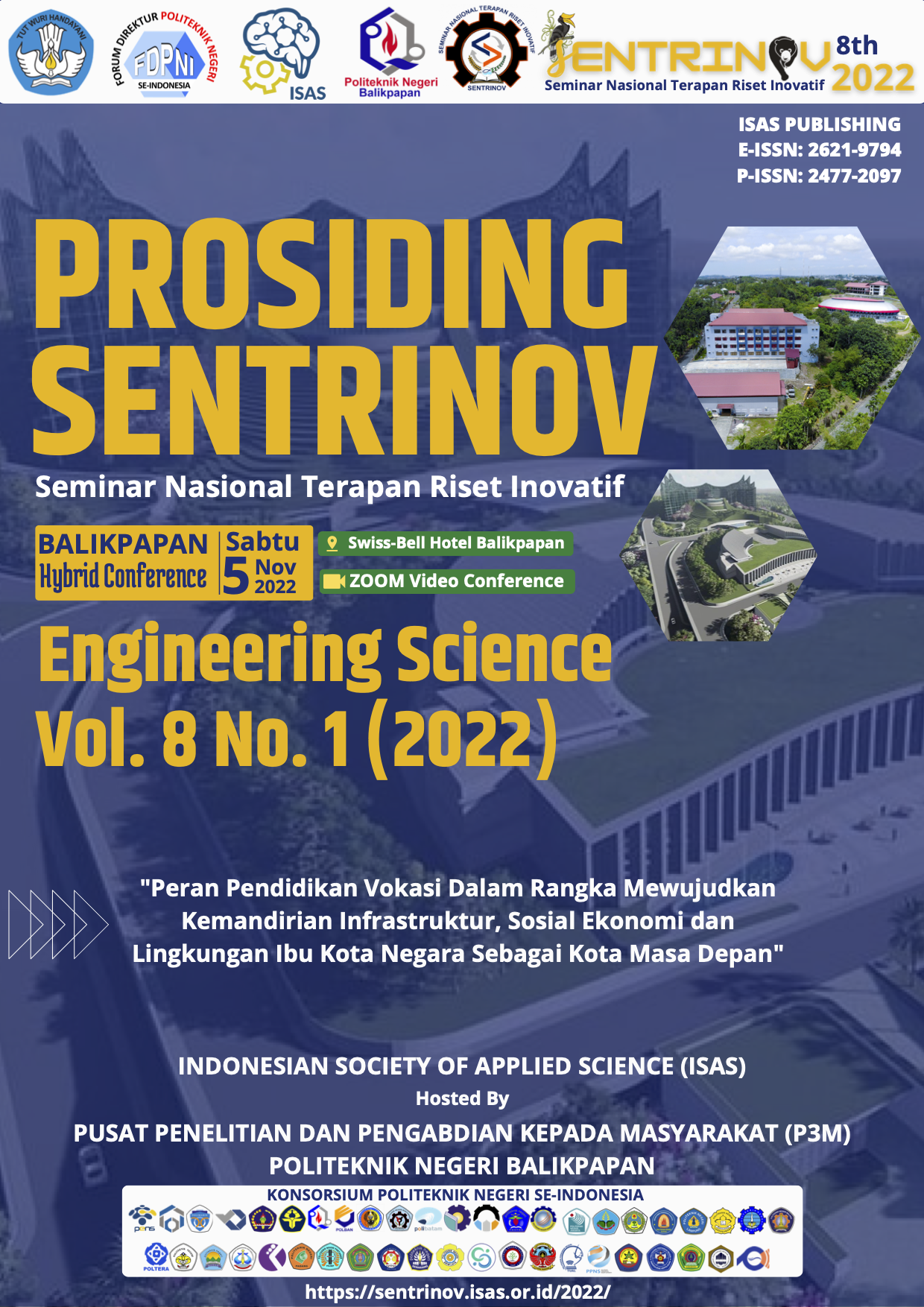 Downloads
How to Cite
Syanne Pangemanan, & Vicky A. Assa. (2023). DISAIN FASILITAS PENDUKUNG PADA TERMINAL TUMATENDEN TIPE-B DI KABUPATEN MINAHASA UTARA. Prosiding Seminar Nasional Terapan Riset Inovatif (SENTRINOV), 8(1), 400 - 407. Retrieved from https://proceeding.isas.or.id/index.php/sentrinov/article/view/1188