PEMANFAATAN AMPAS KELAPA SEBAGAI SUMBER PANGAN
Keywords:
coconut dregs, flakes, waste
Abstract
Coconut is one of the leading commodities in Sambas Regency. The use of coconut fruit is still limited to coconut milk. This leaves coconut pulp as waste while the coconut pulp content is still quite a lot. In general, this waste is only used as animal feed or fertilizer. The purpose of this study was to determine the utilization of coconut pulp as a food source. This study used an experimental method by comparing the proximate content of coconut flakes based on drying when making flour using oven and sun drying. The results of the proximate test showed that the carbohydrate, protein, and fat content of coconut pulp flakes were higher in flakes with coconut dregs flour drying in an oven than drying in the sun.
References
BeMiller, JN., Whistler, RL. 2009. Starch: Chemistry and Technology. Academic Press. Amsterdam
Bourne, M. 2002. Food Texture and Viscosity: Concept and Measurement. Academic Press. New York City
Hafiza, et al (2012) 'Screening of significant media components for production of bioprotein from coconut dregs using statistical approach', International Food Research Journal, 19(2), pp. 499–502.
Chutrtong, J., & Chutrtong, W. (2019). Paper for Chromatographic Technique from Coconut Pulp Cellulose. Procedia Manufacturing, 32, 969–974. https://doi.org/10.1016/j.promfg.2019.02.310
Haryanti, P., Setyawati, R., & Wicaksono, R. (2014). Pengaruh Suhu Dan Lama Pemanasan Suspensi Pati Serta Konsentrasi Butanol Terhadap Karakteristik Fisikokimia Pati Tinggi Amilosa Dari Tapioka. Jurnal Agritech, 34(03), 308. https://doi.org/10.22146/agritech.9459
Kriswiyanti, E. (2014). KEANEKARAGAMAN KARAKTER TANAMAN KELAPA (Cocos nucifera L. ) YANG DIGUNAKAN SEBAGAI BAHAN UPACARA PADUDUSAN AGUNG. Jurnal Biologi, 17(1), 15–19.
Nurhidayanti, A., & Dewi, S. A. (2017). Pembuatan Flakes Dengan Variasi Tepung Gandum Dan Tepung Kelapa Dalam Upaya Peningkatan Mutu Flakes. TEKNOLOGI PANGAN: Media Informasi Dan Komunikasi Ilmiah Teknologi Pertanian, 8(2), 163–170. https://doi.org/10.35891/tp.v8i2.648
Pandiangan, C. S. B., Langi, T., & Mandey, L. C. (2022). KARAKTERISTIK FISIKOKIMIA SNACK BARS TEPUNG AMPAS KELAPA (Cocos nucifera L.) DAN TEPUNG UBI JALAR KUNING (Ipomea batatas L.). Jurnal Teknologi Pertanian, 12(1). https://ejournal.unsrat.ac.id/index.php/teta/article/view/38855
Prieto, W. H., Iguti, A. M., & Nitz, M. (2011). Drying evaluation of green coconut pulp for obtaining a snack-like product. Procedia Food Science, 1, 1618–1627. https://doi.org/10.1016/j.profoo.2011.09.239
Purnamasari, I., Zamhari, M., & Putri, S. (2021). Pembuatan Tepung Serat Tinggi Dari Ampas Kelapa ( Cocos Nucifera ) Dengan Metode Pengeringan Beku Vakum Production of High Fiber Flour From Coconut Dregs By. Jurnal Kinetika, 12(1), 45–50.
Salmahaminati, S. (2022). Water and Protein Analysis of Sausage product In PT. Jakarana Tama Bogor. Indonesian Journal of Chemical Research, 6(2), 111–117. https://doi.org/10.20885/ijcr.vol6.iss2.art7
Sigiro, O. N., Elysapitri, & Habibah, N. (2022). Edible Coating Limbah Kulit Pisang untuk Perpanjang Umur Simpan Buah Tomat Edible Coating from Banana Peel Waste to Extend Tomato Shelf Life. AGRITEKNO: Jurnal Teknologi Pertanian, 11(2), 54–60. https://doi.org/10.30598/jagritekno.2022.11.2.54
Sigiro, O. N., Sukmayani, & Habibah, N. (2020). Potensi bahan pangan tepung biji durian setelah melalui masa penyimpanan. 3(2), 229–233. https://doi.org/10.37637/ab.v3i2.623
Silvia. (2018). Prosiding Seminar Nasional 2018 Prosiding Seminar Nasional 2018 Tabel 1 . Karakteristik Ampas Kelapa Produk Warna Aroma Berbau Tengik Agak Berbau Tengik Sedikit Berbau Tengik Agak Harum Kelapa Harum Kelapa Harum Kelapa Berbau tengik Agak berbau tengik Sed. 1(April), 317–321.
Yulvianti, M., W. Ernayati, Tarsono dan M. Alfian R. 2015. Jurnal Integrasi Proses. Pemanfaatan Ampas Kelapa Sebagai Bahan Baku Tepung Kelapa Tinggi Serat dengan Metode Freeze Drying. Vol. 5 No (2) 101-107.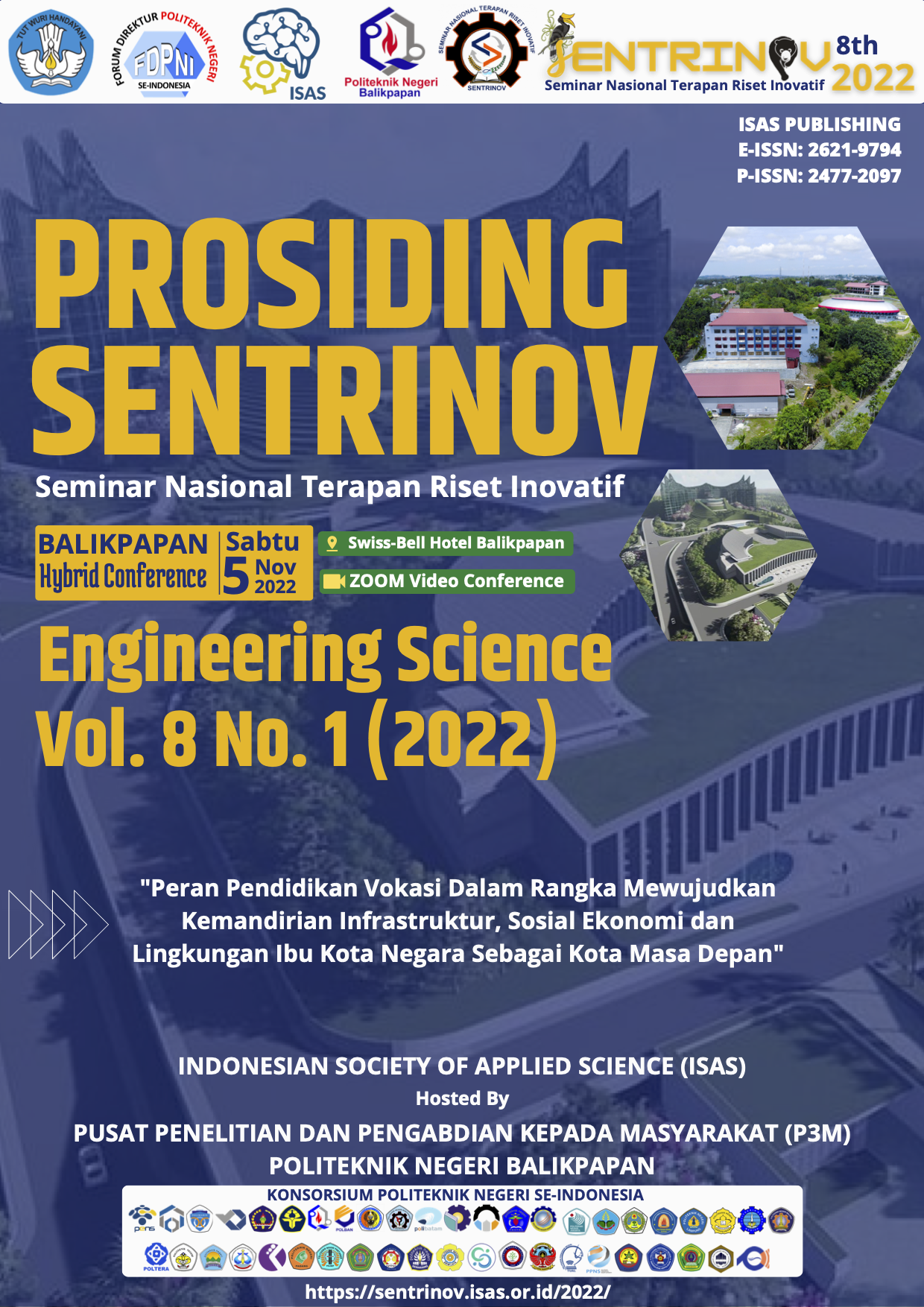 Downloads
How to Cite
Oktavia Nurmawaty Sigiro, Asti Febrina, & Rahmawati. (2023). PEMANFAATAN AMPAS KELAPA SEBAGAI SUMBER PANGAN. Prosiding Seminar Nasional Terapan Riset Inovatif (SENTRINOV), 8(1), 585 - 590. Retrieved from https://proceeding.isas.or.id/index.php/sentrinov/article/view/1209