ANALISA DAYA SERAP AIR DAN DAYA SIMPAN EDIBLE SPOON DARI PEMANFAATAN TANAMAN ENDEMIK KALAKAI DAN AMPAS TAHU
Keywords:
Edible spoon, water absorption, storability, kalakai plant, dregs tofu
Abstract
Edible spoon is one type of edible cutlery, namely disposable cutlery made of biodegradable materials so that it can reduce the use of plastic cutlery that is not environmentally friendly. Edible spoons can be made from various materials, such as from the endemic plant kalakai and tofu dregs. The purpose of this study was to determine the water absorption and shelf life of edible spoons based on the difference in weight composition between kalakai plants and tofu dregs. Making edible spoons begins with the preparation of kalakai plants and tofu dregs to produce pulp. Mix the pulp with a ratio of 80%: 20%, 40%: 60%, 50%: 50%, 60%: 40% and 80%: 20% (w/w), then add 1.5 times the weight of wheat flour. The dough is milled and molded to the size of a spoon and then baked for 70 minutes. Based on the results of the study, it showed that the water absorption of the edible spoon ranged from 19.9285% to 66.6147% which was influenced by the fiber content in the edible spoon. Meanwhile, the storability test was not influenced by the content or weight ratio between the kalakai plant and tofu dregs, but rather from the type of storage used. So that the best edible spoon based on the absorption test was obtained in V4 while the best type of storage for storing edible spoons was using vacuum storage.
References
Arismawanti, P. I., & Chairuni AR. (2021). Formulasi Pembuatan Edible Spoon Dengan Penambahan Varian Ekstrak Pewarna Alami Serta Bubuk Kayu Manis (Cinamomum Burmanii) Sebagai Anti Mikroba. Serambi Journal of Agricultural Technology (SJAT), 3(2), 98–99.
Dede Mahdiyah, Anggrita Sari, Adriana Palimbo, Putri Vidia Sari, Rina Al Kahfi, F. N. (2021). Pemanfaatan Kekayaan Hayati Lokal: Teh Fermentasi Dari Kelakai (Stenochlaena Palustris) Sebagai Produk Kewirausahaan. Jurnal Pengabdian Al-Ikhlas, 7(1), 124–130.
Negara, C. K., Murjani, & Basyid, A. (2017). Pengaruh Ekstrak Kelakai (Stenochlaena palustris) Terhadap Kadar Hemoglobin Pada Tikus Putih (Rattus norvegicus). Borneo Journal of Pharmascientech, 01(01), 10–17.
Puspandam Sharfina, Almas Tjandrawibawa, P. (2020). Inovasi Starter Kit Perlengkapan Makan Berbahan Dasar Bambu Sebagai Alternatif Penggunaan Plastik. Seminar Nasional Envisi 2020, 142–147.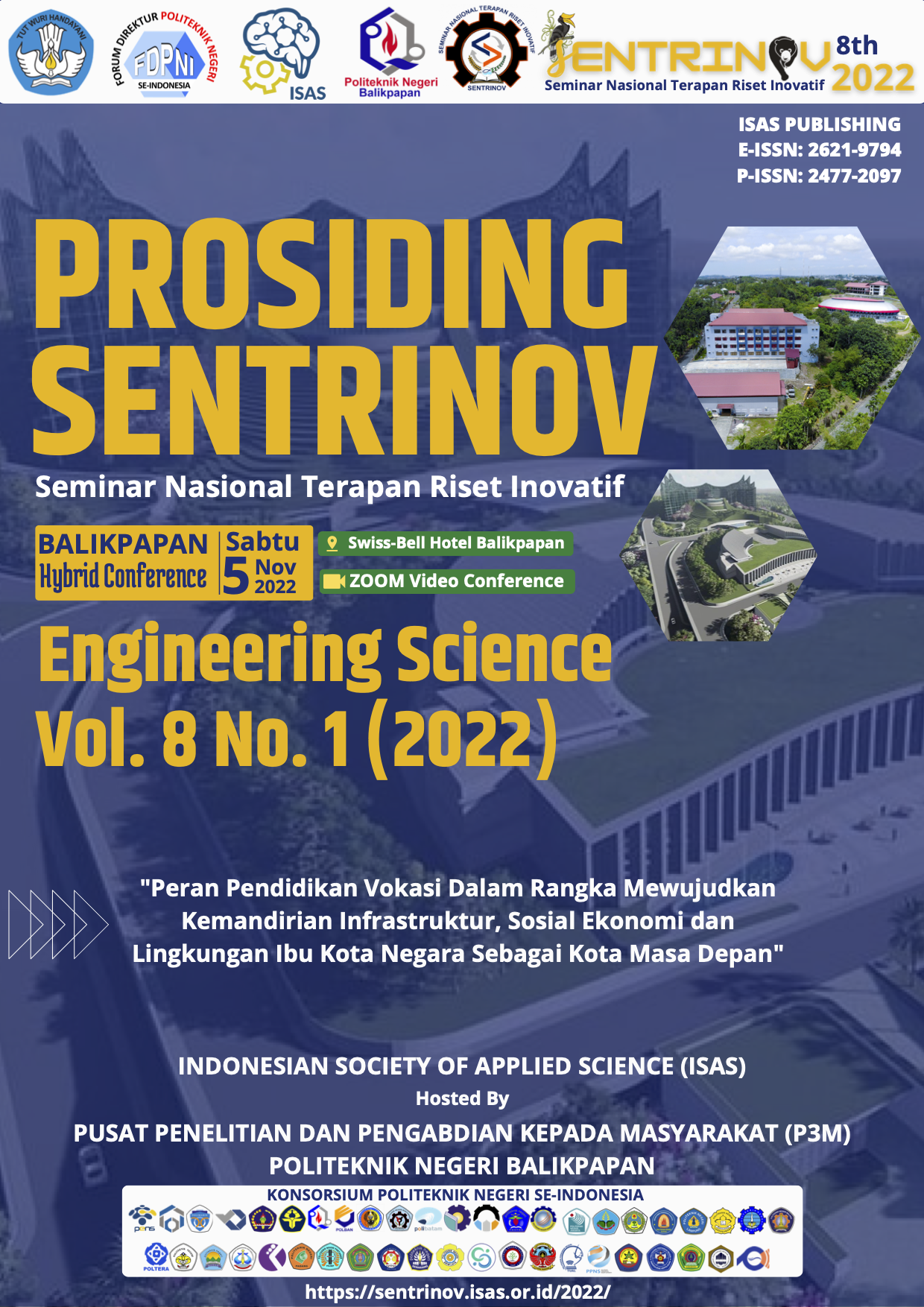 Downloads
How to Cite
Reza Nofrialdy, Muamar, Tiara Priscilla, Irma Anjarwati, Muhammad Rezky Nurdiansyah, & Noorma Kurnyawaty. (2023). ANALISA DAYA SERAP AIR DAN DAYA SIMPAN EDIBLE SPOON DARI PEMANFAATAN TANAMAN ENDEMIK KALAKAI DAN AMPAS TAHU. Prosiding Seminar Nasional Terapan Riset Inovatif (SENTRINOV), 8(1), 569 - 576. Retrieved from https://proceeding.isas.or.id/index.php/sentrinov/article/view/1210