POTENSI WISATA DI KAMPUNG NELAYAN BERDASI KOTA BALIKPAPAN, KALIMANTAN TIMUR
Keywords:
Kampung Nelayan Berdasi, Ecotourism, Edutourism, Balikpapan
Abstract
Kampung Nelayan Berdasi in Balikpapan, East Kalimantan has promising tourism to be developed. The year 2022 is a turning point for tourism development which was stopped during the pandemic. This area is build in 2018 and have no earlier studies about potential mapping of tourism development. Through this research, tourism potential and analysis of tourism development can be identified. This area have mangrove landscapes and fishing pond is the main selling point of tourism attraction. By using interview and SWOT analysis, found that this area have many tourism attraction such as sailing, bekantan, sunset, traditional fisherman activities, soft shell crab, fishing, and studies of ecotourism and edutourism. There is no tourism group in the area to make more community involment. Tourism group is good for the sustainability of the tourist area to maximize its potential in order to improve the community's economy, protect the environment, and the social condition of the community.
References
Bramwell, B., 1998. User satisfaction and product development in urban tourism. Tourism management, 19(1), pp.35-47.
Crompton, J.L., 1979. Motivations for pleasure vacation. Annals of tourism research, 6(4), pp.408-424.
Fayed, H.A.K., Wafik, G.M. and Gerges, N.W., 2016. The Impact of Motivations, Perceptions and Satisfaction on Tourists Loyalty. International Journal of Hospitality and Tourism Systems, 9(2), p.14.
Giraldi, A., 2016. Understanding the motivation of repeat visitors to Rome. European Journal of Tourism Research, 13.
Gursoy, D., S. Chen, J. and G. Chi, C., 2014. Theoretical examination of destination loyalty formation. International Journal of Contemporary Hospitality Management, 26(5), pp.809-827.
Hidayana, Fransiska Fila; Suryawardani, I Gusti Ayu Oka; Wiranatha, Agung Suryawan. 2019. The Infuence of Tourist' Motivation on Intention to Revisit at Traditional Village of f Prai Ijing, Waikabubak, West Sumba, East Nusa Tenggara. E-Journal of Tourism Vol.6. No.2. (2019): 303-321
Kozak, M. and Rimmington, M., 2000. Tourist satisfaction with Mallorca, Spain, as an off-season holiday destination. Journal of travel research, 38(3), pp.260-269.
Karim, S., Kusuma, B.J. and Amalia, N., 2017. Tingkat Partisipasi Masyarakat Dalam Mendukung Kepariwisataan Balikpapan: Kelompok Sadar Wisata (Pokdarwis). Jurnal Bisnis dan Kewirausahaan, 13(3), pp.144-155.
Machado, K. B. 2000. Willingness to Pay for Conservation Programs: A Contingent Valuation Study of the Galapagos National Park. Cornell University.
Mill, R.C. and Morrison, A.M .2009. The Tourism System, Sixth Edition. United States of America: Kendall Hunt
Neraca Satelit Pariwisata Nasional 2017 (NESPARNAS). 2016. Kementrian Pariwisata Indonesia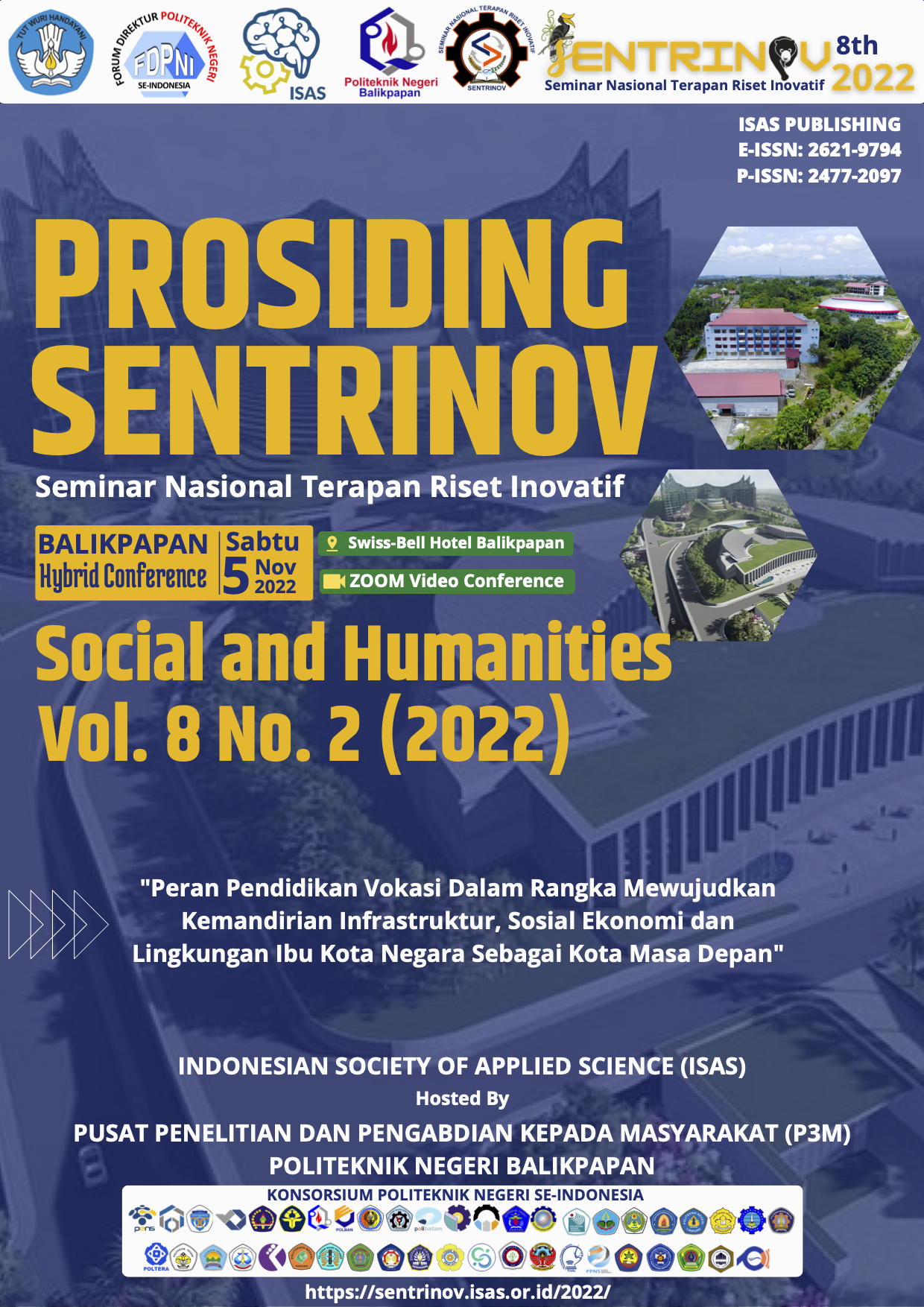 Downloads
How to Cite
Febby Rio Pratama Syarif, Yogiana Mulyani, & Nurvita Opu. (2023). POTENSI WISATA DI KAMPUNG NELAYAN BERDASI KOTA BALIKPAPAN, KALIMANTAN TIMUR. Prosiding Seminar Nasional Terapan Riset Inovatif (SENTRINOV), 8(2), 11 - 18. Retrieved from https://proceeding.isas.or.id/index.php/sentrinov/article/view/1219