PENGARUH ATRIBUT DESTINASI MICE, CITRA DESTINASI TERHADAP SELEKSI DESTINASI OLEH MEETING PLANNERS DI EXISTING DESTINATION
Keywords:
Destination attributes, destination image, destination selection
Abstract
MICE destination attributes are one of the crucial things for Meeting Planners in choosing a destination. This study to purpose and analyze the influence of MICE destination attributes and Destination Image on destination selection.  Data collection was carried out by a simple random sampling technique on 165 respondents who were in existing destinations, Jakarta and Bali. The data analysis used in this study is General Structured Component Analysis.  The results of this study show that the MICE destination attribute variable has a significant effect on the destination image variable with a path coefficient of  with a value (p-value of 0.002 <0.005), this means that the better or complete the MICE destination attribute, the better the image of a destination, then the destination image variable has a significant effect on destination selection with a path coefficient of  and a p-value of < 0.001, while the MICE destination attribute variable to the destination selection variable obtained a path coefficent value of  with a p-value of 0.202 > 0.05 then there is an insignificant influence, this means that the MICE  destination attribute is good or complete does not affect the selection of destinations by Meeting Planners.
References
Adi Hayat, (2011). Attribute influencing meeting planners destination selection case of Orlando, F1. Electronic Theses and Dissertation.
Aksu, A., Caber, M., Albayrak, T, (2000), Pengukuran Evaluasi Destinasi, Faktor Pendukung dan Pengaruhnya terhadap Niat Perilaku Pengunjung: Wilayah Antalya Turki, Tourism Analysis 14, 115-125.
Baloglu, S., dan McClearly, K.W (1999). Model pembentukan citra destinasi, Annals of Tourism Research, 26(4), 868-897.
Baloglu, S. and Love, C (2005). Association meeting planners perception and intention for five major US convention cities: The structured and unstructure image. Tourism Management 5 (2): 23-30.
Beerli, A dan Martin, JD (2004). Faktor-faktor yang mempengaruhi citra destinasi. Sejarah Riset Pariwisata , 31 (3), 657-681.
Campiranon. K and Arcodia, C (2008). Market segmentation in time of crisis: A Study of the MICE sector Thailand. Journal of Travel and Tourism Marketing 23 (2-4): 151-161.
Chew, E.Y. and Jahari, S.A (2014) Destination image as a mediator between perceived riks and revisit intention: A case of post-disaster Japan. Tourism Management 24 (4): 220-231.
Crouch, G., and Ritchie, J.R.B (1988). Convention site selection research, Journal of Convention and Exhibition Management 1 (1): 49-69.
Dwyer, L., and Forsyth, P 1997. Measuring the benefits and yield from foreign tourism . International Journal of Social Economics 3 (1): 21-38.
Dwyer, L. and Mistilis N (1999). Development of MICE tourism in Australia. Journal of Convention and Exhibition Management 1 (4): 85-100.
Getz, D. (2008). Event tourism: definition, evolution and reseach. Tourism Management 29: 403-426.
Hing, N. Lewis, P. McCabe, V. Leiper N., (1988). Hospitality trends in the asia pacific discussion of five key sectors, Intrnational journal of contemporary Hospitality Management 12 (2): 55-67.
Kotler, P. (2009). Marketing Management Thirteenth Edition, U.S.A Pearson, Prentice Hall
Mc Cartney, G. (2008). The CAT (Casino Tourism) and the MICE: Key development consideration for the convention and exhebition industri in Macao. Journal of Convention and Event Tourism. Routledge.
Oppermann, M. and Chon, K (1997). Tourism in deveoping Countries. London Internasional Thomson Business Press.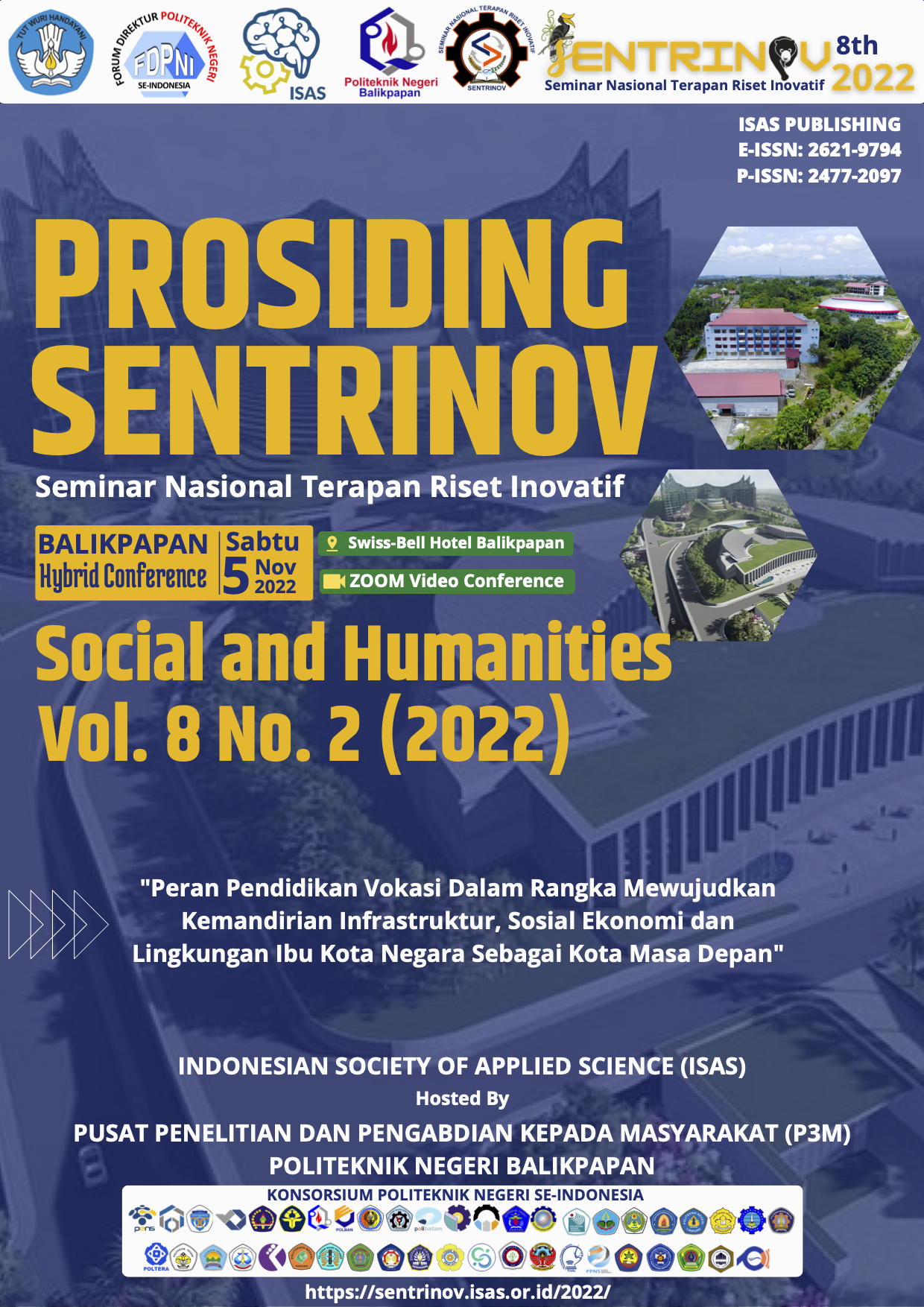 Downloads
How to Cite
Etty Khongrat. (2023). PENGARUH ATRIBUT DESTINASI MICE, CITRA DESTINASI TERHADAP SELEKSI DESTINASI OLEH MEETING PLANNERS DI EXISTING DESTINATION. Prosiding Seminar Nasional Terapan Riset Inovatif (SENTRINOV), 8(2), 87 - 93. Retrieved from https://proceeding.isas.or.id/index.php/sentrinov/article/view/1224