EFEKTIVITAS DIGITAL MARKETING SEBAGAI INTEGRATED MARKETING COMMUNICATION PADA UMKM BINAAN PT. PERTAMINA HULU ROKAN
Keywords:
Digital Marketing, Integrated Marketing Communication
Abstract
This study aims to measure the level of effectiveness of digital marketing as part of integrated marketing communication (IMC) in MSMEs assisted by PT. Pertamina Hulu Rokan (PHR) Mandau District. The research method is quantitative descriptive research. Data collection techniques used surveys, observational and In Deph Interviews to MSMEs fostered by PT. Pertamina Hulu Rokan, Mandau sub-district. Data analysis used associative descriptive technique. The research variables are digital marketing and integrated marketing communication. Data was collected by probability sampling with Simple Random sampling of 100 respondents in Mandau District. The results of this study indicate that public perception of Digital Marketing of MSME products in Mandau District is very effective.
References
Alwendi, A. (2020). Penerapan E-Commerce Dalam Meningkatkan Daya Saing Usaha. Jurnal Manajemen Bisnis, 17(3), 317-325.
Febriyantoro, M. T., & Arisandi, D. (2018). Pemanfaatan digital marketing bagi usaha mikro, kecil dan menengah pada era masyarakat ekonomi ASEAN. JMD: Jurnal Riset Manajemen & Bisnis Dewantara, 1(2), 61-76.
Gumilang, R. R. (2019). Implementasi digital marketing terhadap peningkatan penjualan hasil home industri. Coopetition: Jurnal Ilmiah Manajemen, 10(1), 9-14.
Kader, M. A., Mulyatini, N., & Setianingsih, W. (2019). Model pemasaran digital marketing FB_ads dan email marketing dalam meningkatkan volume penjualan. Jurnal Ekonologi Ilmu Manajemen, 5(2), 299-305.
Kotler, P., Keller, K. L., Ancarani, F., & Costabile, M. (2014). Marketing management 14/e. Pearson.
Maulana, H. A., & Asra, Y. (2019). Analisa Pengaruh Promo Gratis Ongkos Kirim terhadap Keputusan Pembelian pada E-commerce oleh Generasi Z di Daerah Pedesaan. Inovbiz: Jurnal Inovasi Bisnis, 7(2), 162-165.
Oktaviani, F., & Rustandi, D. (2018). Implementasi digital marketing dalam membangun brand awareness. PRofesi Humas, 3(1), 1-20.
Rachmadewi, I. P., Firdaus, A., Qurtubi, Q., Sutrisno, W., & Basumerda, C. (2021). Analisis Strategi Digital Marketing pada Toko Online Usaha Kecil Menengah. Jurnal INTECH Teknik Industri Universitas Serang Raya, 7(2), 121-128.
Setyowati, N. D., & Tutiasri, R. P. (2021). Strategi Komunikasi Pemasaran Bagi Pelaku Usaha Makanan yang Terkena Dampak COVID-19. JISIP: Jurnal Ilmu Sosial Dan Ilmu Politik, 10(1), 73-84.
Thorfiani, D., Suarsa, S. H., & Oscar, B. (2021). Teknologi E-commerce dan Pengalaman Konsumen. Jkbm (Jurnal Konsep Bisnis Dan Manajemen), 7(2), 139-148.
Umami, Z., & Darma, G. S. (2021). Digital Marketing: Engaging Consumers With Smart Digital Marketing Content. Jurnal Manajemen dan Kewirausahaan, 23(2), 94-103.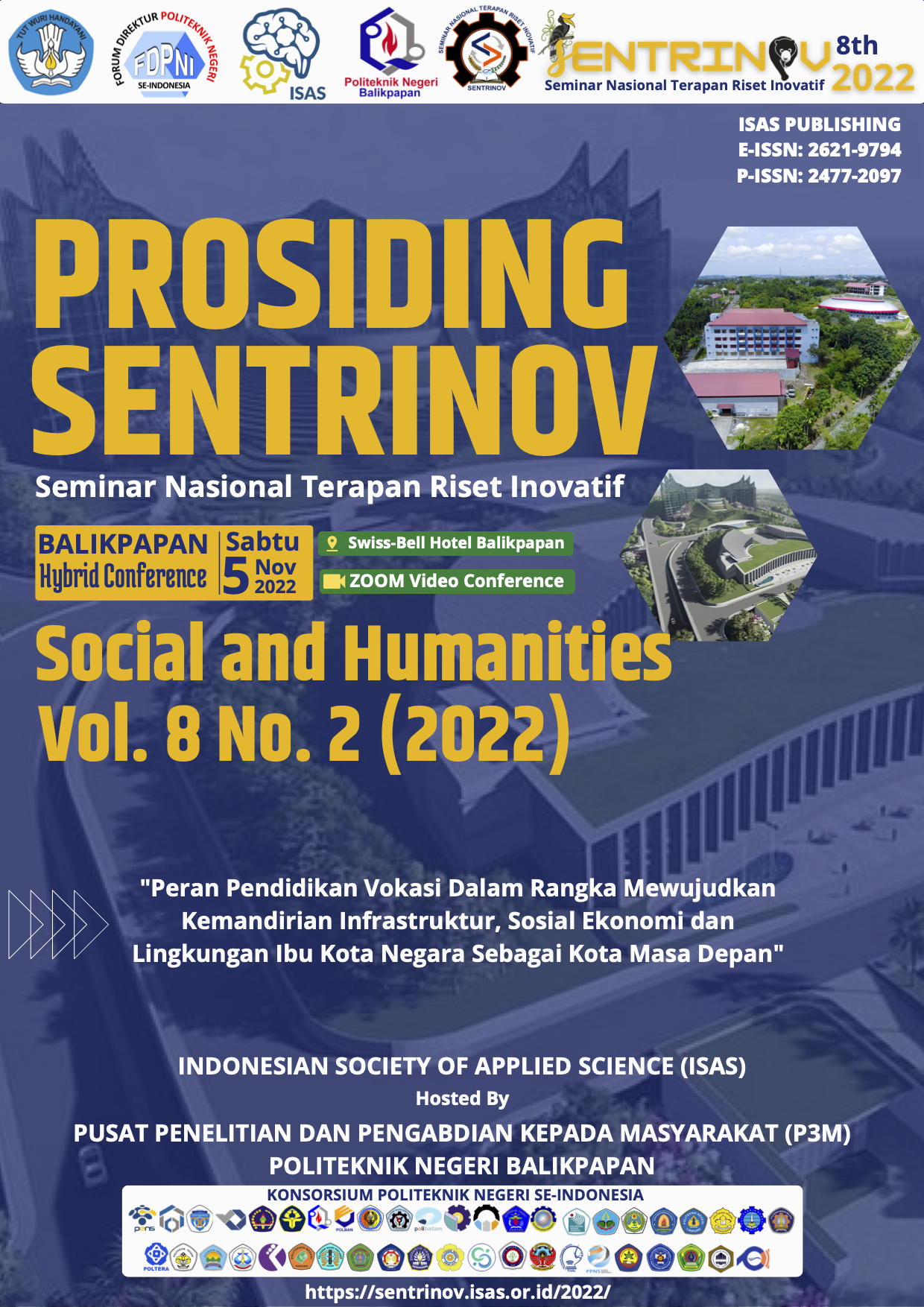 Downloads
How to Cite
Hutomo Atman Maulana, & Yunelly Asra. (2023). EFEKTIVITAS DIGITAL MARKETING SEBAGAI INTEGRATED MARKETING COMMUNICATION PADA UMKM BINAAN PT. PERTAMINA HULU ROKAN. Prosiding Seminar Nasional Terapan Riset Inovatif (SENTRINOV), 8(2), 146 - 152. Retrieved from https://proceeding.isas.or.id/index.php/sentrinov/article/view/1234