PENGEMBANGAN PRODI D-3 SENI KULINER SEBAGAI SENTRA INOVASI DAN KEWIRAUSAHAAN UMKM PANGAN BERBASIS MAKANAN TRADISIONAL INDONESIA
Keywords:
Traditional food, entrepreneur, innovation, art culinary, vocational higher education
Abstract
Indonesia is lacking of center of inovation and enterpreneur for traditional culinary based Small and Medium Enterprise (SME). This paper writen as reference to develop vocational higher aducation as  traditional culinary based innovation and entrepreneur center for SME. The development was conducted by mapping the problem together with SME, conducted scientific approach as alternative of problem solver, bridging SME's needs by involving in research and community service grants, and provided scientific references for SME. By this scheme, Art Culinary Diploma progame of Politeknik Negeri Media Kreatif had produced 4 articles in term of application of food quality standard in SME, 3 packaging designs for traditional culinary based SME, 2 food formulations for traditional culinary based SME, and 6 formulation on the way for western java traditional culinary "nasi liwet" from Bogor. Vocational Higher eductaion proved to play vital role in supporting empowerment, sustainability, and independence of SME.
References
Akhyadi, A. S. and Sadikin, I. S. (2020) 'The Construct of Community Empowerment through Social Compass Strategy: Case Study of Empowerment in Processing Waste and Water Hyacinth', EDUCARE: International Journal for Educational Studies, 13(1), pp. 27–48. Available at: www.journals.mindamas.com/index.php/educare.
Asian Development Bank (ADB) (2014) Anual report. Improving lives throughout Asia and the Pacific. Available at: https://www.adb.org/sites/default/files/institutional-document/158032/adb-annual-report-2014.pdf.
Askarno (2020) 'EFFORTS TO PRESERVE PUBLIC INTEREST IN TRADITIONAL CULINARY PRODUCTS IN ORDER TO IMPROVE THE COMMUNITY'S ECONOMY', Devotion Journal of Community Service, 1(2), pp. 51–58. Available at: https://www.devotion.greenvest.co.id/index.php/dev/article/download/62/121.
Bell, K. and Reed, M. (2021) 'The tree of participation: a new model for inclusive decision-making', Community Development Journal, pp. 1–20. doi: 10.1093/cdj/bsab018.
Bigliardi, B. et al. (2020) 'The past, present and future of open innovation', European Journal of Innovation Management, 24(4), pp. 1130–1161. doi: 10.1108/EJIM-10-2019-0296.
Gallan, A. S. et al. (2019) Transforming community well-being through patients' lived experiences, Journal of Business Research. doi: 10.1016/j.jbusres.2018.12.029.
Miawaty, F. (2020) 'Mengungkapkan Dampak Covid-19 Pada Umkm Sektor Kuliner (Studi Kasus: Umkm Kuliner Di Wilayah Rawamangun', Skripsi Stesis, Sekolah Tinggi Ilmu Ekonomi Indonesia Jakarta, (2004), pp. 6–25.
Ningrum, P. A., Hukom, A. and Adiwijaya, S. (2020) 'The Potential of Poverty in the City of Palangka Raya: Study SMIs Affected Pandemic Covid 19', Budapest International Research and Critics Institute (BIRCI-Journal): Humanities and Social Sciences, 3(3), pp. 1626–1634. doi: 10.33258/birci.v3i3.1094.
Odriozola-Fernández, I., Berbegal-Mirabent, J. and Merigó-Lindahl, J. M. (2019) 'Open innovation in small and medium enterprises: a bibliometric analysis', Journal of Organizational Change Management, 32(5), pp. 533–557. doi: 10.1108/JOCM-12-2017-0491.
Sempati, G. P. H. and L, B. (2017) 'pdf. persepsi dan perilaku remaja MT. MM', pp. 1–9.
Sonita, E. and Helmi, H. (2019) 'Peningkatan SDM Menuju Kemandirian UMKM Melalui Kualitas Pendidikan dalam Mewujudkan Sustainable Development Goals', JUSIE (Jurnal Sosial dan Ilmu Ekonomi), 4(02), pp. 88–97. doi: 10.36665/jusie.v4i02.220.
Sukma, A., Hermina, N. and Novan, D. (2020) 'Pengaruh Produk, Distribusi Dan Digital Marketing Terhadap Minat Beli Produk Umkm Binaan Kadin Jabar Pada Situasi Covid-19', Manners, (2), pp. 91–102. Available at: http://jurnal.unnur.ac.id/index.php/manners/article/view/355.
Sumardjo, S., Firmansyah, A. and Dharmawan, L. (2020) 'The Role of Creative Social Energy in Strengthening Ecological Adaptation Capacity Through Community Empowerment', Jurnal Penyuluhan, 16(2), pp. 323–332. doi: 10.25015/16202028361.
Tambunan, T. T. H. (2019) 'The impact of the economic crisis on micro, small, and medium enterprises and their crisis mitigation measures in Southeast Asia with reference to Indonesia', Asia and the Pacific Policy Studies, 6(1), pp. 19–39. doi: 10.1002/app5.264.
Utami, S. (2018) 'Kuliner Sebagai Identitas Budaya: Perspektif Komunikasi Lintas Budaya', CoverAge: Journal of Strategic Communication, 8(2), pp. 36–44. doi: 10.35814/coverage.v8i2.588.
Windusancono, B. A. (2021) 'Upaya Percepatan Pertumbuhan Usaha Mikro Kecil Dan Menengah (Umkm) Di Indonesia', MIMBAR ADMINISTRASI FISIP UNTAG Semarang, 18(2), p. 32. doi: 10.56444/mia.v18i2.2528.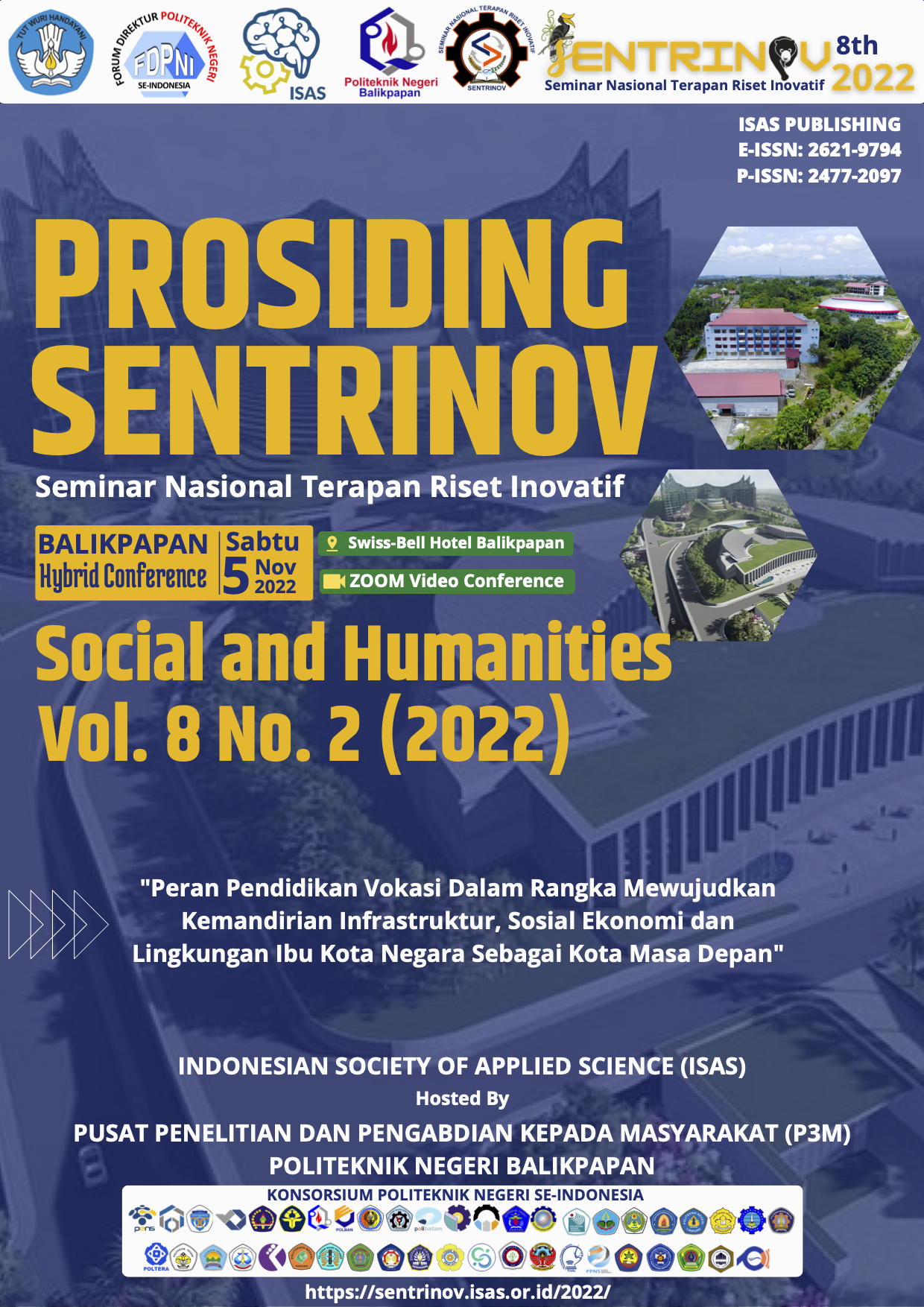 Downloads
How to Cite
Dimas Bayu Pinandoyo, Swastono Putro Pirastyo, & Anindita Budi Astuti. (2023). PENGEMBANGAN PRODI D-3 SENI KULINER SEBAGAI SENTRA INOVASI DAN KEWIRAUSAHAAN UMKM PANGAN BERBASIS MAKANAN TRADISIONAL INDONESIA. Prosiding Seminar Nasional Terapan Riset Inovatif (SENTRINOV), 8(2), 174 - 181. Retrieved from https://proceeding.isas.or.id/index.php/sentrinov/article/view/1236