ANALISIS MODEL SPEECH ACTS DOSEN DI LIHAT DARI GENDER PERSPECTIVE DALAM PEMBEJARAN BAHASA INGGRIS DI JURUSAN ADMINISTRASI NIAGA
Keywords:
speech acts, QEC, CQE
Abstract
Language used has to specific function whereas a number of students are not aware with the function. In fact, the problem recurrently happens in classroom when the lecturers mean is changed from what they have been stated. In order to diminish the misinterpretation of language used uttered both man and woman lecturers, the model of speech acts is powerfully essential to be formed based on the gender perspective as the purpose of the research.  Researcher clearly used descriptive research with purposive sampling. The data of this research were the English lecturers' utterances used both man and woman in the classrooms. The results of the research were QEC(Questioning, Explaining, Commanding) pattern regularly expressed by woman (16 categories with total 489) and CQE (Commanding, Questioning, Explaining) pattern generally accomplished by the man lecturer (9 categories with total 121). To sum up, both of the speech acts patterns performed in teaching are properly qualified to be applied in the meantime the teaching strategy focuses on students' center.
References
Austin, J.L. (1962). How to Do Things with Words. Oxford: The Clarendon Press.
Cutting, J. (2002). Pragmatics and Discourse. New York: Routledge.
Fraenkel, J. R., and Norman E. Wallen . (2012). How to Design and Evalute Research
in Education 8 Edition. New York: McGraw-Hill
Huang, Y. (2007). Pragmatics. New York: Oxford University Press Inc.
Ilyas, S., & Khushi, Q. (2012). Facebook Status Updates : A Speech Act Analysis.
Academic Research International, 3(2), 500–507. Retrieved from www.journals.savap.org.pk500.
Jay, T. (2003). The Psychology of Language. New Jersey: Pearson Education.
Kesuma, T. M. J. (2007). Pengantar (Metode) Penelitian Bahasa. Yogyakarta:
Carasvatibooks.
Mey, Jacob L. (2001). Pragmatics: An introduction. Massachussetts: Blackwell
Publishers Inc.
O'Keeffe, A., Clancy and Adolphs. (2011). Introducing Pragmatics in Use. New York:
Routledge.
Peccei, J. S. (2004). Pragmatics. New York: Routledge.
Saul, Jennifer. (2002). Speaker meaning, what is said, and what is implicated. Nouns
:228-248
Searle, J. R. (2005). Expression And Meaning: Studies in the Theory of Speech Acts.
New York: Cambridge University Press.
Toussaint, E. R., & Toussaint, G. T. (2014). Pattern Theory; From Representation to
Inference, England: Oxford University Prss.
Wardhaugh, R. 2010. An Introduction to Sociolinguistics, 6th Edition. Oxford:
Blackwell.
Yule, G. 1996. Pragmatics. Oxford: Oxford University Press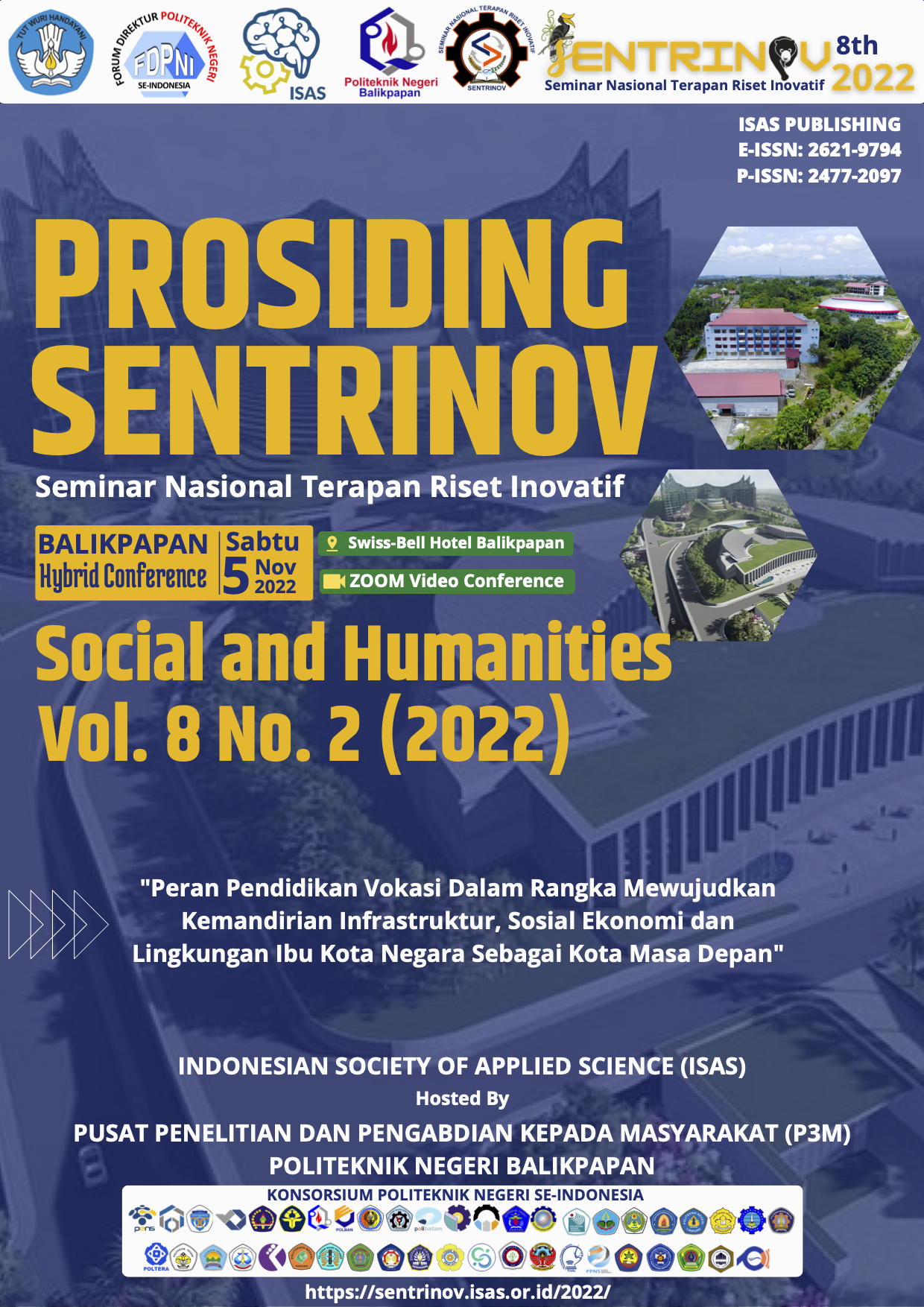 Downloads
How to Cite
Hindri Febri Ana Sari, Laura S. Nunumete, & M. Rizkoni Salis. (2023). ANALISIS MODEL SPEECH ACTS DOSEN DI LIHAT DARI GENDER PERSPECTIVE DALAM PEMBEJARAN BAHASA INGGRIS DI JURUSAN ADMINISTRASI NIAGA. Prosiding Seminar Nasional Terapan Riset Inovatif (SENTRINOV), 8(2), 182 - 189. Retrieved from https://proceeding.isas.or.id/index.php/sentrinov/article/view/1238