IMPLEMENTASI TPACK PADA PENGEMBANGAN PERANGKAT PEMBELAJARAN BAHASA INDONESIA UNTUK MENINGKATKAN KETERAMPILAN MENULIS KARYA ILMIAH
Keywords:
TPACK, Indonesian Language Learning, Learning Device, Scientific Writing
Abstract
Indonesian languae learning in college includes four language skills. Academics is should skilled language, especially writing skills. The concept of writing refers to "writing academic texts". In fact, the writing skills of students Civil Engineering majors, Ambon State Polytechnic, are still low. That means one of the indicators that the achievement of learning Indonesian language has not been achieved.  One of the factors behind this is the design and development of learning tools that have not been effective and the use of IT  has not been maximized as a result of  not being implemented of Technological, Pedagogical, and Content Knowledge (TPACK) as basic knowledge and skills that must be possessed by lecturers. This research is a research and development that aims to improve the writing skills of students majoring in Civil Engineering, Ambon State Polytechnic through the implementation of TPACK in the development of Indonesian language learning. The final product of this research is a guideline for learning Indonesian. The results of this research is Indonesian language learning guideline for D3 Civil Engineering vocational education is valid to use. The average percentage of eligibility according to experts is 88.5% with a rating scale of 4 and the interpretation of "best".
References
Arikunto, S. 2013. Prosedur Penelitian Suatu Pendekatan Praktiki. Cetakan ke-15. Jakarta: PT Rineka Cipta.
Kruniawan Khaerudin H.2012. Bahasa Indonesia Keilmuan untuk Perguruan Tinggi. Bandung: PT Refika Aditama.
Kundi, S. 2013. Pengaruh Penggunaan Lembar Kegiatan Siswa Terstruktur terhadap Hasil Belajar Fisika Siswa Kelas Xi Ipa Sma Negeri 1 Polut Kabupaten Takalar. Jurnal Pendidikan Fisika, 1 (3): 219-225.
Pechenik, J. A. (2013). A short guide to writing about biology (8th ed.). Boston: Pearson,(Online),(https://www.pearson.com/us/highereducation/program/Pechenik-Short-Guide-to-Writing-about-Biology-A8thEdition/PGM3556.html, diakses pada tanggal 20 Maret 2022).
Ristekdikti. 2016. Bahasa Indonesia untuk Perguruan Tinggi. Jakarta: Direktorat Jenderal Pembelajaran dan Kemahasiswaan Kementerian Riset Teknologi dan Pendidikan Tinggi.
Sugiyono. 2014. Metode Penelitian Pendidikan Pendekatan Kuantitatif, Kualitatif, dan R & D. Cetakan ke-19. Bandung: Alfabeta.
Tarigan, H.G. 1983. Menulis sebagai Suatu Keterampilan Berbahasa. Bandung: Angkasa.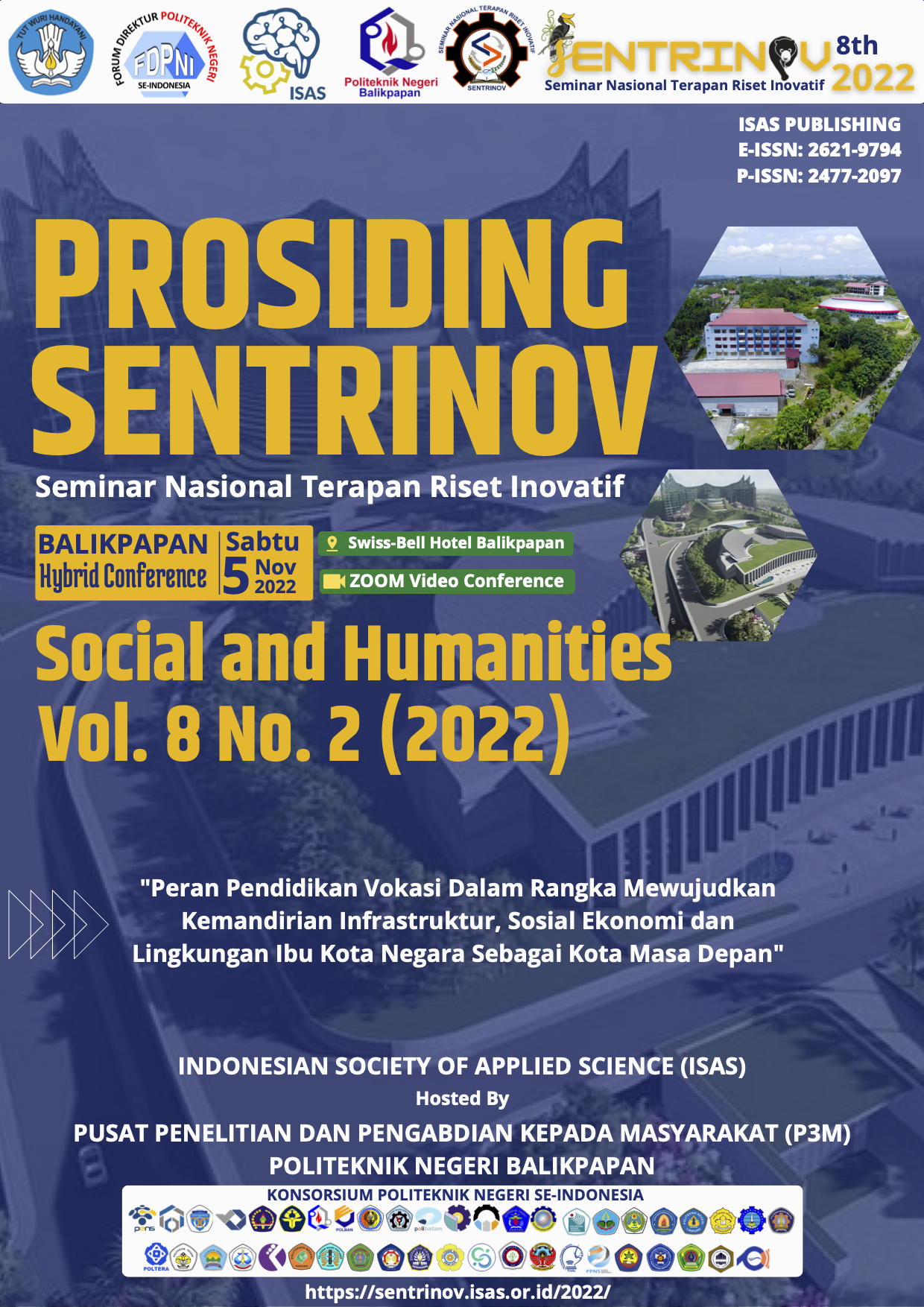 Downloads
How to Cite
Mouren Wuarlela, S.Pd., M.Pd., Juvrianto Chrissunday Jakob, S.Pd., M.Pd., & Sulastri Kakaly, S.Pd., M.Pd. (2023). IMPLEMENTASI TPACK PADA PENGEMBANGAN PERANGKAT PEMBELAJARAN BAHASA INDONESIA UNTUK MENINGKATKAN KETERAMPILAN MENULIS KARYA ILMIAH . Prosiding Seminar Nasional Terapan Riset Inovatif (SENTRINOV), 8(2), 190 - 197. Retrieved from https://proceeding.isas.or.id/index.php/sentrinov/article/view/1244