ANALISA PENGARUH KERUSAKAN ISOLASI PIPA PENGHUBUNG TERHADAP PERFORMANSI PADA AC SPLIT
Keywords:
Kerusakan isolasi pipa penghubung, konsumsi energi dan COP
Abstract
AC Split merupakan alat pengkondisian udara yang paling banyak digunakan di masyarakat. Namun pada penggunanya ada yang tahu secara teknik tentang AC dan sebagian ada yang tidak tahu tentang sistem yang digunakan. Dengan ketidak tahuan pengguna bisa menimbulkan inefisien penggunaan energi oleh sistem. Sistem AC yang bekerja pada kondisi refrigeran keluar evaporator terlalu superheat akan menyebabkan konsumsi energi oleh kompresor bertambah besar. Hal ini sering disebabkan oleh kerusakan isolasi pipa penghubung pada AC Split. Penelitian ini bertujuan untuk menginvestigasi pengaruh kerusakan isolasi pipa penghubung pada AC split terhadap performansi sistem. Penelitian ini dilakukan dengan metode eksperimen yang pelaksanaannya meliputi beberapa tahap yaitu; pembuatan peralatan eksperimen, kalibrasi dan pemasangan alat ukur, pengambilan dan  pengolahan data serta analisis Pengolahan data dilakukan dengan menggunakan kaedah-kaedah termodinamika untuk mendapatkan besaran-besaran seperti; konsumsi daya kompresor, efek refrigerasi dan COP sistem. Berdasarkan hasil analisa didapatkan bahwa kerusakan isolasi pipa penghubung dapat menurunkan efek refrigerasi, meningkatkan konsumsi energi kompresor serta menurunkan performansi (COP) sistem. Kerusakan isolasi sebesar 20% dapat menurunkan efek pendinginan sebesar 2,4%, meningkatkan konsumsi energi kompresor sebesar 3% dan menurunkan performansi sistem sebesar 9%.
References
Arora, C.P. (2001). Refrigeration And Air Conditioning. Second edition. Singapore: McGraw-Hill chapter 94-133
Arzu Sencan, Resat Selbas, Onder Kizilkan and Soteris A.K. (2006). Thermodinamic analysis of subcooling and superheating effect of alternative refrigerants for vapour compression refrigeration cycles. International Journal of Energy Research, 30, pp 323-347. John Wiley & Sons,Ltd
Ashish Kumar Paharia, R.C,Gupta. (2013). Effect of subcooling and superheating on vapour compression refrigeration systems using R22 alternative refrigerants. International Journal of Emerging Trends in Engineering and development, Issue 3, vol 1. pp 521-531
Boda Hadya. (2016). Analysis of vapour compression refrigeration systems with sub-cooling and superheating with three different refrigerants for air conditioning applications. International Journal of Engineering Sciences & Research Technology (IJESRT), pp 70-77
Dharmendra Patel, Karanpal Singh, Jagveer. (2014). Improving The Performance of vapour compression refrigeration system by Using Useful Superheating. International Journal of Engineering Sciences & Research Technology (IJESRT), pp 5053-5056.
Mehdi Keshtkar. (2016). Effect of subcooling and superheating on performance of a cascade refrigeration system with considering thermo-economic analysis and multi-objective optimization. Journal of Advanced Computer Science & Technology, 5(2). pp 42-47.
Saturday.E.G, Chidebe.C.E, Nwaiwu.U. (2017). Computer aided comparative analysis of effects of superheating and subcooling on the performance of R134a and R717 in simple vapour compression systems. International Journal of Computer Applications, Volume 157-No 5, pp 16-21
Satish Parmar, Ravindra Randa. (2018). Experimental analysis of vapour compression refrigeration systems with superheating by using R134a, R12, R717 refrigerant. International Research Journal of Engineering and Technology (IRJET), Volume 05 Issue 05, pp 345-350.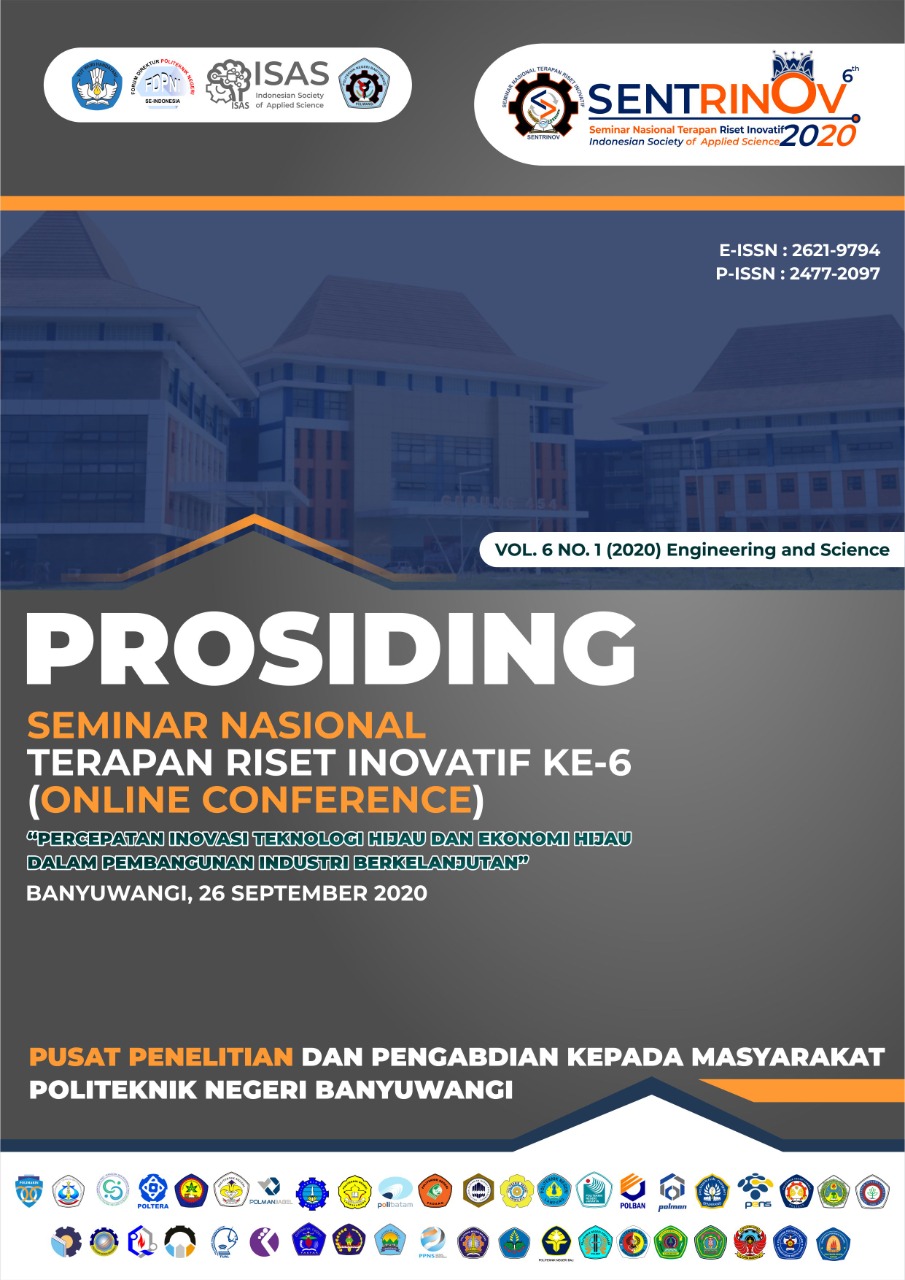 Downloads
How to Cite
Ardita, I. N., Wirajati, I. G., Susila, I. D., & Sudirman. (2020). ANALISA PENGARUH KERUSAKAN ISOLASI PIPA PENGHUBUNG TERHADAP PERFORMANSI PADA AC SPLIT. Prosiding Seminar Nasional Terapan Riset Inovatif (SENTRINOV), 6(1), 170-177. Retrieved from https://proceeding.isas.or.id/index.php/sentrinov/article/view/361