UJI EKSPERIMENTAL PERFORMANSI AC JENIS EKSPANSI LANGSUNG DENGAN MEMVARIASI UKURAN PIPA KAPILER
Keywords:
Ekspansi langsung, R32, COP, konsumsi energi
Abstract
Penggunaan mesin pengkondisian udara saat ini sudah merupakan kebutuhan manusia dan tidak masih dianggap sebagai barang mewah. Salah satu jenis mesin pengkondisian udara yang banyak digunakan adalah mesin pengkondisian udara jenis ekspansi langsung. Peneltian ini bertujuan untuk mengetahui performansi dan konsumsi energi pada mesin pengkondisian udara jenis ekspansi langsung dengan memvariasi panjang pipa kapiler. Kapasitas pendinginan dari AC jenis ekspansi langsung 2,05 kW dengan refrigeran R32 dan diameter pipa kapiler dipilih 0,054 inch. Data temperatur dan arus listrik diambil pada sistem  dengan panjang pipa kapiler 2,0 m; 2,6 m dan 3,2 m. Data yang didapat dianalisis untuk mengetahui pengaruh ukuran pipa kapiler terhadap performansi dan konsumsi dayanya. Berdasarkan hasil analisis menunjukan bahwa pengurangan panjang pipa kapiler sebesar 23% terjadi kenaikan COP sebesar 5,9% dan penurunan konsumsi energi sebesar 2,24%. Sedabgkan dengan menambah ukuran panjang pipa kapiler sebesar 23% terjadi penurunan COP sebesar 1,5% dan meningkatan konsumsi energi sebesar 2,97%.
References
Adrián Mota-Babiloni, Joaquín Navarro-Esbría, Pavel Makhnatchb, Francisco Molésa. (2017). Refrigerant R32 as lower GWP working fluid in residential air conditioning systems in Europe and the USA. Elsevier, 1031-1042.
Boda Hadya, Prasad, A. M. K., Suresh Akella. (2015). Performance Assesment of HFC Group Refrigerants in Window Air Conditioning System. International Journal of Mechanical Engineering and Applications, 81-85.
Canberk Yildirim & Cenk Onan. (2018). Theoritical Study of R32 to Replace R410A in Variable Refrigerant Flow (VRF) Systems. International Journal of Ambient Energy.
Chung, M. H., Chin, W. M., Tang, S. H. (2017). Analysis on the Refrigerant (R32) Flow Maldistribution of Microchannal Heat Exchanger Under Superheat and Sub-cool. International Journal of Automotive and Mechanical Engineering, 4140-4157.
Lizhi Jia., Wufeng Jin., Yan Zhang. (2015). Analysis of Indoor Environment Safety with R32 Leaking From a Running Air Conditioner. Elsevier, Procedia Engineering, 121, 1605-1612.
Prabha, T. D. J. & Rambabu, Dr, V. (2015). Experimental Investigation on the Performance of Air Conditioner Using R32 Refrigerant. IOSR Journal of Mechanical and Civil Engineering (IOSR-JMCE), 139-144.
Tabah Priangkoso, Nur Edy Santoso, Teguh Apriyanto, Muhammad Dzulfikar. (2018). Pengaruh Jenis Refrigeran dan Diameter Pipa Kapiler Terhadap Kinerja AC Split. Momentum, 39-45.
Wasiu Saheed Olalekan. (2019). Suitability of Difluoromethane Refrigerant (R32) as a Better Alternative Refrigerant to Puron (R410A) in Refrigeration and Air Conditioning System. Journal of Advanced Research in Dynamical and Control Systems.
Zheng Nan, Hwang Yunho, Zhao Li. (2017). Thermodynamic Performance Assesment of R32 and R1234yf Mixtures as Alternative of R410A. 12th IEA Heat Pump Conference. Energy Technology Network.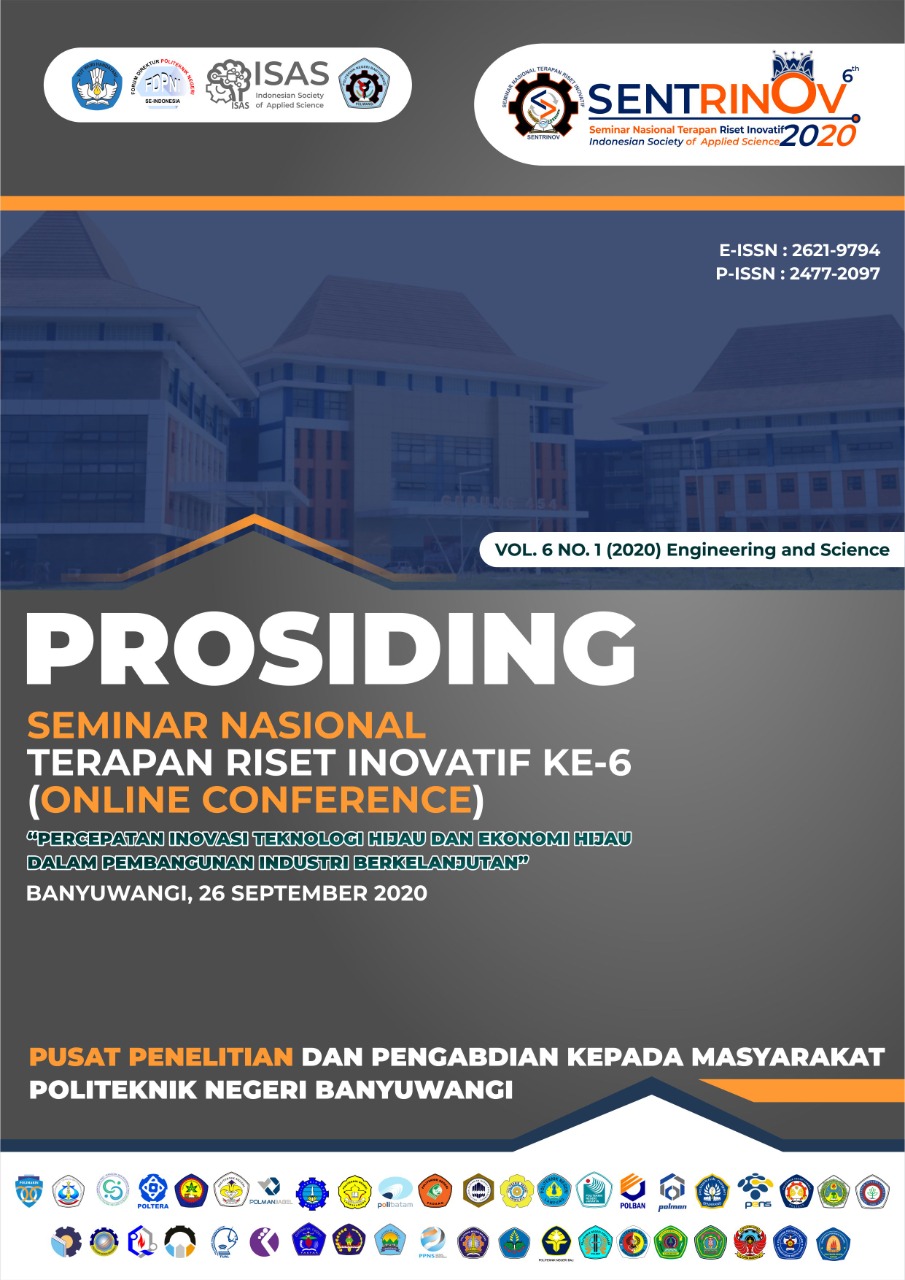 Downloads
How to Cite
Susila, I. D. M., Ardita, I. N., Rasta, I. M., & Sunu, P. W. (2020). UJI EKSPERIMENTAL PERFORMANSI AC JENIS EKSPANSI LANGSUNG DENGAN MEMVARIASI UKURAN PIPA KAPILER . Prosiding Seminar Nasional Terapan Riset Inovatif (SENTRINOV), 6(1), 162-169. Retrieved from https://proceeding.isas.or.id/index.php/sentrinov/article/view/362