SISTEM FUEL CELL PENGAPLIKASIAN PADA MODA TRANSPORTASI (PORTABLE DEVICE)
Keywords:
Fuel Cell, Hydrogen, Transportasi, Energi Ramah Lingkungan, Sistem Kontrol.
Abstract
Permasalahan efek polusi udara yang disebabkan oleh gas buang pada moda transportasi yang berbahan bakar minyak (transportasi darat pada khususnya) yang dapat berdampak buruk terhadap lingkungan. Sistem Fuel Cell memberikan solusi alternatif karena memiliki pemrosesan bahan bakar Hydrogen yang efisien namun mengeluarkan sedikit senyawa yg berbahaya. Pada makalah ini membahas tentang klasifikasi fuel cell dalam berbagai aplikasi serta pengembangan teknologinya, dan analisa penerapan metode yang paling optimal melalui Strategi kombinasi kontrol Fuel Cell, Battery dan kapasitor untuk meningkatkan Efisiensi dan life time komponen Fuel Cell pada FCHV (Fuel Cell Hybrid Vehicle).
References
Bostjan, P., Andrej D., Gregor D., & Janko P. (2017). A Diesel-Powered Fuel Cell APU-Reliability Issues and Mitigation Approaches. IEEE Transactions on Industrial Electronics, Vol. 64, No. 8.
Tian, L.,& Kai S. (2017). Multiphysics Transients Modeling of Solid Oxide Fuel Cells: Methodology of Circuit Equivalents and Use in EMTP-Type Power System Simulation. IEEE Transactions On Energy Conversion, Vol. 32, No. 4.
K. Jyotheeswara R. & N. Sudhakar. (2018). High Voltage Gain Interleaved Boost Converter With Neural Network Based MPPT Controller for Fuel Cell Based Electric Vehicle Applications. IEEE Control & Automation, 2169-3536.
Lei, M., Lisa J., & Ben D. (2018). Effectiveness of a Novel Sensor Selection Algorithm in PEM Fuel Cell On-Line Diagnosis. IEEE Transactions On Industrial Electronics, Vol. 65, No. 9, 0278-0046.
Mauro Carignano, Vicente Roda, Ramon Costa-Castelló, Luis Valiño, Antonio Lozano, dan Félix Barreras. (2019). Assessment of Energy Management in a Fuel Cell/Battery Hybrid Vehicle. IEEE Energy 16110-16122 Vol.7
Xiang Meng, Qi Li, Guorui Zhang, Tianhong Wang, Weirong Chen, Dan Taiqiang Cao. (2019). A Dual-Mode Energy Management Strategy Considering Fuel Cell Degradation for Energy Consumption and Fuel Cell Efficiency Comprehensive Optimization of Hybrid Vehicle. IEEE Energy 134475-134487 Vo;.7.
Tom Fletcher, Rob Thring, dan Martin Watkinson. (2016). An Energy Management Strategy to concurrently optimise fuel consumption & PEM fuel cell lifetime in a hybrid vehicle. ELSEVIER Hydrogen Energy, 41, 21503 – 21515.
A. Thallam Thattai, L. Van Biert, dan P.V. Aravind. (2017). On direct internal methane steam reforming kinetics in operating solid oxide fuel cells with nickel-ceria anodes. ELSEVIER Power Source, 370, 71-86.
Junrui Li, Shubham Sharma, Xiaoming Liu, Yung-Tin Pan, Jacob S. Spendelow, Miaofang Chi, Yukai Jia, Peng Zhang, David A. Cullen, Zheng Xi, Honghong Lin, Zhouyang Yin, Bo Shen, Michelle Muzzio, Chao Yu, Yu Seung Kim, Andrew A. Peterson, Karren L. More, Huiyuan Zhu, and Shouheng Sun. (2018). Hard-Magnet L10-CoPt Nanoparticles Advance Fuel Cell Catalysis. Li et al., Joule 3, 124–135.
Lina Chong, Jianguo Wen, Joseph Kubal, Fatih G. Sen, Jianxin Zou, Jeffery Greeley, Maria Chan, Heather Barkholtz, Wenjiang Ding, Di-Jia Liu. (2018). Ultralow-loading platinum-cobalt fuel cell catalysts derived from imidazolate frameworks. Chong et al., Science 362, 1276–1281.
Shuangyin Wang dan San Ping Jiang. (2017). Prospects of fuel cell technologies. Natl Sci Rev, Vol. 4, No. 2.
Na Tian, Bang An Lu, Xiao Dong Yang, Rui Huang, Yan Xia Jiang, Zhi You Zhou, Shi Gang Sun. (2018). Rational Design and Synthesis of Low Temperature Fuel Cell Electrocatalysts. SPRINGER Electrochemical Energy Reviews, 1:54 (83).
Gerard F. McLean, West Vancouver, Olen Richard Vanderleeden, Coquitlam, Anna Stukas, Vancouver, Denis J. Connor, West Vancouver. (2017). Replenshing Fuel Cell Powered Portable Devices. US Patent, Mc lean et al, US 9569762B2.
Mykhaylo V. Lototskyya, Ivan Tolj, Lydia Pickering, Cordellia Sita, Frano Barbir, Volodymyr Yartys. (2017). The use of metal hydrides in fuel cell applications. ELSEVIER Progress in Natural Science: Materials International 27, 3 20.
Sivaprakash Sengodan, Rong Lan, John Humphreys, Dongwei Du, Wei Xu, Huanting Wang, Shanwen Tao. (2017). Advances in reforming and partial oxidation of hydrocarbons for hydrogen production and fuel cell applications. ELSEVIER Renewable and Sustainable Energy Reviews 82, 761 780.
Junye Wang, Hualin Wang, Yi Fan. (2018). Techno-Economic Challenges of Fuel Cell Commercialization. ELSEVIER Engineering 4, 352–360.
Iwona Gajda John Greenman, dan Ioannis A. Ieropoulos. (2018). Recent advancements in real-world microbial fuel cell applications. ELSEVIER Current Opinion in Electrochemistry, 11 : 78–83.
L. van Biert, M. Godjevac, K. Visser, P.V. Aravind. (2016). A review of fuel cell systems for maritime applications. ELSEVIER Power Source, 327, 345-364.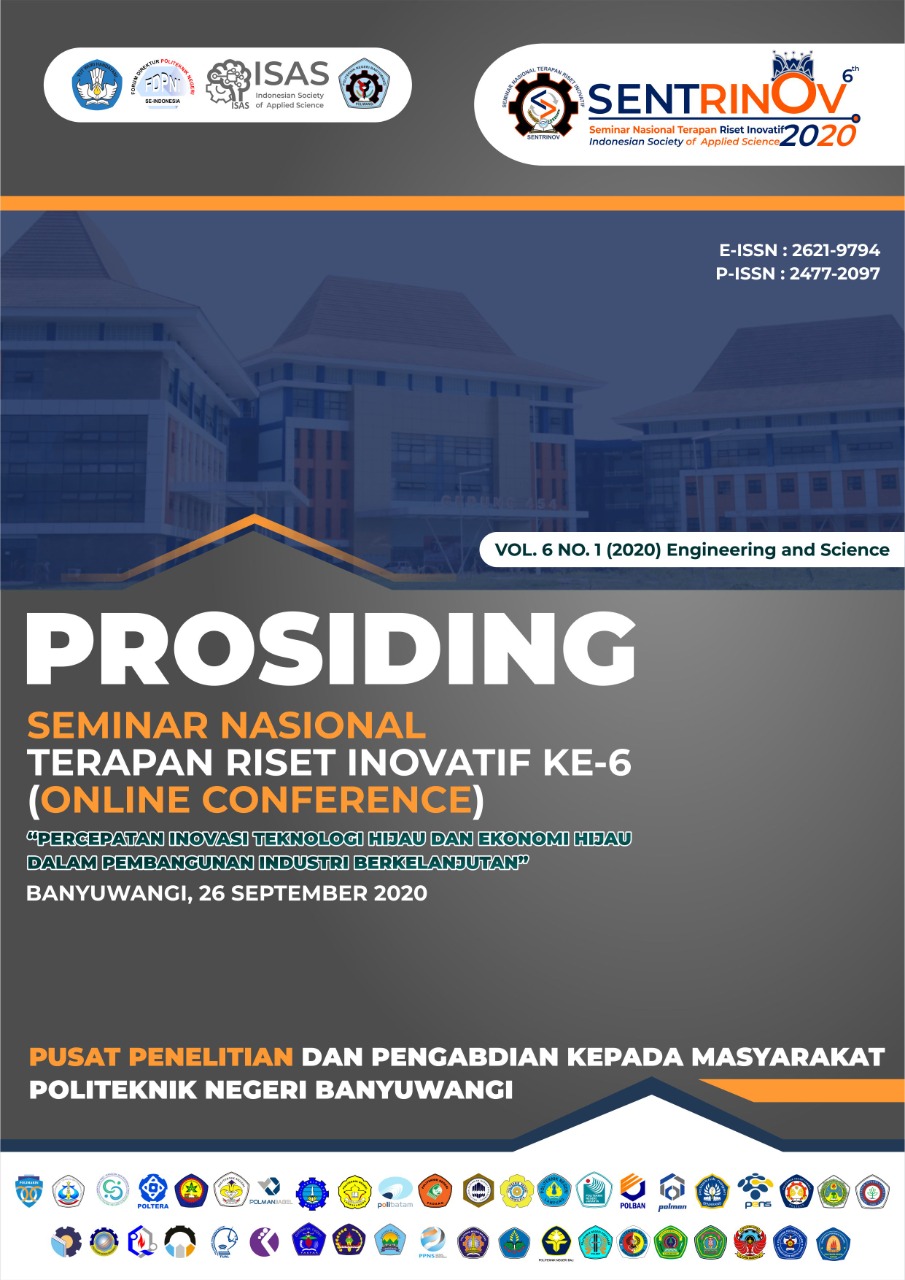 Downloads
How to Cite
Saputra, H., Yusuf, M. M., & Belyamin. (2020). SISTEM FUEL CELL PENGAPLIKASIAN PADA MODA TRANSPORTASI (PORTABLE DEVICE). Prosiding Seminar Nasional Terapan Riset Inovatif (SENTRINOV), 6(1), 153-161. Retrieved from https://proceeding.isas.or.id/index.php/sentrinov/article/view/363