RANCANG BANGUN IDENTIFIKASI JENIS KEDIP TEGANGAN BERBASIS IOT
Keywords:
voltage sag, momentary, temporary, instantaneous
Abstract
Voltage sag mempengaruhi kinerja peralatan dan dapat memicu sirkuit perlindungan sistem untuk bekerja dan menyebabkan gangguan catu daya yang pada gilirannya menyebabkan proses kerja (produksi) berhenti. Penggunaan Metode True RMS dapat memudahkan menganalisa gangguan kedip tegangan yang terjadi. Dimana voltage sag / dip memiliki 3 jenis variasi yaitu instantaneous, momentary dan temporary, yang masing-masing memiliki karakteristik jenis durasi dan besarnya voltase.
References
Eko Supriyanto, Aldri Widi S, Mohammad Zulfi. (2015). "Rancang Bangun Alat Pendeteksi Dini Untuk Drop Tegangan Berbasis SMS Gateway". Semarang : Politeknik Negeri Semarang.
Huilian LIAO. (2015). Comparative Analysis Of Different Voltage Sag Characterisation Indices. University of Manchester – U.K.
Kavitha V dan Dr. K. Subramanian. (2017). Investigation of Power Quality Issues and Its Solution for Distributed Power System.
Song Hui, Xu Yonghai. (2016). Study on the impact of voltage sags on different types of electric vehicle chargers. Electricity Distribution (CICED) 2016 China International Conference on, pp. 1-4.
T. Yi, H. Jie, L. Hao and W. Lei. (2016). Method for voltage sag source location based on the internal resistance sign in a single-port network. IET Generation Transmission & Distribution, vol. 10, no. 7, pp. 1720-1727.
Zhijun Wang, Xiaoqiang Guo and Jian Li. (2016). Impact of Voltage Sags on Electric-Vehicle Charger and Critical Voltage Sag Determination. IEEE Transactions on Power Delivery, Volume. 31.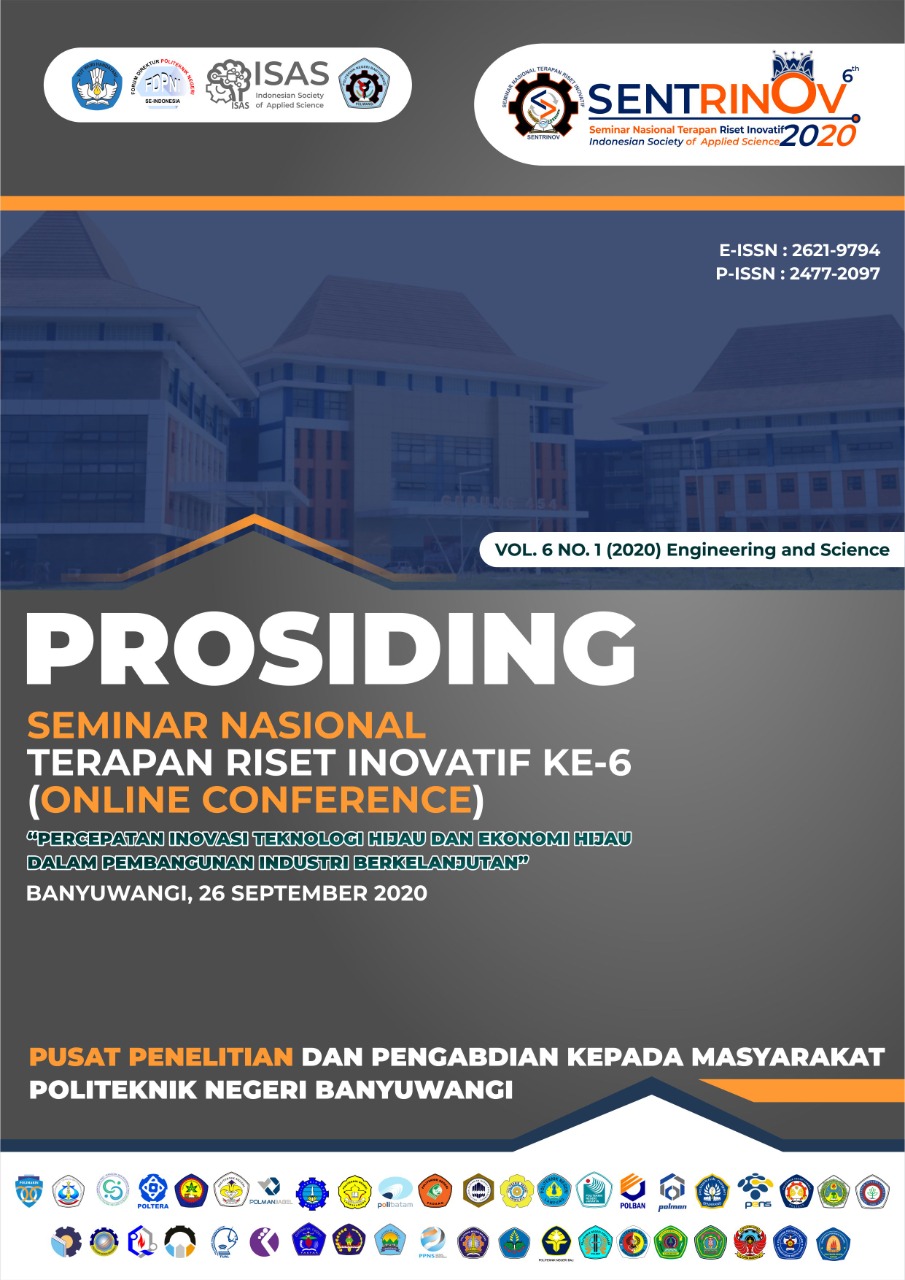 Downloads
How to Cite
M, N. W., Anggriawan, D. O., & Wahjono, E. (2020). RANCANG BANGUN IDENTIFIKASI JENIS KEDIP TEGANGAN BERBASIS IOT. Prosiding Seminar Nasional Terapan Riset Inovatif (SENTRINOV), 6(1), 252-259. Retrieved from https://proceeding.isas.or.id/index.php/sentrinov/article/view/374