PERAN KONTEN POST INSTAGRAM TERHADAP KETERLIBATAN PELANGGAN SECARA DARING PADA INDUSTRI KOSMETIK DI INDONESIA
Keywords:
konten post, instagram, keterlibatan pelanggan
Abstract
Instagram adalah salah satu media sosial yang digunakan sebagai media melakukan pemasaran secara digital. Penelitian ini dilakukan mengetahui pengaruh dari jenis konten post di Instagram terhadap keterlibatan pelanggan dan mencari jenis konten yang paling mempengaruhi pelanggan. Penelitian ini menggunakan pengukuran kuantitatif yaitu uji Kruskal Wallis dan uji Post Hoc. Enam merek kosmetik yang penjualannya terlaris di e-commerce digunakan sebagai sampel penelitian. Konten Instagram yang diunggah keenam merek tersebut dalam kurun waktu 3 bulan dari bulan April sampai dengan Juni 2020 dikumpulkan. Penelitian ini menemukan bahwa konten post Instagram memiliki pengaruh yang signifikan terhadap keterlibatan konsumen (jumlah like dan komentar) dan konten post produk menjadi jenis konten yang paling memberikan pengaruh positif.
References
Carter, B. (2015, April 22). What is The Definition of Customer Engagament? Retrieved from http://blog.accessdevelopment.com/what-is-the- definition-of-customer-engagement
Coelho, R. L., Oliveira, D. S., & Almeida, M. I. (2016). Does social media matter for post typology? Impact of post content on Facebook and Instagram metrics. Online Information Review Vol. 40 No. 4, 462.
eMarketer. (2016, Februari 23). Instagram Users in Indonesia Follow Fashion, A majority of young adult Instagram users follow retailers. Retrieved Agustus 2020, from eMarketer: https://www.emarketer.com/Article/Instagram-Users-Indonesia-Follow-Fashion/1013618
Junaidi, J. (2015, Juni). Statistik Uji Kruskal-Wallis. Retrieved from ResearchGate: https://www.researchgate.net/publication/277868384_Statistik_Uji_Kruskal-Wallis
Katadata. (2020, Februari 26). 10 Media Sosial yang Paling Sering Digunakan di Indonesia. Retrieved from Databoks: https://databoks.katadata.co.id/datapublish/2020/02/26/10-media-sosial-yang-paling-sering-digunakan-di-indonesia
Kumparan. (2020, Februari 21). Riset: 64% Penduduk Indonesia Sudah Pakai Internet. Retrieved Agustus 17, 2020, from Kumparan: https://kumparan.com/kumparantech/riset-64-penduduk-indonesia-sudah-pakai-internet-1ssUCDbKILp
Laerd, S. (2015). Kruskal-Wallis H Test using SPSS Statistics. Retrieved from Laerd Statistics: https://statistics.laerd.com/spss-tutorials/kruskal- wallis-h-test-using-spss-statistics.php
Pertiwi, W. K. (2019, 12 23). Sebanyak Inikah Jumlah Pengguna Instagram di Indonesia? Retrieved 07 11, 2020, from Kompas.com: https://tekno.kompas.com/read/2019/12/23/14020057/sebanyak-inikah-jumlah-pengguna-instagram-di-indonesia
Rosenbröijer, C. J., & Fagerstrøm, A. (2019). Consumer brand post engagement on Facebook and Instagram – A study of three interior design brands . The 19th International Conference on Electronic Business, 116-120.
Santoso, A. P., Baihaqi, I., & Persada, S. F. (2017). Pengaruh Konten Post Instagram terhadap Online engagement: Studi Kasus pada Lima Merek Pakaian Wanita. JURNAL TEKNIK ITS Vol. 6, No. 1, 2017-220.
Sarah, I. S., Suhartanto, D., & Suhaeni, T. (2019, November). Assessing hierarchical model of word of mouth in social media: its implication for entrepreneurs. In IOP Conference Series: Materials Science and Engineering (Vol. 662, No. 3, p. 032024). IOP Publishing.
Shingala, M., & Rajyaguru, A. (2015). Comparison of Post Hoc Test dor Unequal Variance. International Journal of New Technology in Science and Engineering.
Sugiyono. (2015). Metode Penelitian Pendidikan (Pendekatan Kuantitatif, Kualitatif, dan R&D). Bandung: ALFABETA.
Ulya, S. F., Sukestiyarno, Y., & Hendikawati, P. (2018). ANALISIS PREDIKSI QUICK COUNT DENGAN METODE STRATIFIED. UNNES Journal of Mathematics , 110-111.
Vries, L. d., Gensler, S., & Leeflang, P. S. (2012). Popularity of Brand Posts on Brand Fan Pages: An Investigation of the. Journal of Interactive Marketing 26 , 83-91.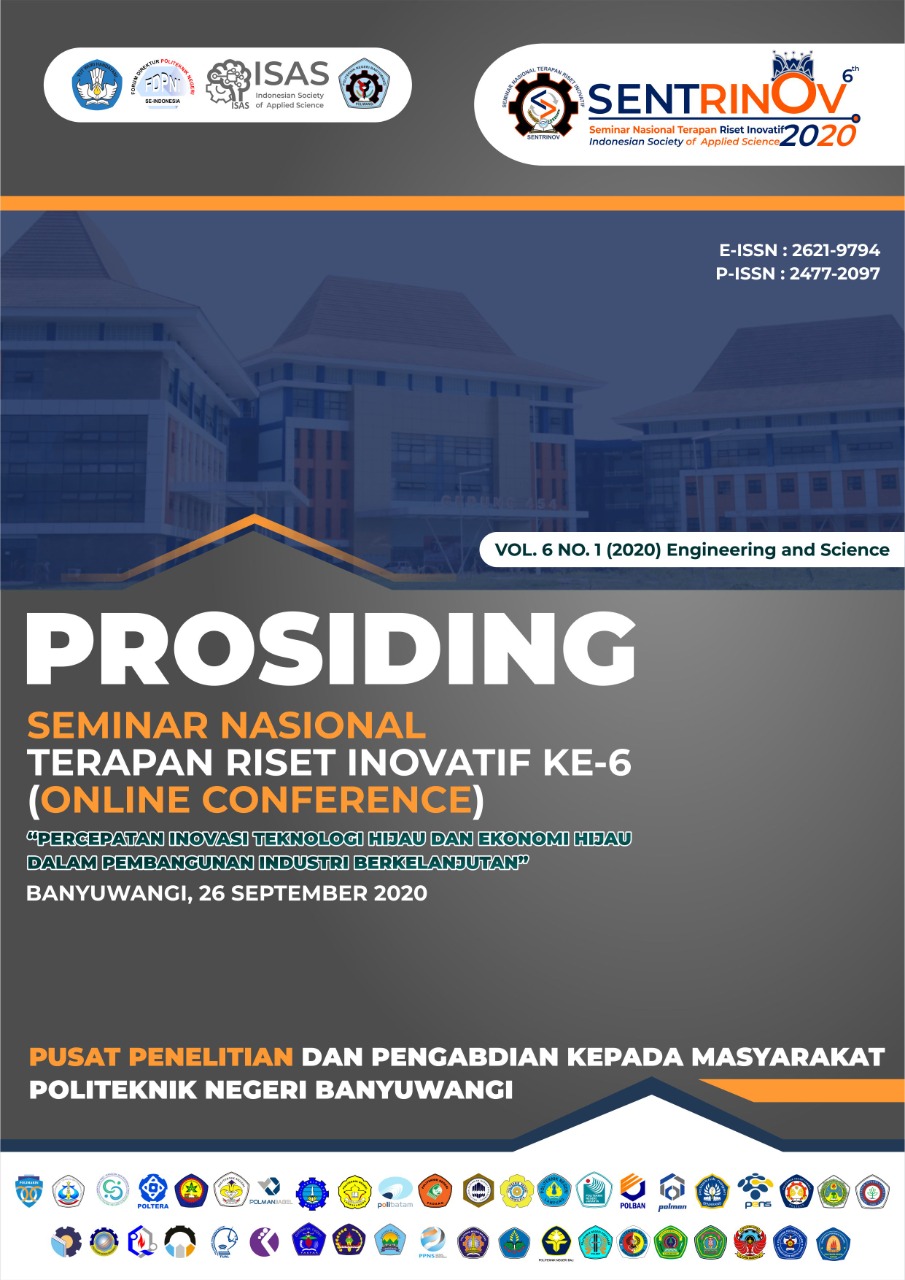 Downloads
How to Cite
Akhmad, S. P., & Sarah, I. S. (2020). PERAN KONTEN POST INSTAGRAM TERHADAP KETERLIBATAN PELANGGAN SECARA DARING PADA INDUSTRI KOSMETIK DI INDONESIA. Prosiding Seminar Nasional Terapan Riset Inovatif (SENTRINOV), 6(1), 412-419. Retrieved from https://proceeding.isas.or.id/index.php/sentrinov/article/view/377