MONITORING OF BODY TEMPERATURE NON CONTACT USING AMG8833 THERMAL CAMERA AND FACE DETECTION
Keywords:
covid-19, suhu tubuh, kamera thermal amg8833, face detection, haarcascade classifier
Abstract
Sejak desember 2019 covid-19 telah menyebar dengan cepat di beberapa negara di dunia bahkan di indonesia. Banyak solusi yang sudah dilakukan pemerintah dalam penanganan virus ini seperti social distance, karantina, cek suhu dan lain-lain. Di berbagai tempat keramaian saat ini telah dilakukan pengecekan suhu tubuh yang merupakan salah satu cara untuk mengantisipasi kondisi seseorang yang terjangkit dengan covid-19. Namun pengecekan kondisi suhu tubuh saat ini masih dilakukan dengan cara manual yaitu salah satu petugas mengecek suhu tubuh setiap orang dengan menggunakan thermometer. Pada penelitian ini diusulkan Monitoring Suhu Tubuh Non Contact Menggunakan Kamera Thermal AMG8833 dan Face Detection. Kamera thermal AMG8833 digunakan untuk mengukur suhu tubuh, sedangkan face detection dengan menggunakan Haarcascade Classifier digunakan untuk mendeteksi wajah. Uji coba dilakukan dengan melakukan perbandingan sistem yang diusulkan dengan sensor thermometer model DN-997 untuk mendeteksi suhu tubuh dan wajah kepada 5 orang. Dari hasil uji coba yang dilakukan menunjukkan bahwa sistem yang diusulkan memiliki tingkat error rata-rata 0.10 oC atau 0.28%.
References
Anneliese Depoux PhD, Sam Martin PhD, Emilie Karafillakis MSc, R. P. B., & Annelies Wilder-Smith MD, H. L. P. (2018). Pandemic of Social Media Travels Faster than the COVID-19 outbreak. Pandemic of Social Media.
Chung, B. W., Park, K., & Hwang, S. (2013). Fast and efficient Haar-Like feature selection algorithm for object detection. 38(06), 486–491.
Damayanti, F., Arifin, A. Z., & Soelaiman, R. (n.d.). Pengenalan Wajah Berbasis Metode Two-Dimensional Linear Discriminant Analysis.
Franchi, D., Gonzatti, F., Miotto, M., Kuhn, V. N., & Farret, F. A. (2019). Use of infrared matrix sensor for temperature measurement and monitoring of PEM/FC stacks. Sensors and Actuators, A: Physical, 293, 119–127. https://doi.org/10.1016/j.sna.2019.04.031
Guo, Y., Cao, Q., Hong, Z., Tan, Y., Chen, S., Jin, H., Tan, K., Wang, D., & Yan, Y. (2020). The origin , transmission and clinical therapies on coronavirus disease 2019 ( COVID-19 ) outbreak – an update on the status. Military Medical Research, 7(11), 1–10.
Haripriya, A. B., Sunitha, K. A., & Mahima, B. (2020). Development of Low-cost Thermal Imaging System as a Preliminary Screening Instrument. Procedia Computer Science, 172(2019), 283–288. https://doi.org/10.1016/j.procs.2020.05.045
Jati, I. S., & Rivai, M. (2019). Implementasi Thermal Camera pada Pengaturan Pendingin Ruangan. Jurnal Teknik Its, 8(2), 1–6.
Koc, M., & Barkana, A. (2014). Discriminative common vector approach based feature selection in face recognition. Computers & Electrical Engineering, 40(8), 37–50. https://doi.org/10.1016/j.compeleceng.2014.07.003
Musthafa, A. R., Fitrawan, A. A., & Supria, S. (2016). Pengenalan Wajah Menggunakan Implementasi T-shape Mask pada Two Dimentional Linear Discriminant Analysis dan Support Vector Machine. Jurnal Buana Informatika, 7(1), 1–10. https://doi.org/10.24002/jbi.v7i1.478
Safitri, M., & Dinata, G. A. (2019). Non-Contact Thermometer Berbasis Infra Merah. Simetris: Jurnal Teknik Mesin, Elektro Dan Ilmu Komputer, 10(1), 21–26. https://doi.org/10.24176/simet.v10i1.2647
Vorajee, N., Mishra, A. K., & Mishra, A. K. (2020). Analyzing capacity of a consumer-grade infrared camera in South Africa for cost-effective aerial inspection of building envelopes. Frontiers of Architectural Research, xxxx. https://doi.org/10.1016/j.foar.2020.05.004
Wu, Y.-C., Chen, C.-S., & Chan, Y.-J. (2020). The outbreak of COVID-19. Journal of the Chinese Medical Association, 83(3), 217–220. https://doi.org/10.1097/jcma.0000000000000270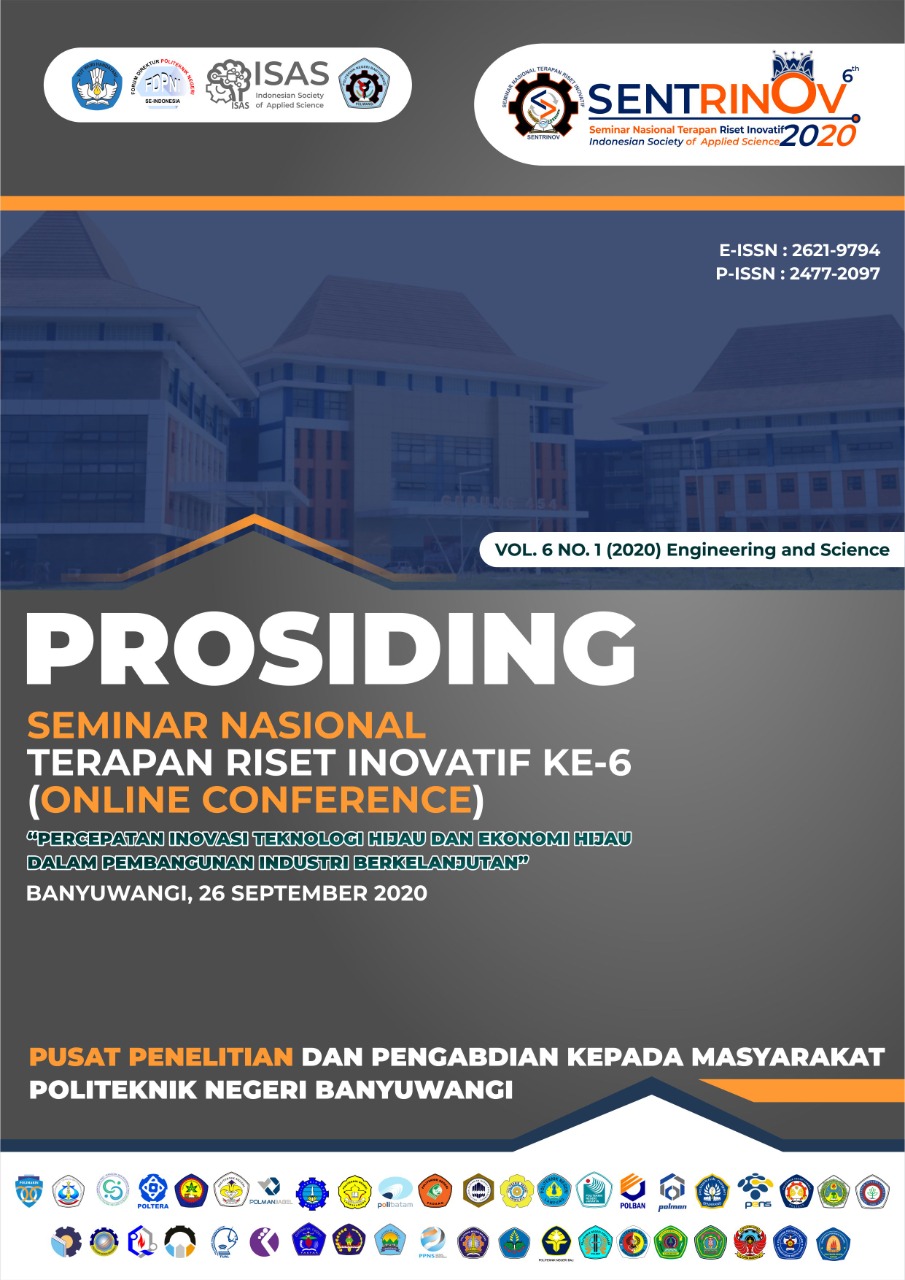 Downloads
How to Cite
Supria, & Nasir, M. (2020). MONITORING OF BODY TEMPERATURE NON CONTACT USING AMG8833 THERMAL CAMERA AND FACE DETECTION. Prosiding Seminar Nasional Terapan Riset Inovatif (SENTRINOV), 6(1), 396-403. Retrieved from https://proceeding.isas.or.id/index.php/sentrinov/article/view/379