PENERAPAN RANGKAIAN SIMULASI MIKROKONTROLER TERINTEGRASI UNTUK PRATIKUM EMBEDED SYSTEM DI MASA PANDEMI
Keywords:
Daring, Modul Praktikum , Mikrokontroler, IC AT89S51, Simulasi, Proteus
Abstract
Wabah Covid-19 melanda dunia, termasuk Indonesia. merubah cara belajar mengajar mahasiswa dan dosen yaitu pembelajaran daring (online learning). Kegiatan pratikum atau perkuliahan kerja lapangan khususnya embedded system membutuhkan kemampuan mahasiswa dalam mengaplikasikan Permasalahan tersebut dapat diatasi  dengan membuat rangkaian simulasi yang merepresentasikan proses kerja dari modul praktikum. Tujuan dari penelitian adalah merancang dan menerapkan rangkaian simulasi sistim mikrokontroler AT89S51 ini adalah untuk membantu mahasiswa dalam meningkatkan pemahaman praktikum melalui frekuensi praktek yang maksimal dimasa pandemi dan memiminalisir kerusakan pada modul praktikum. Langkah - langkah pembuatan rangkaian simulasi ini meliputi analisa kebutuhan, mendesain rangkaian dasar, rangkaian ouput, rangkaian input dan rangkaian ADC. Hasil pengujian pada aplikasi  menunjukkan semua unit rangkaian dapat berjalan sesuai dengan modul praktikum. Dengan adanya software simulasi ini dapat memperpanjang life time modul praktikum  serta dapat membantu dosen dalam mengembangkan materi perkuliahan serta memaksimalkan pemahaman pembelajaran bagi mahasiswa melalui kegiatan praktikum khususnya pada pembelajaran daring dimasa pandemic ini.
References
Koopman, P., Choset, H., Gandhi, R., Krogh, B., Marculescu, D., Narasimhan, P., Paul, J. M., Rajkumar, R., Siewiorek, D., Smailagic, A., Steenkiste, P., Thomas, D. E., & Wang, C. (2005). Undergraduate Embedded System Education at Carnegie Mellon. ACM Transactions on Embedded Computing Systems, 4(3), 500–528. https://doi.org/10.1145/1086519.1086522
Trundle, K. C., & Bell, R. L. (2010). The use of a computer simulation to promote conceptual change: A quasi-experimental study. Computers and Education, 54(4), 1078–1088. https://doi.org/10.1016/j.compedu.2009.10.012
Perkins, K., Adams, W., Dubson, M., Finkelstein, N., Reid, S., Wieman, C., & LeMaster, R. (2006). PhET: Interactive Simulations for Teaching and Learning Physics. The Physics Teacher, 44(1), 18–23. https://doi.org/10.1119/1.2150754
Wieman, C. E., Perkins, K. K., & Adams, W. K. (2008). Oersted Medal Lecture 2007: Interactive simulations for teaching physics: What works, what doesn't, and why. American Journal of Physics, 76(4), 393–399. https://doi.org/10.1119/1.2815365
Deaky, B., Lupulescu, N. B., & Ursutiu, D. (2011). Extended educational use of the Microcontroller Student Learning Kit (MCU SLK). 2011 IEEE Global Engineering Education Conference, EDUCON 2011, May 2011, 913–916. https://doi.org/10.1109/EDUCON.2011.5773254
Su, B., & Wang, L. (2010). Application of Proteus Virtual System Modelling (VSM) in teaching of microcontroller. 2010 International Conference on E-Health Networking, Digital Ecosystems and Technologies, EDT 2010, 2, 375–378. https://doi.org/10.1109/EDT.2010.5496343
Ade, O. S., & Ale, D. (2013). Development of MATLAB-Based Digital Signal Processing Teaching Module with Graphical User Interface Environment for Nigerian University. International Journal of Engineering & Technology, 2(3), 230. https://doi.org/10.14419/ijet.v2i3.1081
Anggara,Era Madona,& M.Irmansyah. (2019). Penerapan Rangkaian Simulasi Terintegrasi Untuk Efisiensi Penggunaan. Jurnal RESTI (Rekayasa Sistem Dan Teknologi Informasi), 1(10), 4–8.
Papazoglou, P., & Moschos, A. (2017). OpenHardSim: An open source hardware based simulator for learning microprocessors. IEEE Global Engineering Education Conference, EDUCON, April, 157–160. https://doi.org/10.1109/EDUCON.2017.7942841
Yang-Mei, L., & Bo, C. (2015). Electronic circuit virtual laboratory based on LabVIEW and multisim. Proceedings - 7th International Conference on Intelligent Computation Technology and Automation, ICICTA 2014, 222–225. https://doi.org/10.1109/ICICTA.2014.61
Sugiyono. 2008. Metode Penelitian Pendekatan Kualitatif, Kuantitatif dan R&D, Alfabeta.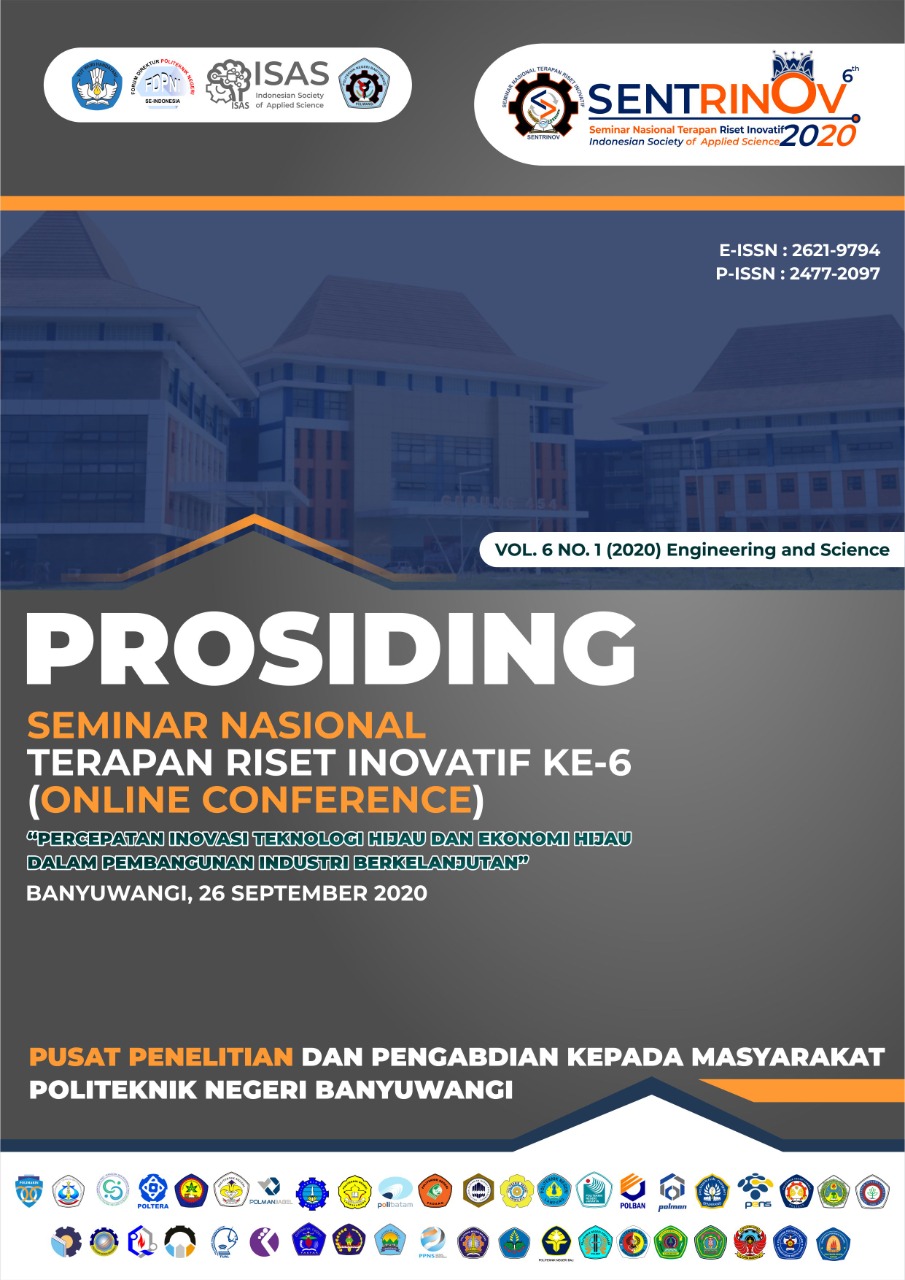 Downloads
How to Cite
Madona, E., Irmansyah, M., & Nasution, A. (2020). PENERAPAN RANGKAIAN SIMULASI MIKROKONTROLER TERINTEGRASI UNTUK PRATIKUM EMBEDED SYSTEM DI MASA PANDEMI. Prosiding Seminar Nasional Terapan Riset Inovatif (SENTRINOV), 6(1), 337-345. Retrieved from https://proceeding.isas.or.id/index.php/sentrinov/article/view/386