UJI MESIN PENGERING JAHE SISTEM DEHUMIDIFIER MENGGUNAKAN MESIN HEAT PUMP 1 PK
Keywords:
dehumidifier, suhu rendah, kelembaban,, PID Control
Abstract
Tumbuh-tumbuhan herbal harus dikeringkan dengan suhu yang rendah, untuk menghindari berkurang khasiat dan aromanya. Makalah ini memperlihatkan hasil uji dari mesin pengering dehumidifier yang bekerja pada suhu pengeringan 35 derajat celcius dan pada kelembaban 40 persen. Mesin yang digunakan adalah heat pump dengan kapasitas kompresor 1 PK. Untuk mengontrol ON/OFF mesin digunakanan Humiditystat, sedangkan untuk membuat suhu ruang pengering disekitar 40 derajat digunakan PID kontrol. Hasil dari pengeringan selama 7 jam. Bobot jahe segar berkurang sebanyak 82 persen.
References
Balladin, D.A., Headley, O., Chang-Yen, I. dan McGaw, D.R. (1998). High pressure liquid chromatographic analysis of the main pungent principles of solar dried West Indian ginger (Zingiber officinale Roscoe). Renewable Energy 13(4): 531-536.
Darmanto,Seno,. Sriyana, Sasono, Eko Julianto, 2018, Aplikasi Gas Buang Untuk Pengeringan Produk Pertanian EKSERGI Jurnal Teknik Energi Vol 14 No. 1 Januari 2018; 1- 5.
Handayani, Sri Utami, Rahmat, Seno Darmanto (2014), Uji Unjuk Kerja Sistem Pengering Dehumidifier Untuk Pengeringan Jahe, Agritech, Vol. 34, No. 2, Mei 2014
Phoungchandang, S. dan Saentaweesuk, S.(2011). Effect of two stage, tray and heat pump assisted-dehumidified drying on drying characteristics and qualities of dried ginger. Food and Bioproducts processing 89: 429-437.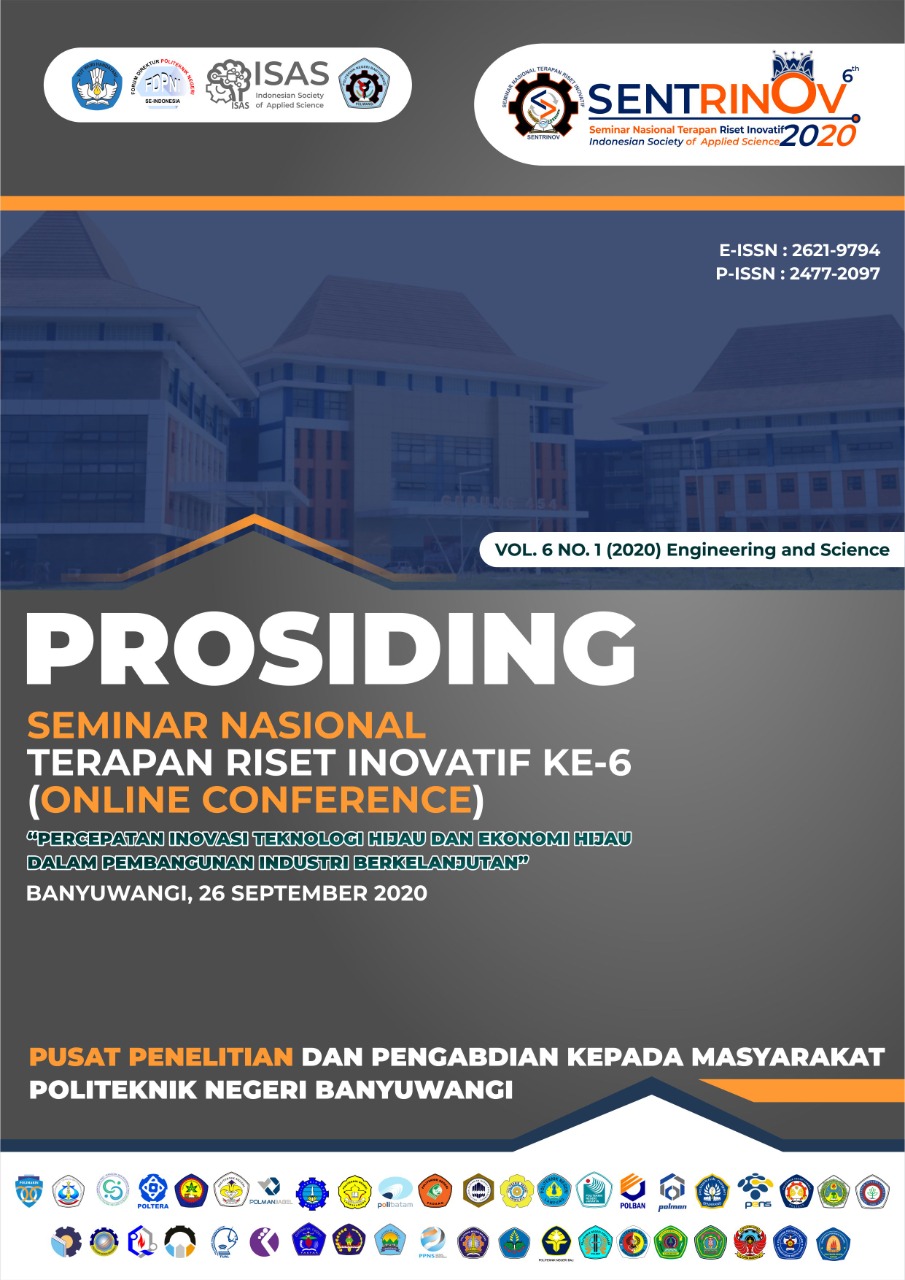 Downloads
How to Cite
Sudirman, Sudana, I. M., Baliarta, I. N. G., Arsana, M. E., & Agustriputra, I. (2020). UJI MESIN PENGERING JAHE SISTEM DEHUMIDIFIER MENGGUNAKAN MESIN HEAT PUMP 1 PK. Prosiding Seminar Nasional Terapan Riset Inovatif (SENTRINOV), 6(1), 420-425. Retrieved from https://proceeding.isas.or.id/index.php/sentrinov/article/view/455