BALOK PRECAST SEGMENTAL DENGAN SISTIM SAMBUNGAN BONED NON-PRESTRESSED
Keywords:
Precast, boned nonprestressed, concrete
Abstract
Pada penelitian sambungan (boned nonprestressed) pada balok precast ini telah dihasilkan suatu perbandingan kekuatan lentur antara balok precast yang disambung di tengah bentang dengan balok konvensional. Dari hasil yang ada terlihat bahwa performa balok precast yang disambung di tengah bentang dengan sistim middle wet joint dibandingkan dengan balok konvensional adalah tidak lebih baik, hal itu dibuktikan pada kurva hubungan lendutan-beban rata-rata antara benda uji 1,2,3 dengqn benda uji 4,5,6. Dari kurva yang ada diketahui bahwa rata-rata benda uji balok precast 1,2,3 menghasilkan beban maksimal 22,7 kN pada lendutan 6 mm sedangkan pada kurva rata-rata benda uji balok konvensional 4,5,6 menghasilkan beban maksimal 32,7 kN. 
References
José , A.P, John, P.W.(2001), "Anchorage of Carbon Fiber Reinforced Polymer (CFRP) Tendons Using Cold-Swaged Sleeves", PCI Journal Paper, 46(6), 100 - 111
Adil, Al.M, Khaled A.S, Alan, P, "Experimental and Analytical Investigation of a Stainless Steel Anchorage for CFRP Prestressing Tendons", PCI Journal Paper, 46(2), 88-100
Sudhakar Apparao Kulkarni, Bing Li, Winter, 2009," Investigations of seismic behavior of hybrid connections", PCI Journal Paper, 54(1), 67-87
Farnoud Rahimi Mansour, Suhaimi Abu Bakar, Mohammadreza Vafaei, & Sophia C. Alih. (2017). "Effect of substrate surface roughness on the flexural performance of concrete slabs strengthened with a steel-fiber-reinforced concrete layer", PCI Journal Paper, 62(1), 78-89
Lesley H. Sneed, Kristian Krc, Samantha Wermager, and Donald Meinheit.(2016). "Interface shear transfer of lightweight-aggregate concretes with different lightweight aggregates", PCI Journal Paper, 61(2), 38-55
Royce W. Floyd, W. Micah Hale, and Michael B. Howlan.(2015). "Measured transfer length of 0.6 in. prestressing strands cast in lightweight self-consolidating concrete", PCI Journal Paper, 60(3), 84 - 98
Nadim,M and Manaser,A, (2008), Structural Concrete : Theory and Design , John Wiley and Sons, USA
SNI 03-3449-2002.(2002). Standar Nasional Indonesia ,Tata Cara Rencana Pembuatan Campuran Beton Ringan Dengan Agregat Ringan , Bandung.
ACI Committee 318.(2011). Building Code Requirments for Structure and Commentary,American Concrete Institute, Detroit.
SNI 03-2847-2013. (2013). Standar Nasional Indonesia ,Tata Cara Perhitungan Struktur Beton Untuk Bangunan Gedung, Bandung.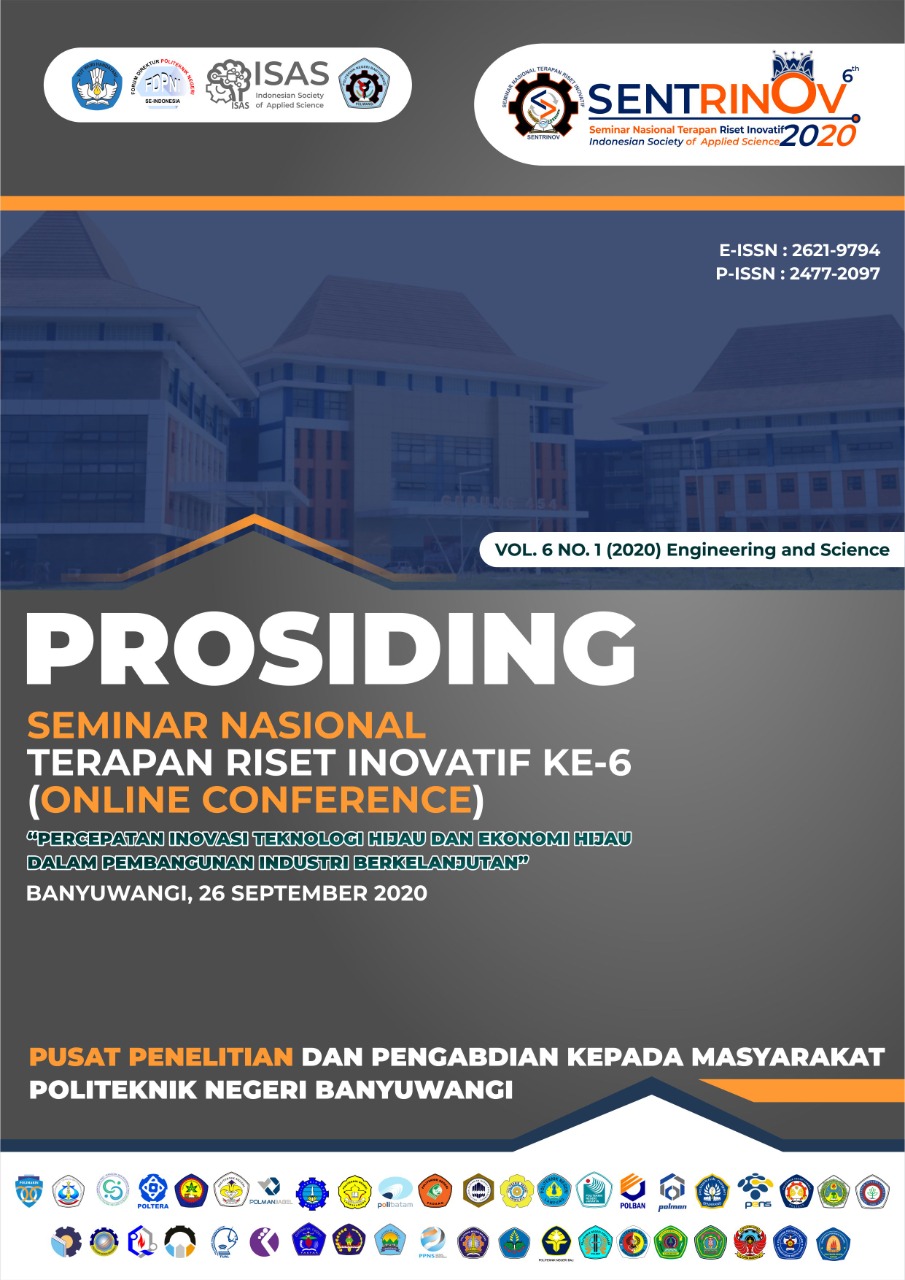 Downloads
How to Cite
Hermawan, A., & Mulya, E. S. (2020). BALOK PRECAST SEGMENTAL DENGAN SISTIM SAMBUNGAN BONED NON-PRESTRESSED. Prosiding Seminar Nasional Terapan Riset Inovatif (SENTRINOV), 6(1), 525-531. Retrieved from https://proceeding.isas.or.id/index.php/sentrinov/article/view/523