DESAIN ANTENA MIKROSTRIP SLOT U UNTUK WLAN FREKUENSI KERJA 2.4 GHz
Keywords:
Antena mikrostrip, WLAN, Slot U, CST Studio Suite.
Abstract
Dalam karya ini telah dirancang antena mikrostrip menggunakan slot U dengan frekuensi tunggal 2,441 GHz untuk aplikasi WLAN. Antena dirancang menggunakan coplanar ground, feedline dan slot pada patch. Dengan memperpanjang dan memperlebar slot dapat mengubah nilai frekuensi resonansi sesuai dengan yang diharapkan, sedangkan memvariasikan ukuran ground plane dapat mengubah nilai bandwidth dan nilai return loss. Antena dirancang  pada  Substrate FR-4, berukuran 25 mm x 30 mm, yang memiliki konstantan dielektrik (er ) 4,7, Dielectric Loss Tangent ( tan 8) 0,02 dan ketebalan substrate 1,6 mm. antena yang dirancang disimulasikan menggunakan software CST Studio Suite . Hasil simulasi didapatkan pita frekuensi kerja 2,3436 GHz – 2,5278 GHz, return loss -32, 27 dB dengan frekuensi resonansi 2,441 GHz, bandwidth 184,2 MHz, VSWR 1,049, gain 1,66 (dBi), impedansi 51,91 (ohm), dan polaradiasi omnidirectional.
References
Anil Pandey. (2019). Microstrip, Practical and Printed Antena Desain.
Balanis, C. A. (1997). #Antenna Theory - Analysis and Design (Constantine A. Balanis) (2nd Ed) [John Willey] (2).pdf.
Chang, L., Wang, H., Zhang, Z., Li, Y., & Feng, Z. (2016). A Dual - Environment Active RFID Tag Antenna Mountable on Metallic Objects. 1225(c). Retrieved from https://doi.org/10.1109/LAWP.2016.2533626
Ferreira, R., Joubert, J., & Ieee, S. M. (2016). A compact dual-circularly polarized cavity- backed ring-slot antenna. c, 18–21. Retrieved from https://doi.org/10.1109/TAP.2016.2623654
Gao, G., Hu, B., Wang, S., & Yang, C. (2018). Wearable Circular Ring Slot Antenna With EBG Structure for Wireless Body Area Network. 17(3), 2018–2021.
Hua, X., Wu, D., Cheung, S. W., & Li, Q. L. (2017). A Planar 8-Port MIMO Antenna for 2 . 4-GHz WLAN Applications. 1653–1654.
Li, W., Xia, Z., You, B., Member, S., & Liu, Y. (2017). Dual-Polarized H-Shaped Printed Slot Antenna. 16, 1484–1487.
Sanchez-montero, R., & Alen-cordero, C. (2019). sensors Bend and Moisture E ff ects on the Performance of a U-Shaped Slotted Wearable Antenna for O ff -Body Communications in an Industrial Scientific Medical.
Saravanan, M., & Rangachar, M. J. S. (2016). A Narrowband Corner Slot Patch Antenna for 2 . 4 GHz Wireless Radio Communications. 8(5), 2149–2153. Retrieved from https://doi.org/10.21817/ijet/2016/v8i5/160805434
Wu, J., Member, S., & Sarabandi, K. (2017). Compact Omnidirectional Circularly Polarized Antenna. c. Retrieved from https://doi.org/10.1109/TAP.2017.2669959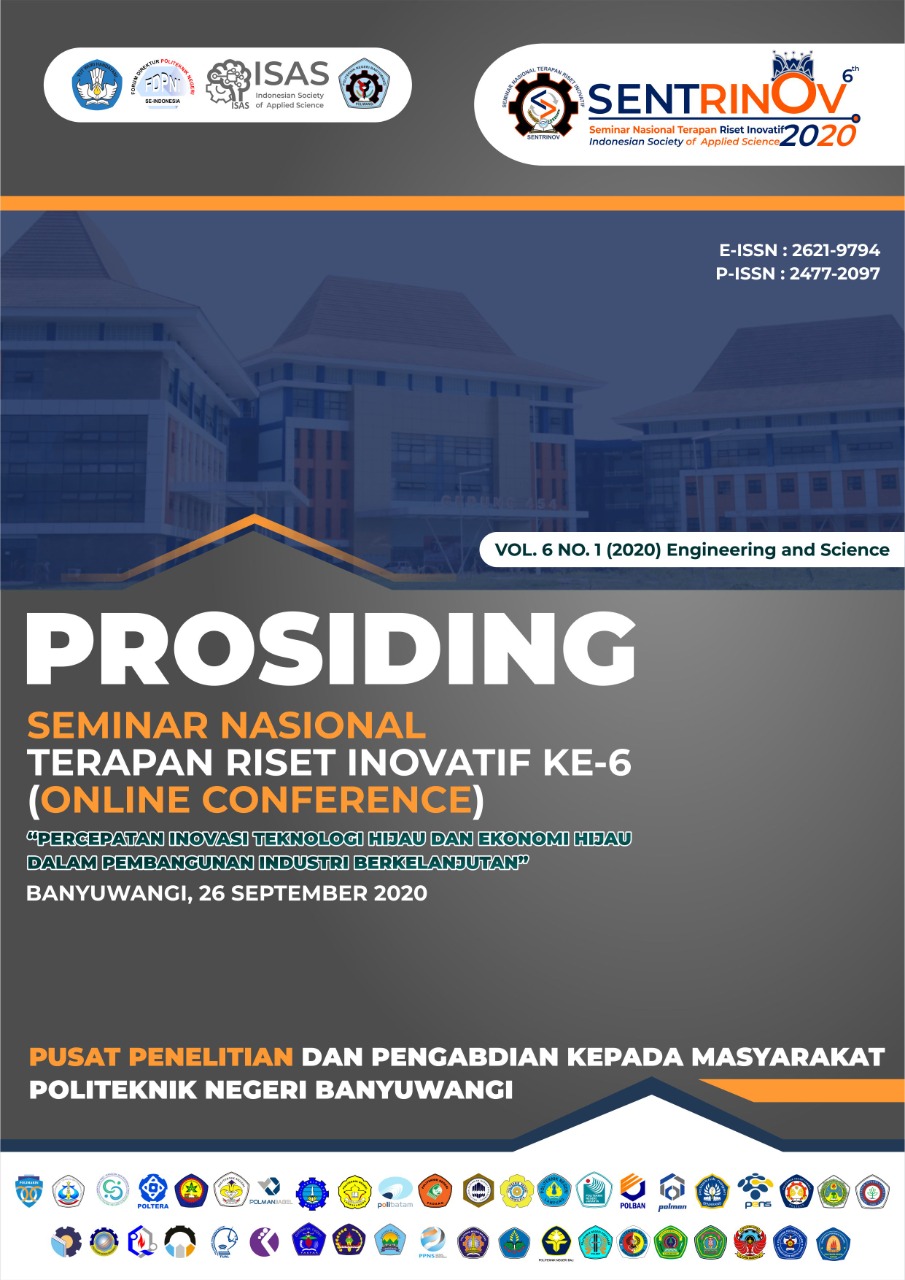 Downloads
How to Cite
Ramaini, S., Septima, U., & Yulindon. (2020). DESAIN ANTENA MIKROSTRIP SLOT U UNTUK WLAN FREKUENSI KERJA 2.4 GHz . Prosiding Seminar Nasional Terapan Riset Inovatif (SENTRINOV), 6(1), 770-777. Retrieved from https://proceeding.isas.or.id/index.php/sentrinov/article/view/546