PERFORMANSI PROTOKOL ROUTING AOMDV, DSR, DAN AODV PADA MOBILE AD-HOC NETWORK (MANET)
Keywords:
AOMDV, AODV, DSR, MANET
Abstract
MANET dapat diartikan sebagai kumpulan node pada jaringan wireless yang bebas bergerak. Node mempunyai tanggung jawab dalam hal meneruskan data dari source ke destination. Permasalahan pada protokol AOMDV dan AODV yakni tidak memiliki mekanisme route cache yang dimiliki protokol DSR sehingga dapat menyebabkan proses paket data saat dikirimkan antara simpul sumber ke simpul destinasi menjadi lebih lambat. Penelitian dilakukan dengan cara membandingan protokol AOMDV, DSR, dan AODV dengan merujuk parameter tertentu yakni end to end delay dan throughput dengan variasi jumlah node. Pada penelitian ini menggunakan pendekatan kuantitatif dan kualitatif. Tujuan penelitian yakni mengetahui kinerja protokol routing AOMDV, DSR, dan AODV pada MANET. Hasil pada penelitian ini ialah pada protokol DSR memiliki kinerja terbaik pada throughput dengan nilai 215273,36 Kbps. Protokol DSR memperoleh nilai 44,68 ms sehingga juga memiliki kinerja terbaik pada end to end delay.
References
Khurana, S., & Khumar, S. (2017). A Study of Congestion Control in MANET: Review. International Journal of Engineering Technology Science and Research (IJETSR), 5, 2394-3386.
Kumar, J., Singh, A., Panda, K. M., & Bhadauria, S. H. (2016). Study and Performance Analysis of Routing Protocol Based on CBR. International Conference on Computational Modeling and Security, 23-30.
Kochher, R., & Mehta, R. (2016). Performance Analysis of Reactive AODV and DSR with Hybrid GRP Routing Protocols under IEEE 802.11g MANET. 2016 International Conference on Wireless Communications, Signal Processing and Networking (WiSPNET), 4673-9339.
Neeraj, K., Yedupati, K., Soumya, S. A., & Krishna, S. S. (2018). PERFORMANCE ANALYSIS OF DIFFERENT ROUTING PROTOCOLS IN MANET USING DIFFERENT PARAMETERS IN DIFFERENT RANGES. 2018 2nd International Conference on I-SMAC (IoT in Social, Mobile, Analytics and Cloud), 1442-5386.
Anisia, R., Munadi, R., & Negara, M. R. (2016). ANALISIS PERFORMANSI ROUTING PROTOCOL OLSR DAN AOMDV PADA VEHICULAR AD HOC NETWORK (VANET). Jurnal Nasional Teknik Elektro, 1, 2302-2949.
Bahari, A. M., Trisnawan, H. P., & Siregar, A. R. (2019). Analisis Kinerja Protokol AODV (Ad Hoc On-Demand Distance Vector) dan AOMDV (Ad Hoc On-Demand Multipath Distance Vector) Terhadap Serangan Aktif Pada Jaringan Manet (Mobile Ad Hoc Network). Jurnal Pengembangan Teknologi Informasi dan Ilmu Komputer, 4, 3235-3243.
Haris, M., Trisnawan, H. P., & Primananda, R. (2019). Perbandingan Kinerja Protokol DSDV dan FSR Terhadap Model Node Tetap dan Node Bergerak. Jurnal Pengembangan Teknologi Informasi dan Ilmu Komputer, 9, 8814-8822.
Fatkhurrozi, F., Widasari, R. E., & Bhawiyuga, A. (2017). Analisis Perbandingan Kinerja Protokol AOMDV, DSDV, Dan ZRP Sebagai Protokol Routing Pada Mobile Ad-Hoc Network (MANET). Jurnal Pengembangan Teknologi Informasi dan Ilmu Komputer, 10, 3671-3680.
Jaganath, M., & Vikram, R. (2019). Performance Evaluation of MANET Routing Protocol under Black Hole Attack Using OPNET Simulator. International Journal of Innovative Technology and Exploring Engineering (IJITEE), 7, 2278-3075.
Jyoti., & Saini, H. (2017). A Study on Networks and Comparison of Wired, Wireless and Optical Networks. International Journal of Innovative Research in Computer and Communication Engineering, 3, 2320-9798.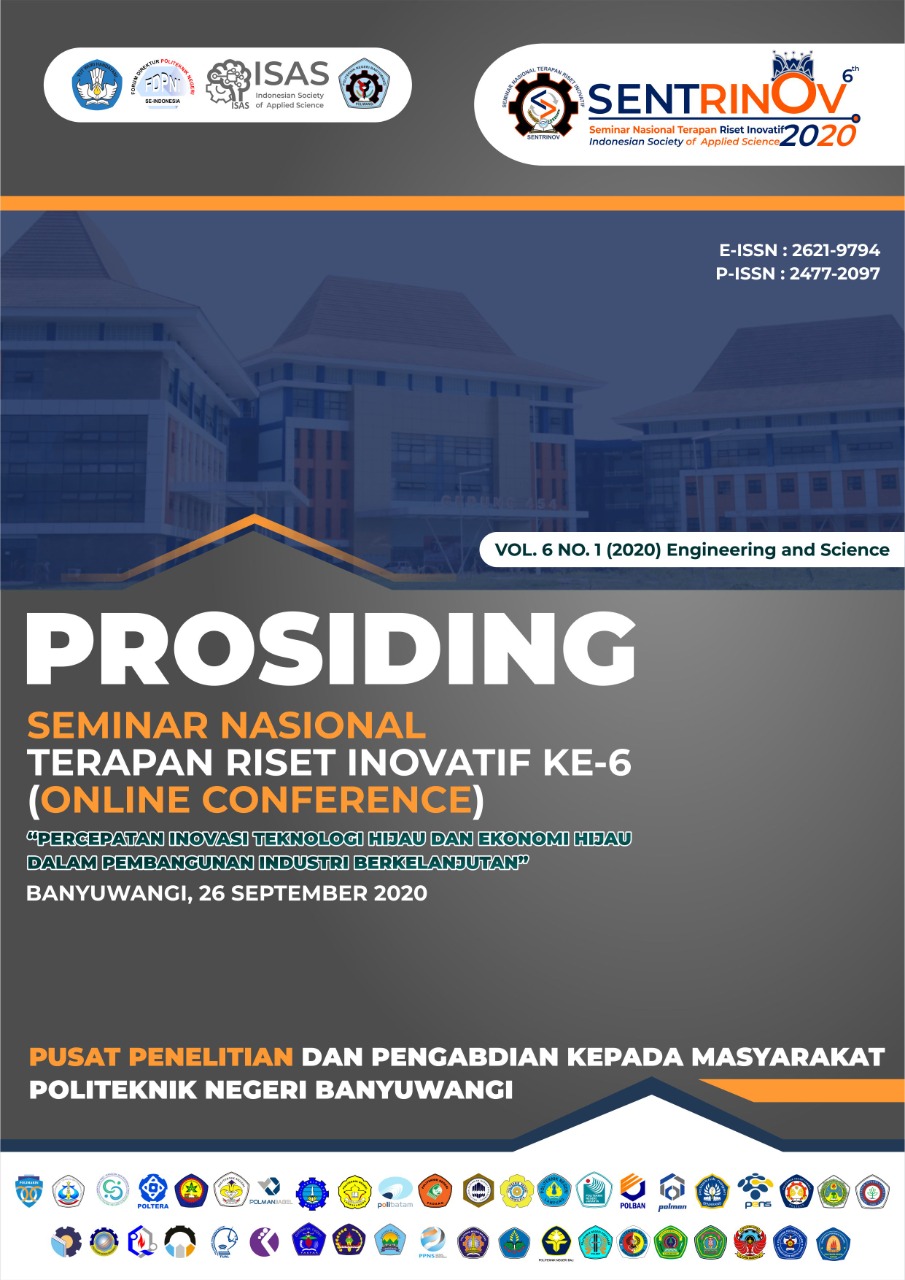 Downloads
How to Cite
Nurwarsito, H., & Satriawan, M. A. (2020). PERFORMANSI PROTOKOL ROUTING AOMDV, DSR, DAN AODV PADA MOBILE AD-HOC NETWORK (MANET). Prosiding Seminar Nasional Terapan Riset Inovatif (SENTRINOV), 6(1), 887-894. Retrieved from https://proceeding.isas.or.id/index.php/sentrinov/article/view/557