IMPLEMENTASI IOT-WSN TERINTEGRASI LINE APPs UNTUK MONITORING SUHU DAN KELEMBABAN RUANGAN ISOLASI PASIEN COVID-19
Keywords:
IoT, Line Apps, Wireless Sensor Network, Temperature, Humidity
Abstract
Coronavirus (COVID-19) merupakan wabah yang saat saat ini lagi viral di dunia. COVID-19 awa mulanya muncul pada bulan September 2020 dari kota Wuhan yang merupakan ibu kota dari provinsi Hubei di Republik Rakyat Cina (RRC). Pada penelitian ini mengusulkan sebuah sistem untuk melakukan pemantauan atau mengukur suhu dan kelembaban ruangan isolasi dengan menggunakan teknologi IoT dan Wireless Sensor Network (WSN) yang terintegrasi dengan LINE Notifications. Aplikasi ini akan ditampilkan melalui website dan LINE Notifiactions, sehingga user bisa mengetahuinya secara real time. Pada pengujian sistem, didapat ketika kondisi suhu 25,79 Celcius dan humidity 71,20 %RH maka akan didapatkan kondisi berupa "Most 50% population feels discomfort".
References
Calculator, K. O. (n.d.). Calculates the discomfort index from temperature and humidity. Retrieved August 7, 2020, Retrieved from https://keisan.casio.com/exec/system/1351058230
Fahmi, N., Al Rasyid, M. U. H., & Sudarsono, A. (2017). Adaptive Sleep Scheduling for Health Monitoring System Based on the IEEE 802.15.4 Standard. EMITTER International Journal of Engineering Technology, 4(1), 91–114. Retrieved from https://doi.org/10.24003/emitter.v4i1.115
Harun Al Rasyid, M. U., Wibowo, I. K., & Windhy Saputra, M. A. (2019). Mobile Monitoring of Toddler's Body Temperature for Early Effort of Febrile Seizure Prevention. Proceedings - 2019 International Seminar on Application for Technology of Information and Communication: Industry 4.0: Retrospect, Prospect, and Challenges, ISemantic 2019, 313–318. Retrieved from https://doi.org/10.1109/ISEMANTIC.2019.8884294
WHO. (2020). Novel Coronavirus (2019-nCoV) Situation Report - 1. WHO Bulletin.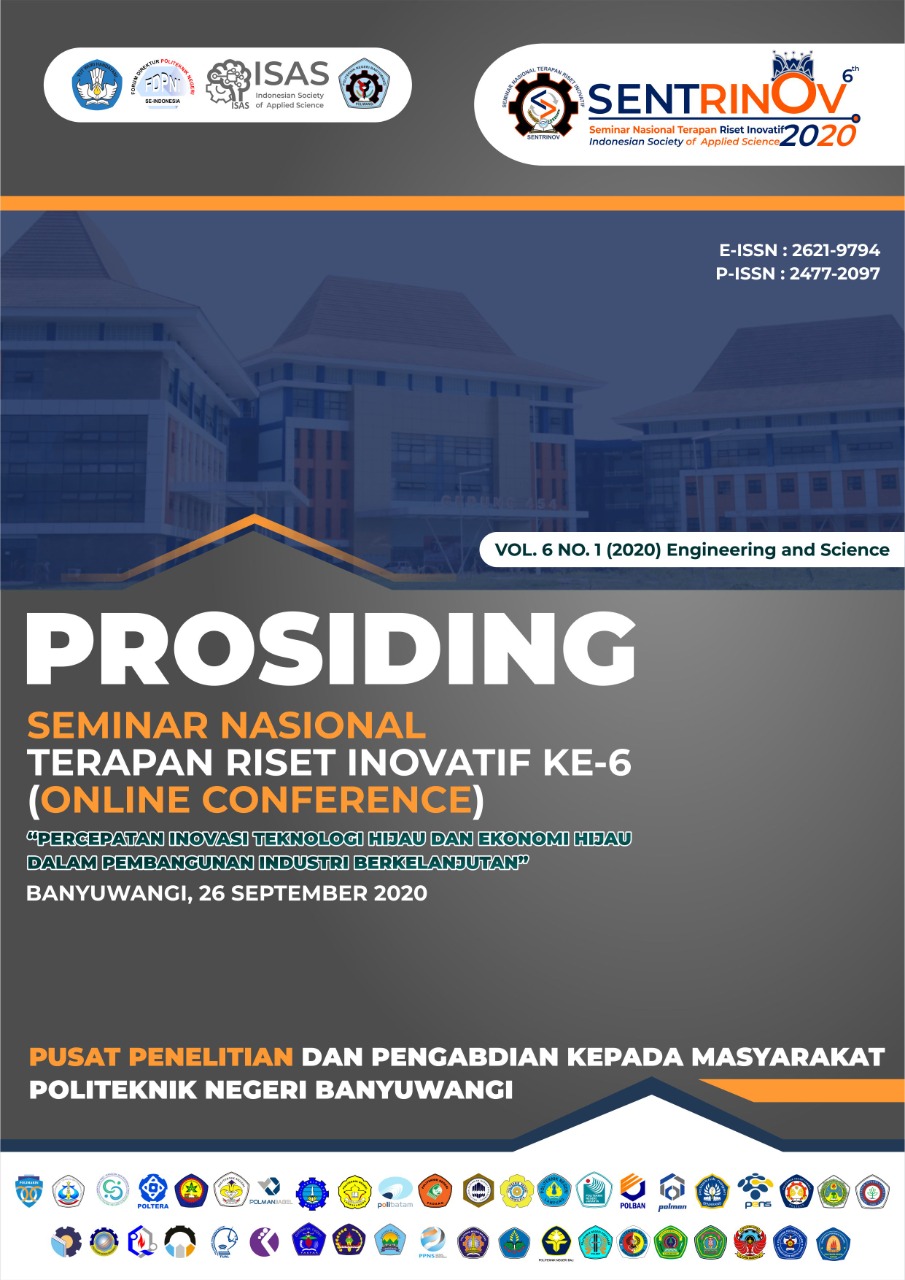 Downloads
How to Cite
Fahmi, N., & Lidyawati. (2020). IMPLEMENTASI IOT-WSN TERINTEGRASI LINE APPs UNTUK MONITORING SUHU DAN KELEMBABAN RUANGAN ISOLASI PASIEN COVID-19. Prosiding Seminar Nasional Terapan Riset Inovatif (SENTRINOV), 6(1), 844-851. Retrieved from https://proceeding.isas.or.id/index.php/sentrinov/article/view/562