PENGENDALIAN CCTV MENGGUNAKAN YOU ONLY LOOK ONCE (YOLO)
Keywords:
CCTV, You Only Look Once, Deteksi, Android, Efisiensi.
Abstract
Pada umumnya CCTV sebagai pendeteksi keberadaan manusia memiliki jumlah memori yang terbatas. CCTV yang menyala 24 jam dapat mempercepat memori penuh. Untuk memperlambat memori penuh diperlukan pengendalian CCTV yang hanya merekam saat mendeteksi keberadaan manusia. Salah satu cara mengendalikan CCTV yaitu menggunakan YOLO (You Only Look Once) yang mengolah citra gambar manusia. Jika CCTV mendeteksi manusia maka dilakukan perekaman dan diupload ke penyimpanan cloud storage kemudian dikirimkan ke perangkat android untuk dimonitor oleh pengguna. Pengujian dilakukan dengan kamera 5MP pada ruangan kamar dengan kecerahan cahaya 130 hingga 150 lux. Tingkat keberhasilan deteksi pada sistem ini mencapai 100% saat manusia tampak depan, 80% saat manusia tampak samping dan 90% saat manusia tampak belakang serta mendapatkan efisiensi memori.
References
Hafiidh, A. S., Hafiddudin, & Aulia, Suci. (2016). Sistem Keamanan Berbasis Alarm Ip Camera Dengan Passive Infrared Receiver (PIR) Sensor Dan SMS Gateway. Jurnal Elektro Telekomunikasi Terapan, 312-320.
Jeong, H., K. Park, & Y. Ha. (2018). Image Preprocessing for Efficient Training of YOLO Deep Learning Networks. IEEE International Conference on Big Data and Smart Computing (BigComp). 635-637.
Khan, F.S. & S.A. Baset. (2002). Real-time human motion detection and classification. IEEE Students Conference, ISCON '02. 135-138.
Li, G., Z. Song, & Q. Fu. (2018). A New Method of Image Detection for Small Datasets under the Framework of YOLO Network. IEEE 3rd Advanced Information Technology, Electronic and Automation Control Conference (IAEAC). 1031-1035.
Mtshali, P., & F. Khubisa. (2019). A Smart Home Appliance Control System for Physically Disabled People. Conference on Information Communications Technology and Society (ICTAS). 1-5.
Rahyagara, Andiki. (2018). Tutorial Deteksi Objek Menggunakan YOLO (You Only Look Once). Retrieved https://medium.com/@andikirahyagara/tutorial-yolo-you-only-look-once-for-absolutely-noob-c4d5f3751e1f.
Yanuar, Aditya. (2018). YOLO (You Only Look Once).
Retrieved http://machinelearning.mipa.ugm.ac.id/2018/08/05/yolo-you-only-look-once/.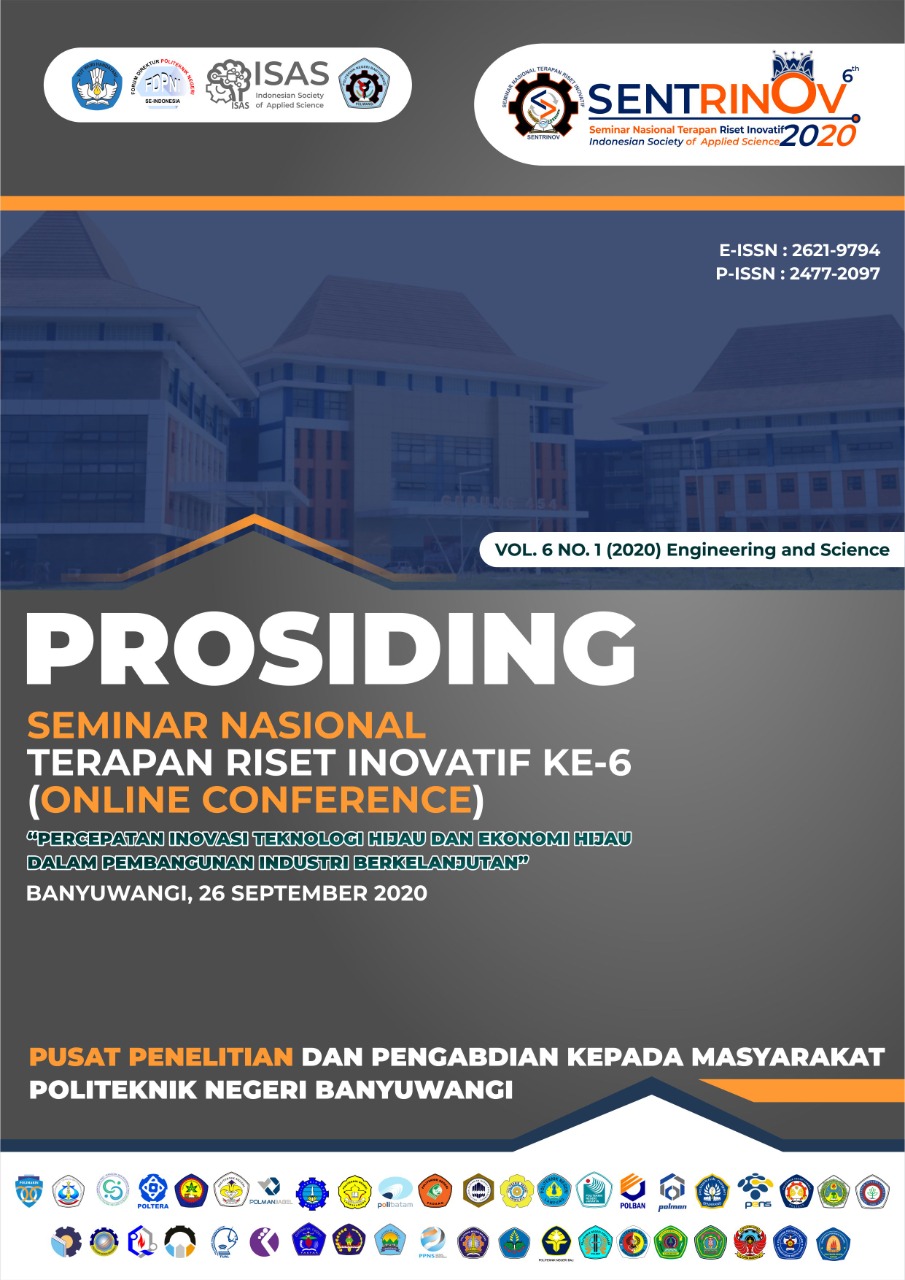 Downloads
How to Cite
Munadhif, I., Fathoni, D. H., & Jamiin, M. A. (2020). PENGENDALIAN CCTV MENGGUNAKAN YOU ONLY LOOK ONCE (YOLO). Prosiding Seminar Nasional Terapan Riset Inovatif (SENTRINOV), 6(1), 958-965. Retrieved from https://proceeding.isas.or.id/index.php/sentrinov/article/view/571