OPTIMALISASI DIMENSI BIDANG SUBSTRATE UNTUK PENINGKATAN KINERJA ANTENA MIKROSTRIP PADA BAND 5,2 GHz
Keywords:
Antena Mikrostrip, WLAN, return loss, VSWR, Bandwidth, Gain.
Abstract
Penelitian ini mengemukakan teknik untuk memperkecil return loss antena mikrostrip dengan melakukan optimalisasi dimensi bidang substrate. Optimalisasi dilakukan untuk meningkatkan kinerja antena mikrostrip pada frekuensi 5,2 GHz untuk aplikasi WLAN, yang dilakukan dengan cara mengurangi atau menambah ukuran dari desain antena. Untuk proses perancangannya, pada penelitian ini substrate yang digunakan yaitu FR4 dengan ukuran 19,4 × 15,2 × 1,6 mm3 yang memiliki konstanta dielektrik (er) 4,7 dan loss tangen 0,02. Proses perancangan antena disimulasikan dengan menggunakan software IE3D. Hasil simulasi menunjukkan bahwa antena memiliki nilai return loss -53,86 dB, VSWR 1,004, bandwidth 1,304 GHz, dan gain 2.39 dBi dan pola radiasi omnidirectional.

References
Balanis, C.A. (2016). Antenna Theory Analysis and Design, Fourth Edition. Hoboken, New Jersey: John Wiley & Sons, Inc.
Chakraborty, U., Kundu, A., Chowdhury, S. K., & Bhattacharjee, A. K. (2014). Compact dual-band microstrip antenna for IEEE 802.11a WLAN application. IEEE Antennas and Wireless Propagation Letters, 4, 407 - 410. https://doi.org/10.1109/LAWP.2014.2307005
Garg, R., Bhartia, P., Bahl, I. J., & Ittipiboon, A. (2001). Microstrip antenna design handbook. Norwood: Artech House, Inc.
S, Atchay Jahanath., S, Srinidhi., P, Yamini, D, Venkatesh. (2018). Dual Band Microstrip Antenna for Wi-Fi Applications. International Journal of Engineering Research & Technology, 7(4), 414–417. http://www.ijert.org
Srifi, M. N., Meloui, M., & Essaaidi, M. (2010). Rectangular Slotted Patch Antenna for 5-6GHz Applications. International Journal of Microwave and Optical Technology, 5(2), 52 - 57.
Srivastava, V. K., & Saini, G. (2016). A Dual Wide-Band Slotted Rectangular Patch Antenna for 2.4/5 GHz WLAN Applications. International Journal of Engineering Research & Technology (IJERT), 5(7), 60 - 65. http://www.ijert.org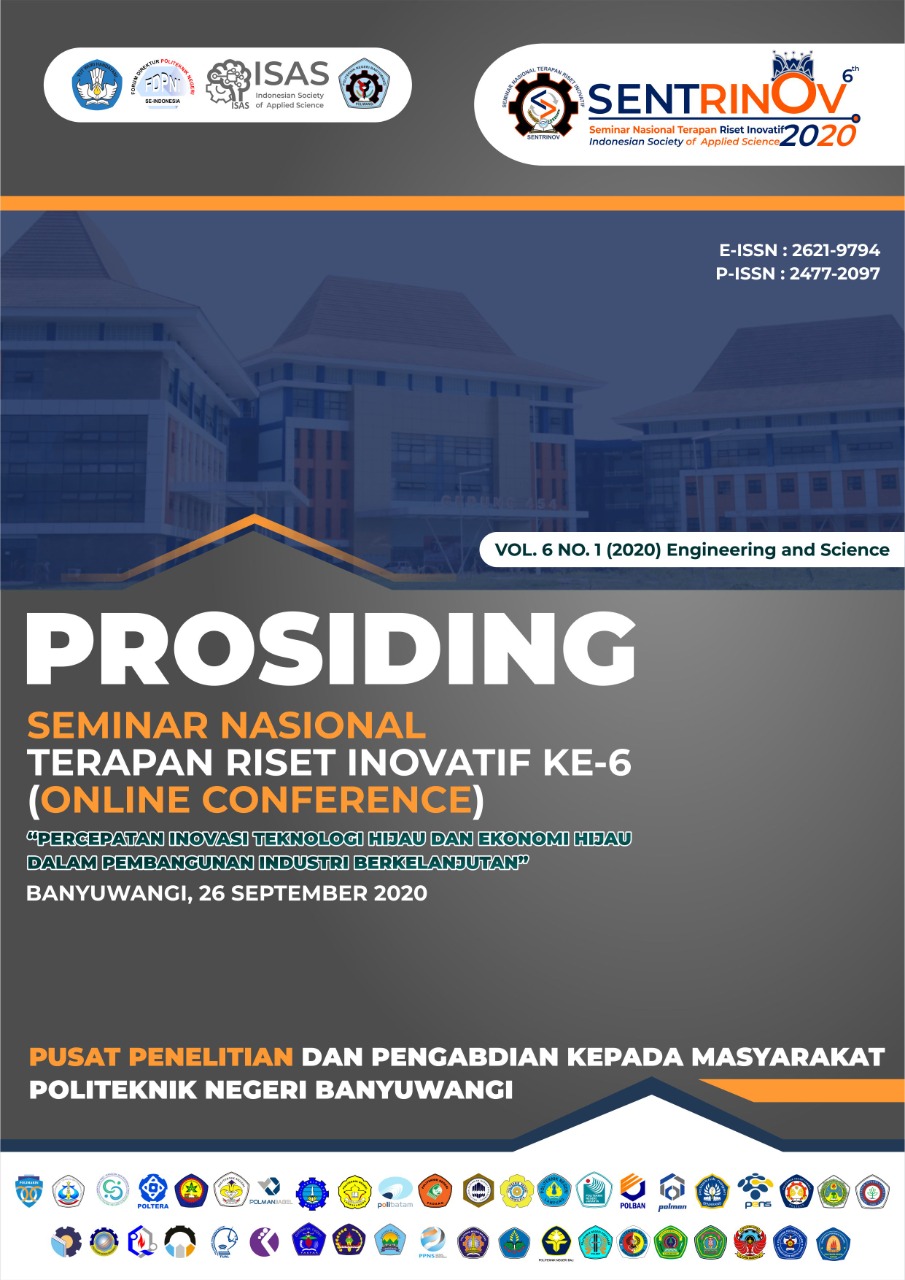 Downloads
How to Cite
Putri, H. R., Yulindon, & Septima, U. (2020). OPTIMALISASI DIMENSI BIDANG SUBSTRATE UNTUK PENINGKATAN KINERJA ANTENA MIKROSTRIP PADA BAND 5,2 GHz . Prosiding Seminar Nasional Terapan Riset Inovatif (SENTRINOV), 6(1), 950-957. Retrieved from https://proceeding.isas.or.id/index.php/sentrinov/article/view/572