ANALISIS BALOK PRECAST TYPE LSHAPE PADA BEBAN MAKSIMUM
Keywords:
Precast, lentur, concrete
Abstract
Pada penelitian balok precast tipe L shape telah dihasilkan suatu kekuatan lentur balok precast yang disambung di tengah bentang dengan bentuk sambungan tipe L shape. Tujuan dari penelitian ini adalah untuk menentukan kekuartan lentur baik defleksi dan beban yang dapat diaplikasikan maksimum terhadap balok precast tsersebut. Balok precast terdiri dari dua balok precast P1 danP2. Data yang telah dihasilkan dari penelitian ini adalah lendutan pada balok precast P1 sebesar 28,44 mm pada beban masksimal 11,21 Ton dan lendutan pada balok precast P2 sebesar 26,71 mm pada beban masksimal 11,76 Ton. Selain dari data beban, dihasilkan grafik pembebanan versus lendutan dimana terlihat balok precast dengan sambungan tipe L shape berperilaku sebagai kurang daktail dimana deformasi inelastic tidak terlihat. Hal itu terjadi karena adanya overlapping sambungan pada tengah bentang.
References
ACI Committee 318, 2011, Building Code Requirments for Structure and Commentary,American Concrete Institute, Detroit
Ameli,J dan Park,Joel E, March - April 2015," Seismic evaluation of grouted splice sleeve connections for reinforced precast concrete column–to–cap beam joints in accelerated bridge construction", PCI Journal Paper, Volume: 60 Issue: 2 Page number: 80 – 103
Elide Pantoli dan Tara C. Hutchinson, July-August 2016," Seismic-drift-compatible design of architectural precast concrete cladding: Tieback connections and corner joints", PCI Journal Paper, Volume: 61, Issue: 4, Page Numbers: 38-52
George Morcous and Raed Tawadrous, May -June 2020," Precast concrete deck-to-girder mechanical connection for accelerated bridge construction", Volume: 65,Issue: 3,Page Numbers: 37 – 52
Hatem M. Seliem dan Lining Ding, September-October 2016," Use of a carbon-fiber-reinforced polymer grid for precast concrete piles", PCI Journal Paper,Volume: 61, Issue: 5, Page Number: 37-48
Jae HyunKimaSeung-HoChoiaJin-HaHwang,et all, 2021, Experimental study on lateral behavior of post-tensioned precast beam-column joints, PCI Journal Paper,Vol.33, Page number: 841-854
Nabi Goudarzi, Yasser Korany, March-April 2016," Characterization of the shear behavior of Z-shaped steel plate connectors used in insulated concrete panels", PCI Journal Paper, Volume: 61,Issue: 2, Page Number: 23-37
Rodríguez. dan Torres M, Summer 2013 , "Seismic Behavior of type of welded precast concrete beam- colum connection, PCI Journal Paper,Vol.58, Issue: 3, Page number: 81-94.
Rafal Anay, Lateef Assi et.All, November - December 2020," Development of a double-tee flange connection using shape memory alloy rods', Volume: 65,Issue: 6,Page Numbers: 81 – 96
SNI 03-2847-2019,Standar Nasional Indonesia ,Tata Cara Perhitungan Struktur Beton Untuk Bangunan Gedung, Bandung, 2019
Theresa C. Aragon, Yahya C. Kurama, and Donald F. Meinheit, July - August 2020," Behavior of ductile short-grouted seismic reinforcing bar–to–foundation connections under adverse construction conditions", Volume: 65,Issue: 4,Page Numbers: 33 – 50
Xiao Liang; Sritharan, Sri, May-Jun 2021," Use of unstressed strands for connections of precast concrete members " PCI Jurnal Paper, Volume 66, Issue: 3, p49-66. 18p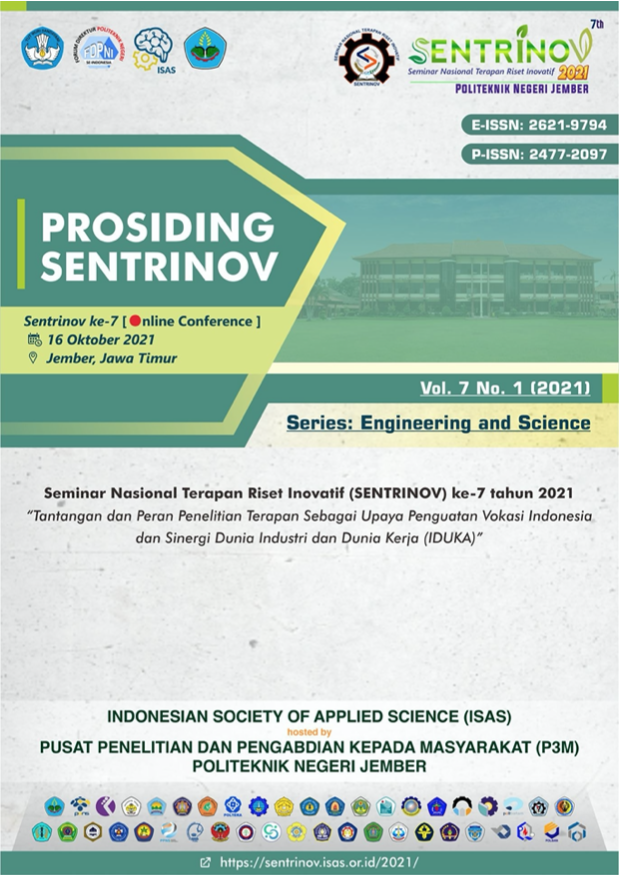 Downloads
How to Cite
A.Rudi Hermawan, & Eka Sasmita Mulya. (2021). ANALISIS BALOK PRECAST TYPE LSHAPE PADA BEBAN MAKSIMUM. Prosiding Seminar Nasional Terapan Riset Inovatif (SENTRINOV), 7(1), 17-23. Retrieved from https://proceeding.isas.or.id/index.php/sentrinov/article/view/948