PENGEMBANGAN APLIKASI PEMBUATAN WEBSITE FRONT-END DENGAN AUTOGENERATED CODE
Keywords:
Website builder, website development, front-end
Abstract
Industri website di Indonesia memiliki peluang yang kian meningkat, terutama di saat pandemi. Dalam pengembangan aplikasi, termasuk aplikasi website front-end, developers kerap kali diharapkan untuk menyelesaikan aplikasi dengan waktu yang sesingkat mungkin. Deadline waktu pengerjaan yang singkat tak jarang membuat developer kesulitan. Penelitian ini bertujuan membantu menyediakan solusi baru dalam mempercepat proses pengembangan website front-end dengan menyediakan Vuezzle, sebuah Website builder yang akan membantu mempermudah pengembangan website dengan membantu mengenerasi kode dari project tanpa mengharuskan pengguna membuat kode secara manual dari awal. Vuezzle menerima konfigurasi terkait informasi dasar project yang akan dibuat, konfigurasi tata letak laman yang ada dalam project, navigasi yang digunakan dalam project, serta API Mock yang digunakan selama pengembangan project. Vuezzle akan memproses konfigurasi yang diberikan oleh user untuk menghasilkan project berbasis vueJS, salah satu framework javascript yang cukup popular, untuk kemudian dapat diunduh oleh pengguna. Pengujian efektifitas aplikasi Vuezzle dilakukan dengan membandingkan interaction cost pada proses pembuatan website. Penggunaan Vuezzle sukses memberikan hingga 75% interaction lebih rendah dari pada pembuatan manual.
References
Amirudin, F. (2019). Laravel-Mager. Retrieved Mei 2, 2020, from https://faizalami.github.io/laravel-mager/#/
Arhandi, P. P., Pramitarini, Y., & Alviandra, R. (2019). Desain Prototype Frontend Auto Generator Based On REST API. Seminar Informatika Aplikatif Polinema.
Bootstraps. (n.d.). Retrieved Mei 5, 2020, from Bootstap Studio: https://bootstrapstudio.io/
Introduction of Material Design. (n.d.). (Google) Retrieved Juli 12, 2020, from https://material.io/design/introduction#getting-around
Luburic, N., Savic, G., Milosavljevic, G., Seldinac, G., & Silvaka, J. (2016). A Code Generator For Building Front-end Tier Of REST-Based Rich Klien Web Applications.
Perez, A. (n.d.). Vue-egg. Retrieved Mei 4, 2020, from https://github.com/vuegg/vuegg
Rijkaard, J. (2016). Analisis dan Perancangan Aplikasi E-Commerce Website Builder Berbasis Web Menggunakan Responsive Web Design dan Custom Framework. Jurnal Informatika dan Bisnis, 5.
Rustami, R. (2020, September 28). Digination.id. Retrieved Maret 29, 2021, from https://www.digination.id/read/016696/tren-industri-website-regional-naik
Shandi, Y. J., & Imlabla, Y. (2018). Studi Kasus Rekayasa Perangkat Lunak Bootstrap website builder. Media Informatika, 17.
Vaadin. (n.d.). Vadin. Retrieved Mei 5, 2020, from https://vaadin.com/
Vue Js Team. (n.d.). Perkenalan Vue.Js. Retrieved Mei 7, 2020, from Vue Js Documentation: https://docs.vuejs.id/v2/guide/
WeWeb. (n.d.). (WEWEB.INC) Retrieved June 8, 2021, from https://www.weweb.io/
Wix. (n.d.). Wix.com. Retrieved March 24, 2021, from https://www.wix.com/
Wohlgethan, E. (2018). Supporting Web Development Decisions by Comparing Three Major JavaScript Frameworks: Angular, React and Vue.js.
Zuckerman, E., Gladkovs, M., Rapps, S., Michael, S., Steele, S., & Nasevic, D. (2018, Januari 2). United States Patent No. US 10,437,914 B2.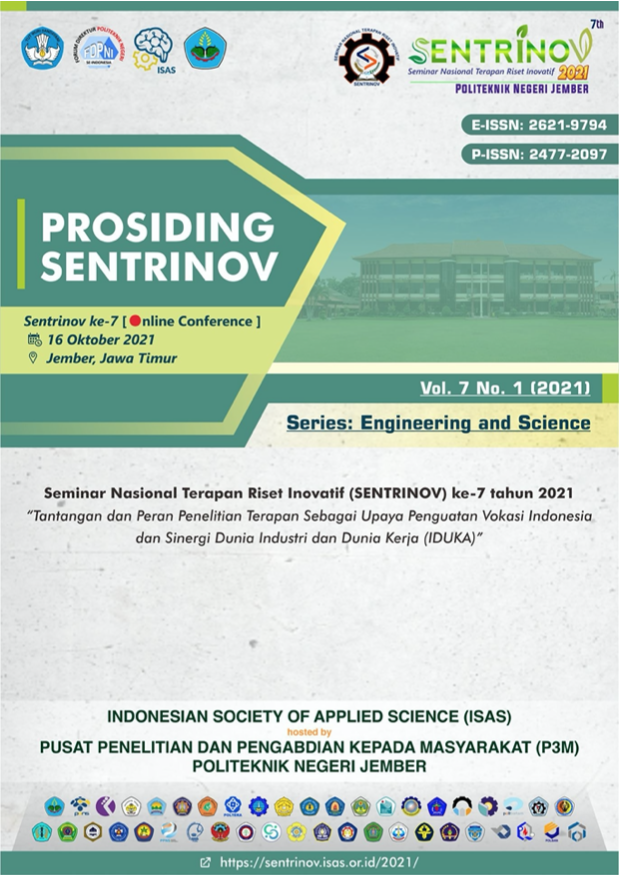 Downloads
How to Cite
Mohammad Hasan Muktasyim Billah, Fadilah Fahrul Hardiansyah, & Wiratmoko Yuwono. (2021). PENGEMBANGAN APLIKASI PEMBUATAN WEBSITE FRONT-END DENGAN AUTOGENERATED CODE . Prosiding Seminar Nasional Terapan Riset Inovatif (SENTRINOV), 7(1), 115-122. Retrieved from https://proceeding.isas.or.id/index.php/sentrinov/article/view/959