PERANCANGAN SKENARIO NON STAND ALONE (NSA) JARINGAN 5G UNTUK MENUNJANG REVOLUSI INDUSTRI 4.0
Keywords:
Non Stand Alone, ENDC, 5G, RF Planning, RSRP, SINR, Data Rate, Throughput User
Abstract
Pada penelitian ini dilakukan perancangan skenario non stand alone (NSA) Jaringan 5G untuk menunjang revolusi industry 4.0. Terdapat dua skenario menggunakan metode ENDC yaitu skenario 1 eNodeB LTE berada pada frekuensi band 3 (1800 MHz)bandwidth  20 MHz dan 5G NR frekuensi B28 (700 MHz) bandwidth 15 MHz serta skenario 2 eNodeB LTE pada frekuensi band 1 (2100 MHz) Bandwidth 15 MHz dan NR 5G pada frekuensi B28 (700 MHz)  Bandwidth 15 MHz. Hasil RF Planning skenario 1 dan skenario 2 mempunyai nilai RSRP  -94,26 dBm dan -94,37 dBm yang termasuk kategori baik, nilai SINR adalah 2,96 dan 3,02 yang termasuk kategori normal. Hasil perhitungan data rate sistem skenario 1 mempunyai nilai data rate lebih bagus dibandingkan  skenario 2 dengan selisih 7,43 % pada subcarrier spacing 15kHz dan selisih 9,9% pada subcarrier spacing 30 kHz. Hasil perhitungan throughput single user berdasarkan bermacam-macam jenis modulasi didapatkan skenario 1 mempunyai throughput user lebih bagus dibanding skenario 2 sebesar 7,6 % pada modulasi QPSK, 16 QAM, 64 QAM, maupun 256 QAM.
References
Alfin Hikmaturokhman and Kalamullah Ramli. 2018. Spectrum Considerations for 5G in Indonesia, IEEE 978-1-5386-7781-0/18, 2018
AMTA. 2019. 5G and EMF Explained. www.emfexplained.info, 2019-2020 edition .
GSMA. 2018. Road To 5G : Introduction and Migration. GSMA White Paper, April 2018.
Nader Ateya. 2018. 5G NR. A New Era for Enhanced Mobile Broadband. White Paper, MEDIATEK, 2018
Nur Esa, Rai, Alfin Hikmaturokhman, and Achmad Rizal Danisya. 2020. 5G NR Planning at Frequency 3.5 GHz : StudyCase in Indonesia Industrial Area, 2nd International Conference on Industrial Electrical and Electronics (ICIEE), page 187- 193, 978-1-7281-9702-9/20, ©2020 IEEE
Samsung, 2017. 4G-5G Interworking. RAN Level and CN Level Interworking, Samsung Electronic.Co.id, 2017
GPP TS 38.306 Version 15.8.0, 2019. User Equipment (UE) Radio Access Capabilities (Release 15)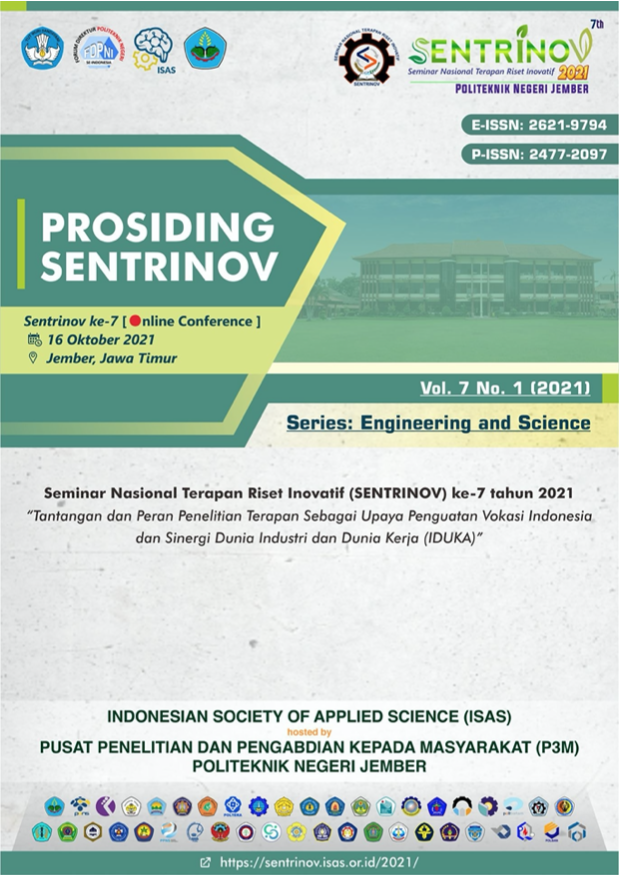 Downloads
How to Cite
Asri Wulandari, Toto Supriyanto, & Lusi Damayanti. (2021). PERANCANGAN SKENARIO NON STAND ALONE (NSA) JARINGAN 5G UNTUK MENUNJANG REVOLUSI INDUSTRI 4.0. Prosiding Seminar Nasional Terapan Riset Inovatif (SENTRINOV), 7(1), 123-130. Retrieved from https://proceeding.isas.or.id/index.php/sentrinov/article/view/960