STUDI NUMERIK PEMANAS UDARA DENGAN BENTUK SEGITIGA PADA SALURAN ZIG-ZAG
Keywords:
kolektor surya, pola aliran, temperatur, zig-zag, aliran balik
Abstract
Penelitian yang memanfaatkan energi surya dengan menggunakan kolektor surya telah banyak dilakukan. Saat ini kolektor surya mengalami perkembangan yang pesat untuk menghasilkan kualitas udara panas yang baik dengan temperature yang sangat tinggi. Untuk membuat sebuah kolektor surya dengan performansi yang optimal maka efisiensi termalnya perlu ditingkatkan, adapun cara untuk meningkatkan efisiensi termal dengan cara membuat inovasi pola aliran yang dilakukan pada penelitian ini. Penelitian ini dilakukan dengan menggunakan kolektor pola zig-zag variasi 7 aliran. Tujuan dari penelitian ini adalah untuk memperbanyak dan memperpanjang proses penyerapan panas matahari oleh udara. Variasi kecepatan aliran yang digunakan ada 3 variasi yakni 15 m/s,20 m/s dan 25 m/s. Hasil yang diperoleh dari pada penelitian ini adalah variasi 15m/s memiliki peningkatan temperatur yang paling tinggi sebesar 48K serta mempunyai penurunan tekanan terendah sebesar 700Pa dengan kemunculan aliran balik dan vortex yang paling rendah.
References
A Heydari, M Mesgarpour. (2018). Experimental analysis and numerical modeling of solar air heater with helical flow path. Solar Energy J.. vol 162. 278-288.
Anggita Amelia. ( 2020,Juli,12). 5 Fakta unik gas alam, Sumber Energi Fosil yang Minim Emisi. IDN TIMES. Retrieved from: https://www.idntimes.com/science/discovery/anggita-rezki-a/5-fakta-unik-gas-alam-sumber-energi-fosil-yang-minim-emisi-exp-c1c2/5
Atilla G. Devecioglu, Vedat Oruc.(2017). Experimental investigation of thermal performance of a new solar air collector with porous surface. Energy procedia.vol 113. 251-258.
Esen H. (2008). Experimental energy and exergy analysis of a double-flow solar air heater having different obstacles on absorber plates. Building and Enviroment Journal. 1046-1054.
Humas EBTKE (2020,Oktober,22). Menteri Arifin : Transisi energi mutlak. Direktoral Jenderal Energi Baru Terbarukan Dan Konservasi Energi (EBTKE).
Retrieved from : https://ebtke.esdm.go.id/post/2020/10/22/2667/menteri.arifin.transisi.energi.mutlak.diperlukan?lang=en
Jin Dongxu, Zhang Manman. (2015). Numerical investigation of heat transfer and fluid flow in a solar air heater duct with v-shaped ribs on the absorber plate.
Kulkarni K, Afzal A, Kim K-Y. (2015). Multi-objective optimization of solar air heater with obstacles on absorber plate. Solar Energy Vol 114. 364-377.
Sulaiman Ali. (2017). Numerical simulation and experimental study of half cylinder fins addition influence in staggered arrangement to performance of solar collector of air heater with plat v-corrugated absorber. 1-2.
R A Kumar, B G Babu, M Mohanraj. (2016). Thermodynamic performance of forced convection solar air heaters using fin-pin absorber plate packed with latent heat storage materials. Therm Anal Calorim J..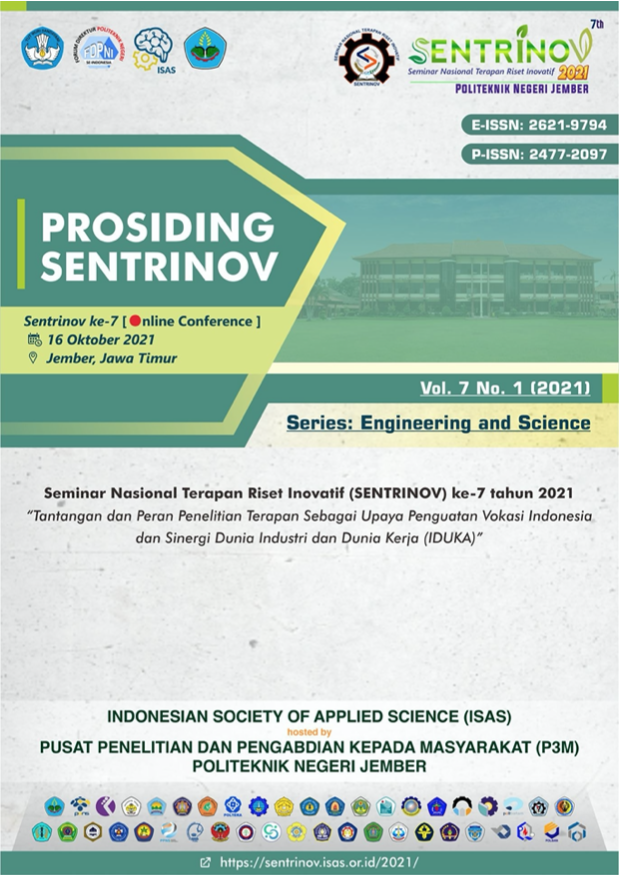 Downloads
How to Cite
Arrad Ghani Safitra, Lohdy Diana, Fifi Hesty Sholihah, & Cantika Putri Rahayu. (2021). STUDI NUMERIK PEMANAS UDARA DENGAN BENTUK SEGITIGA PADA SALURAN ZIG-ZAG. Prosiding Seminar Nasional Terapan Riset Inovatif (SENTRINOV), 7(1), 190-197. Retrieved from https://proceeding.isas.or.id/index.php/sentrinov/article/view/968