ANALISA PENGARUH MATERIAL PCM DAN SiO2 PADA LEMARI PENGERING TENAGA SURYA
Keywords:
lemari pengering, PCM, SiO2, temperatur udara, kelembaban udara
Abstract
Pemanfaatan energi surya di Indonesia mengalami perkembangan khususnya untuk proses pengeringan. Proses pengeringan memerlukan lemari pengering sebagai komponen pendukung untuk menyimpan produk yang akan dikeringkan. Lemari pengering berkualitas tinggi dapat menyimpan panas dalam waktu yang lama. Penelitian ini bertujuan untuk menganalisis pengaruh material PCM dan SiO2 pada lemari pengering. Penelitian ini dilakukan secara eksperiment di ruang terbuka. Percobaan dilakukan pada kondisi sebenarnya dari pukul 07:00 sampai pukul 13:00. Data yang diambil selama pengujian berupa temperatur udara dan kelembaban udara di dalam lemari. Hasil penelitian menunjukkan lemari pengering dengan material PCM dan SiO2 mengalami penurunan temperatur udara lebih rendah daripada lemari pengering tanpa material PCM dan SiO2. Hasil lain menunjukkan kelembaban relatif udara pada lemari pengering dengan material PCM dan SiO2 memiliki nilai yang lebih tinggi daripada lemari pengering tanpa material PCM dan SiO2.
References
Allouche, Y., Varga, S., Bouden, C., & Oliveira, A. C. (2016). Validation of a CFD model for the simulation of heat transfer in a tubes-in-tank PCM storage unit. Renewable Energy, 89, 371-379.
Arun, K. R., Srinivas, M., Saleel, C. A., & Jayaraj, S. (2019). Active drying of unripened bananas (Musa Nendra) in a multi-tray mixed-mode solar cabinet dryer with backup energy storage. Solar Energy.
Diana, L., Safitra, A. G., Sholihah, F. H., & Azhar, A. T. (2021). Simulasi Lemari Pengering Tenga Surya Dengan Prisma Kaca Menggunakan Computational Fluid Dynamics. Jurnal Engine: Energi, Manufaktur, dan Material, 5(1), 1-10.
Ekka, J. P., Bala, K., Muthukumar, P., & Kanaujiya, D. K. (2020). Performance analysis of a forced convection mixed mode horizontal solar cabinet dryer for drying of black ginger (Kaempferia parviflora) using two successive air mass flow rates. Renewable Energy.
Guntor, N. A. A., Siang, A. J. L. M., & Prasetijo, J. (2020). Performance of Silica Gel as Moisture Removal from Mortar. International Journal of Sustainable Construction Engineering and Technology. Malaysia.
Jabeen, R., Aijaz, T., & Gul, K. (2015). Drying kinetics of potato using a self-designed cabinet dryer. Food Science & Technology.
Shamiq, S. M., Sudhakar, P., & Cheralathan, M. (2018). Experimental study of a solar dryer with different flow patterns of air in the drying chamber. IOP Publishing.
Spall, S., & Sethi, V. P. (2020). Design, modeling and analysis of efficient multi-rack tray solar cabinet dryer coupled with north wall reflector. Solar Energy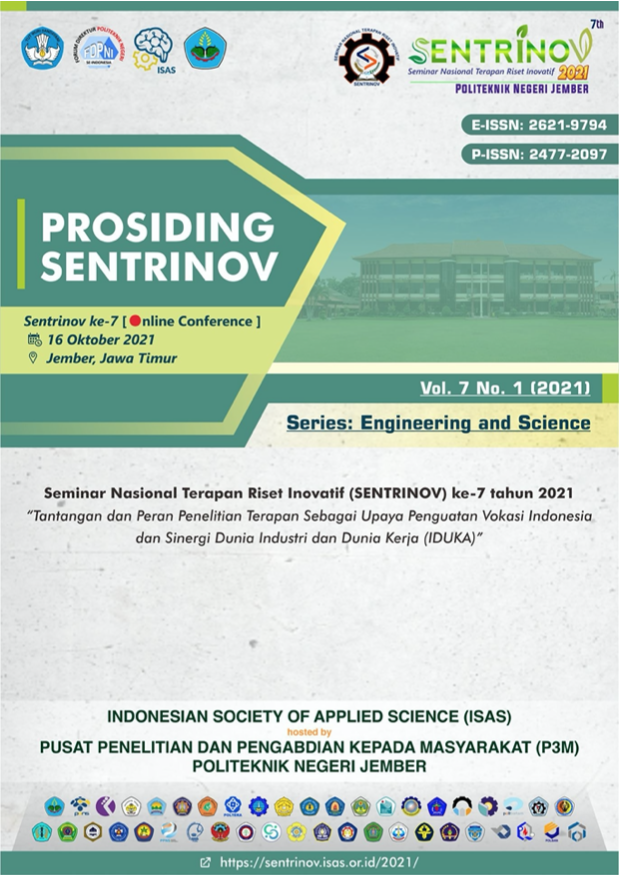 Downloads
How to Cite
Lohdy Diana, Arrad Ghani Safitra, Fifi Hesty Sholihah, & Melya Putri Andariesta. (2021). ANALISA PENGARUH MATERIAL PCM DAN SiO2 PADA LEMARI PENGERING TENAGA SURYA . Prosiding Seminar Nasional Terapan Riset Inovatif (SENTRINOV), 7(1), 224-231. Retrieved from https://proceeding.isas.or.id/index.php/sentrinov/article/view/972