PENGARUH KOMPOSIT SERAT DAUN LONTAR TERHADAP REDAMAN SUARA PADA KAPAL NELAYAN
Keywords:
Redaman, kebisingan, serat alam, daun lontar, kapal nelayan
References
Badan penelitian dan pengembangan kehutanan kementrian kehutanan, 2010. Lontar (Borassus Flabellifer) sebagai sumber energi bioetanol potensial
Lutony, T.L., 1993.Tanaman Sumber Pemanis. P.T Penebar Swadaya, Jakarta
International Maritime Organization (IMO). Code on noise levels on board ship chapter 4 – Maximum acceptable sound pressure levels. Resolution A.468 (XII) 198.1981. Available from: www.imo.org/blast/blastData.asp?doc_id=9595&filename.pdf.
Diharjo,K. 2008. Pengaruh Perlakuan Alkali terhadap Sifat Tarik Bahan Komposit Serat Rami-Polyester. Jurusan Teknik Mesin, Fakultas Teknologi Industri, Universitas Kristen Petra.
Jacobs, J.A. Kilduft T.K. 1994. Engineering Material Technology Structure, Processing, Property and Selection 2. Prentice Hall,Inc A Simon Schuster Company, USA.
Vallo Claudia, Jose M. Kenny, Analia Vazquez and Viviana P. Cyras Reinforced with Sisal Fibre Effect of Chemical Treatment on the Mechanical Properties of Starch-Based Blends. Journal of Composite Materials 2004; 38; 1387. DOI: 10.1177/0021998304042738, 2004.
Melsiani R F Saduk, F. P. (2018). Kajian Sifat Tarik Serat Pelepah Lontar dengan Singular Fiber Tensile Testing Methode. Kupang: Politeknik Negeri Kupang .
Tajulludin,F.F. (2020). IDENTIFIKASI SABUT KELAPA SEBAGAI MATERIAL INSULASI PEREDAM KEBISINGAN PADA RUANG AKOMODASI KAPAL PENUMPANG. Sampang: Jurusan Teknik Bangunan Kapal Politeknik Negeri Madura.
ISO 10534-2, 1998. Acoustics — Determination of sound absorption coefficient and impedance in impedance tubes — Part 2: Transfer-function method
ASTM E1050 -19, Standard Test Method for Impedance and Absorption of Acoustical Materials Using a Tube, Two Microphones and a Digital Frequency Analysis System. 2019.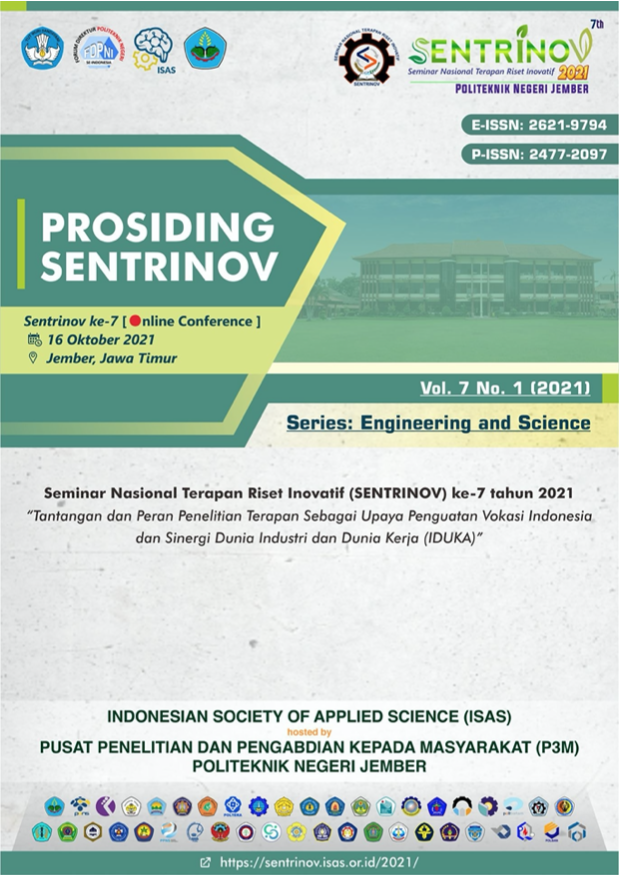 Downloads
How to Cite
Windra Iswidodo, Anauta Lungiding A.R., & Triyanti Irmiyana. (2021). PENGARUH KOMPOSIT SERAT DAUN LONTAR TERHADAP REDAMAN SUARA PADA KAPAL NELAYAN. Prosiding Seminar Nasional Terapan Riset Inovatif (SENTRINOV), 7(1), 252-259. Retrieved from https://proceeding.isas.or.id/index.php/sentrinov/article/view/975